Australia is one of the most idyllic places in the world to visit. This is especially true for Hervey Bay along the eastern coastline in Queensland.
Known as the whale-watching capital of the world, Hervey Bay attracts migrating humpbacks to its serene waters. This event alone attracts a lot of visitors, however, the bay area is known for so much more.
From shopping centres to local food to tropical islands, there's plenty to sight-see and experience. Such an epic trip to the bay area should include proper lodging.
Knowing the benefits of some of the accommodation available in the bay area can be extremely useful!
Caravan Parks In Hervey Bay
The lodging in Hervey Bay ranges from resorts and hotels to basic motel options. However, one of the most popular variations of lodging includes caravan parks.
Caravan parks spark the natural desire to be in the great outdoors for some people. They are perfect for guests who enjoy a camping environment with their caravan or RV.
Description
The bay area is home to a few caravan parks, but this specific one is a well-rounded location with cabins and powered sites.
These choices are ideal as some people enjoy bringing their caravan while others want to be in a cabin. No matter the preference, there's a choice for everyone.
The park itself isn't too far from local shops, etc making a stroll around town quite a treat. Moreover, the park is generously sized and really makes for an exciting family holiday or a couple's honeymoon getaway.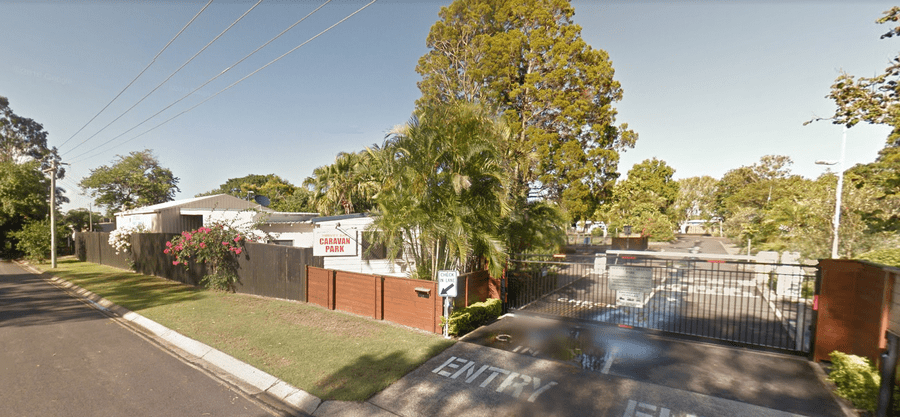 Popular Facilities
Swimming pool – Pools are always a fantastic facility to have as they are great for cooling off without all of the sand!
Dog friendly – While this isn't technically a "facility", it is a perk of the park. Conditions might apply and contacting the park prior to arrival will ensure that up to date conditions are understood.
Wifi – Not all caravan parks have wifi. Some people will find this facility useful while others will find that unplugging from the world is the best way to spend their holiday!
Covered camp kitchen – Camp kitchens are a popular thing at caravan parks but not all of them are covered or sheltered. This shady spot makes for a great opportunity to cook fresh fish or other meals.
Ratings
Hotels and resorts and other types of accommodation get star ratings to indicate the quality of facilities offered to their guests. When it comes to caravan parks, they don't usually get this same treatment.
This isn't because there aren't quality facilities on site, it is because generally they are powered or unpowered sites for caravan parking.
Not all caravan parks have ensuite cabins etc.
While there might not be a star rating for this caravan park, there are guest reviews. These reviews can still give some insight into the location and past guest experiences.
These reviews should be taken cautiously and with common sense in mind as not all reviews are reliable. A general overview of Google user reviews shows this location as having 4.2 stars out of 5 stars with just over 130 reviews.
Most guests comment on the location's proximity to things around town and cleanliness.
Room Types
There aren't technically "rooms" here, but there are cabins, powered and unpowered sites for RV's or campers. The cabins come in a choice of 1-bedroom ensuite cabin, studio (queen) ensuite cabin, or a double ensuite cabin.
Both the queen and double sleeps up to 4 guests while the 1-bedroom sleeps up to 3 people. The cabins are simply decorated in whites, greys and some blues for colour and feature small kitchenettes, small dining areas, porches, bathrooms with showers, and even air conditioning.
These are perfect little cabins for still experience camping with a little touch of a hotel added to it.
The prices for these cabins and powered and unpowered sites are as follows:
*All prices reflected on based on two guests, one night's stay. There is a 2-night minimum required and the prices can change based on availability, peak seasons, and the number of nights booked.
Queen Studio Cabin – $121
Double Studio Cabin – $121
While these are great options, there is another option as well. For those who love the outdoors and caravan park environment, this location also offers the opportunity to live on the grounds.
The caravan park is said to have manufactured homes for those looking for a permanent residency on-site. Those interested in this option must contact the caravan park directly for more details.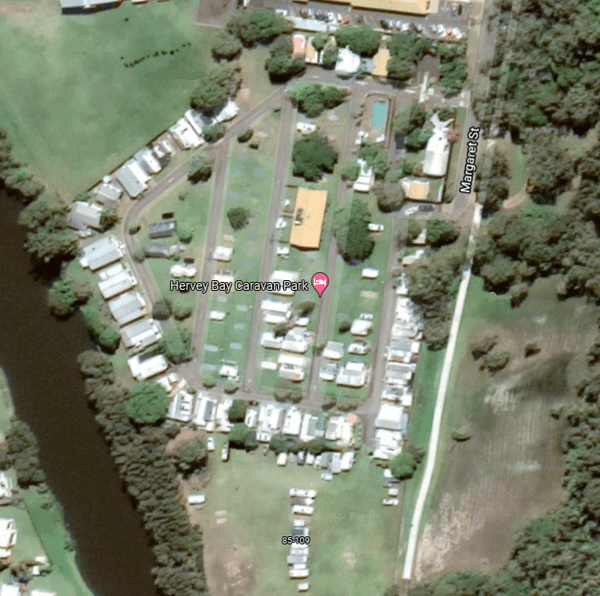 Surroundings And Location
The address and contact information for the Hervey Bay Caravan Park is as follows:
85 Margaret Street
Urangan, QLD 4655
Phone 07 4128 9553
The biggest attraction near the caravan park is the Urangan Pier which is a famous fishing pier. In its early days, the pier served as a means of transportation for timber, coal, and sugar.
While it's undergone some preservation of its remaining structure, the pier is perfect for fishing and taking an evening stroll. Marine life can be seen from the pier as well.
This slice of history that's been around since the 1900s is a must-see spot!
Other attractions certainly include heading over to Fraser Island to see other historical spots like the Maheno Shipwreck. The island is also the world's largest sand island, so access is by ferry and can only be driven on by 4WD vehicles.
Those who enjoy 4WD vehicles will find that 75 Mile Beach is a great place to zoom up the coastline of the island. However, guests should be aware of the tide rolling from the waters while driving on the beach.
Tasman Venture is the biggest whale-watching tour in the bay area. During the months of July to September, humpback whales frequent the calm waters around the bay area to stop during their migration.
They are quite a sight to behold and the whales are curious and playful in the waters. Experiencing them from a boat tour is the best way to see their playful attitudes and grab some iconic snapshots!
There are quite a few markets that Hervey Bay has on certain weekends of the year. These markets can be fresh produce, crafts etc, and are such a treat to walk around and explore to find some good deals.
Most accommodations will provide information on the markets and their times of availability.
Facilities (Other than the popular ones!)
Bowling club right next door
Check-In and Check-Out Times
Check-in for the powered and unpowered sites is 12 pm to 6 pm. Check-In for the cabins is 2 pm to 6 pm. Check-out for both options is 10 am.
Guests looking to have a camping adventure while still being close to modern facilities will find the Hervey Bay Caravan Park is a great lodging choice.
With plenty to choose from and affordable prices, the stay will be fantastic!
Resource Links To Products We Use And Recommend
More Recommendations For Accommodation
link to Discovery Parks Fraser Street Hervey Bay
On the Fraser Coast, Hervey Bay is an oasis of the best natural world the area has to offer. Just across the way from Fraser Island, you will also find beautiful botanical gardens, a stunning...
link to Caravan Parks Hervey Bay
One of the most iconic ways to experience Australia is by experiencing its beautiful natural surroundings. Because the country offers an abundance of stunning landscapes from coast to coast, caravan...