Australia is known for its beautiful landscapes, seascapes, and exotic wildlife. In areas like Queensland, along the eastern coastline of the country, there are many cities and bay areas to explore.
Hervey Bay is perhaps one of the most known bay areas in Queensland. This bay area is located in the Fraser Coast Region of Queensland that sits opposite Fraser Island, the world's largest sand island.
Because of its location, the Hervey Bay area draws visitors from all over the world. They come to see the sights, enjoy the idyllic, calm beaches, and warm weather.
With so much to see and explore, these visitors certainly need a place to rest.
Hervey Bay offers its visitors a lot to explore, but it also offers them a variety of places to stay. From hotels to caravan parks and everything in between, there is something suitable for everyone.
However, it might seem a bit overwhelming to know which lodging option might be a good fit. This is why knowing a bit more about the various lodging options in the Hervey Bay area is really important.
It truly does lift some of the stress of planning the perfect holiday!
Stay At Ramada By Wyndham Hervey Bay
The Ramada By Wyndham in Hervey Bay is one of many Ramada locations that are found worldwide. Because it is a worldwide chain hotel, it strives to provide its guests with consistent service and experiences.
While there are multiple branded locations, each one is slightly different from the other. This is primarily due to where the location is in the world.
The Ramada in Hervey Bay has a crisp, modern look to it. This multi-storey building borders a large outdoor pool area giving guests a feeling of total exclusiveness.
Moreover, from the outside to the lobby, to the rooms, the decor is minimalist in nature, neutral in colouring, and overall pleasant and uplifting.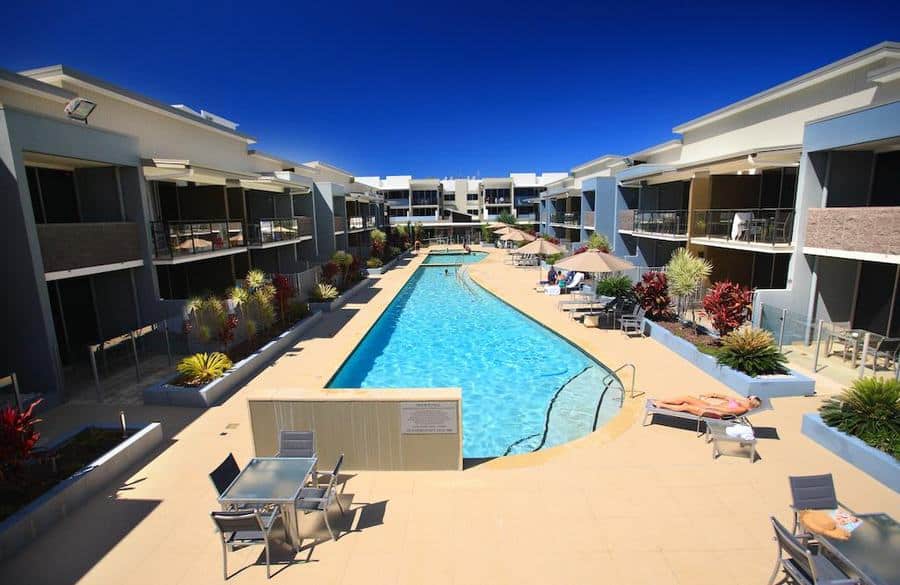 Popular Facilities
Large outdoor pool – The pool at this location is a sleek, rectangular shape and is surrounded by the building to create a courtyard-like look. The pool itself is fabulous but there is also plenty of room around the pool to relax, unwind, and enjoy the beautiful weather poolside.
Fitness centre – Exercising isn't for everyone but for those who need it as part of their daily routine, having access to a fitness centre is important. Not a lot of hotels feature a fitness centre. The Ramada certainly stands out compared to other hotels in the area for having a place for guests to exercise!
Continental or full breakfast – For a small fee, guests can enjoy breakfast in the early hours of the day. This is a great way for guests to start their day before heading out into Hervey Bay to explore all there is to see and do!
Onsite restaurant – The Ramada features an onsite restaurant called "Smokey Joe's Cafe". The restaurant is open for breakfast and dinner with delicious foods that range from traditional breakfast foods to seafood dishes made with fresh, local seafood.
Bicycle rental – The Esplanade is right outside of the hotel's doors. The Esplanade stretches from Urangan to Point Vernon and is parallel to the ocean making it an iconic way to enjoy the blend between beachy foreshore areas and the local towns. Guests can walk, run, or bike along its path. It is really convenient for this hotel to offer bicycle hire for those wanting to go cycling along the Esplanade!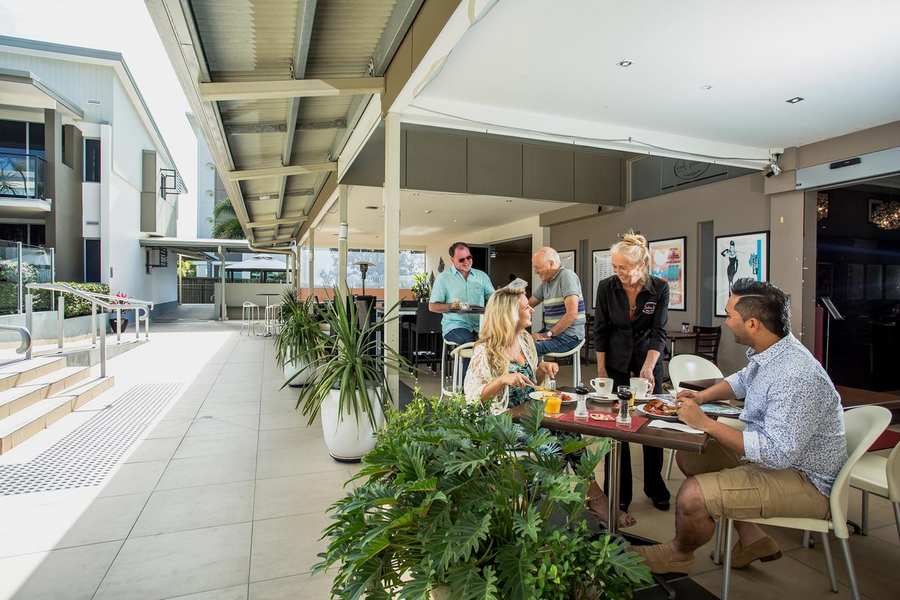 Ratings
A star rating system is used to help guests see the quality of services that a particular lodging option offers. This system ranges from 1 to 5-stars. The Ramada in Hervey Bay has a 4-star rating.
This is a great rating and it implies that the location strives to give its guests a great experience from the comfort of the hotel in general right down to the facilities that it has.
Another way to examine the rating of a hotel is through its guest reviews. Guest reviews should be taken with common sense in mind as not everyone's experience is the same.
However, they still provide some helpful insight. On Google, this location is rated 4.4 stars out of 5 stars with just about 480 reviews.
Most guests compliment the location's cleanliness, food and restaurant, fitness accessibility and overall location.
Room Types
The rooms at The Ramada come in the choice of king rooms or twin rooms. The twin rooms are standard rooms while the king rooms can come in either a suite or standard room (that are handicap accessible).
The twin rooms feature sliding doors with access right out to the pool courtyard, twin bed, and basic hotel facilities like a hairdryer, tv, etc.
The king suites are upstairs with balcony views, full kitchens that are stocked with cookware and silverware, Broadband streaming, and basic hotel facilities like hairdryer, etc.
The rooms are spacious, inviting, and well-lit.
The price point for a night's stay at The Ramada is up to $175 for a king room and up to $155 for a twin. These prices can change based on availability and the time of booking.
Checking their website or calling the location direction are the best ways to ensure that someone has the most accurate pricing.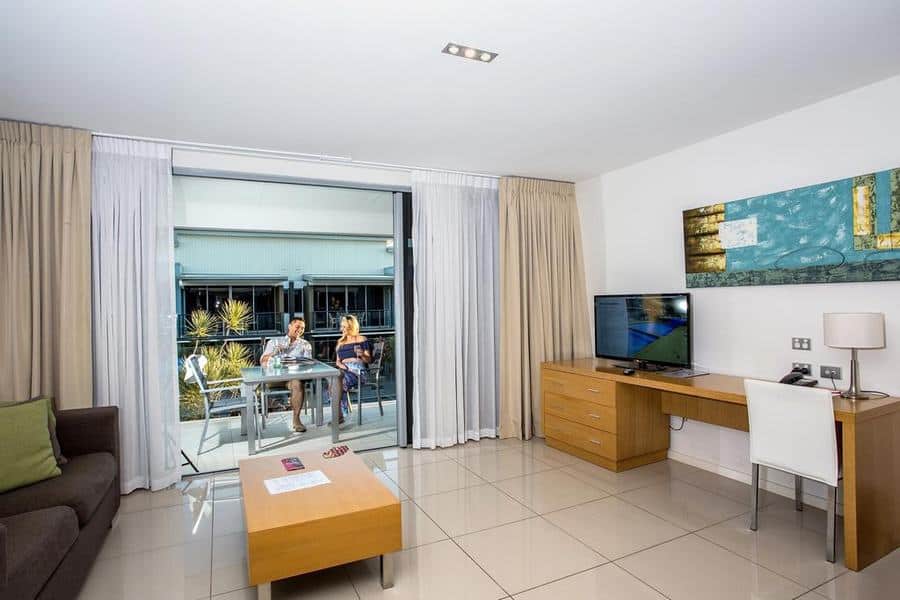 Surroundings And Location
The address and contact information for The Ramada By Wyndham Hervey Bay is as follows:
627 Esplanade
Urangan, QLD 4655
Ph 07 4197 0500
As expressed before, The Ramada sits right on the Esplanade. The greatest part of this is that it is located in Urangan, where the Esplanade basically starts.
This gives people the opportunity to explore the Esplanade from start to finish if they really wanted to! Along the Esplanade are various beach access points, restaurants, cafes, local shops, ocean views, and various plants to see.
It truly is the perfect mesh between the open ocean and the local towns!
Because The Ramada is in Urangan, the closest attraction is the Urangan Pier. This historical pier is quite fascinating! It was originally built in the 1900s and served as an export pier of timber, coal, and sugar.
Throughout the years, it has undergone some serious reconstruction and lost some of its original lengths. It now is about 868 metres long and is primarily a fishing pier.
The pier is also a fantastic way to enjoy the ocean views as well as see marine life like sea turtles.
Other nearby attractions include tours of places like Fraser Island, the world's largest sand island, fishing charter boats for those who enjoy casting a line, and sunset cruises.
More information on these boating excursions can be found through the hotel or even the Hervey Bay tourist centre which is within walking distance of the hotel!
Facilities (Other Than The Popular Ones!)
In-room safes/safe deposit boxes
Check-In And Check-Out
The check-in time for The Ramada By Wyndham Hervey Bay is 2 p.m. and check-out is 10 a.m. Early check-in is available for a fee.
Hervey Bay always proves to be an incredible place to visit! While their many attractions and sights are fascinating, their lodging has a lot to offer guests as well!
Resource Links To Products We Use And Recommend
More Recommended Accommodation
link to Discovery Parks Fraser Street Hervey Bay
On the Fraser Coast, Hervey Bay is an oasis of the best natural world the area has to offer. Just across the way from Fraser Island, you will also find beautiful botanical gardens, a stunning...
link to Caravan Parks Hervey Bay
One of the most iconic ways to experience Australia is by experiencing its beautiful natural surroundings. Because the country offers an abundance of stunning landscapes from coast to coast, caravan...