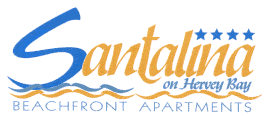 Visiting Australia is a unique experience for anyone. From lush landscapes, beautiful oceanfronts, tropical islands, rainforests, etc. the adventuring possibilities are limitless!
When visiting this interesting country (or if someone is a resident looking to explore new areas of their homeland!), having options for lodging is truly important.
Proper lodging includes comfort, experience, and relaxation options from a long day of exploring! Nothing beats coming back to a great hotel, self-contained apartment, or caravan park.
Hervey Bay is a very popular spot due to its fishing spots, beaches, and access to Fraser Island. Because of the variety of things to do in the bay area, Hervey Bay does showcase lodging options for every taste.
This is particularly true for Santalina on Hervey Bay. This location makes lodging in the bay area truly feel like luxury!
Oceanfront Holiday Apartment
Santalina is an oceanfront holiday apartment facility with comfy apartments meant to bring out the luxury in someone's stay. Moreover, the rooms here feature stunning semi-circle balconies with spectacular views.
This raises the bar at this location as it truly goes a step beyond a basic hotel in its ideal surroundings.
Description
Santalina might be most known for these beaut balcony views, however, their tropical gardens create an oasis for guests as well. The hotel itself has a modern edge to it that is crisp, clean, and comfortable.
While it only stands 3 stories tall, it is jammed packed with amenities that provide an atmosphere suitable for everyone.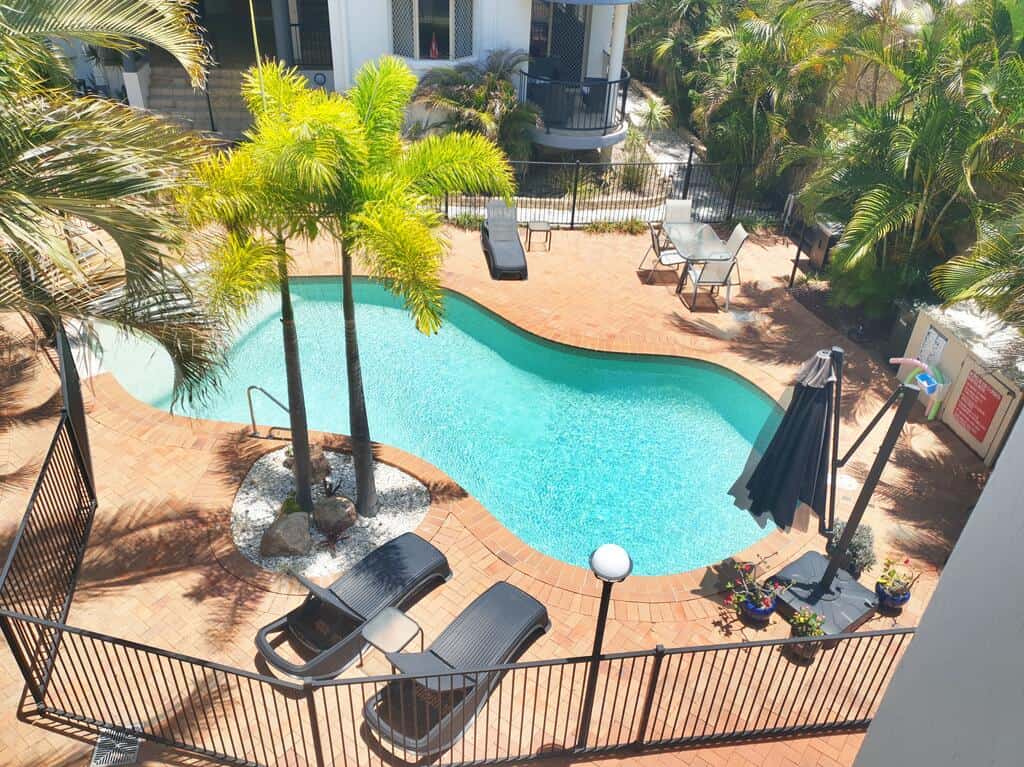 Popular Facilities
Balconies – These are the show stoppers for the hotel. They are private, romantic, and idyllic with their ocean views. Fresh sea-air wafts by the balconies since Urangan Beach is directly opposite the hotel.
Tropical gardens – Apartments, hotels, or resorts that feature tropical gardens are highly desired. Not only are they stunning but truly tranquil!
Swimming pool – Sure, a lot of accommodations will have pools, but they are the most popular! Not everyone wants a swimming experience that involves sand. Relaxing by the pool and having the ability to take a dip is ideal for some people!
Rating
Ratings of hotels and lodging are based on two things: an overall star rating given to them based on the quality (not necessarily the quantity) of their services and guest ratings.
Both of these things are highly important in researching places to stay. Santalina is considered a 4-star place by the overall rating system. This ensures that staying in the apartments will provide ample comfort and amenities that go above and beyond traditional lodging options.
When it comes to guest ratings, Google users rate the location a solid 4.4 stars out of 5 with 45 reviews. Out of these 45 reviews, 61% rated it 5 stars. Sure, the stats seem a bit tedious to comb through, but in the end, it is well worth it to know the quality of the location!
Users commented on the location's friendly staff, wonderful views, amenities, and cleanliness. All of these are the recipe for success in a lodging option!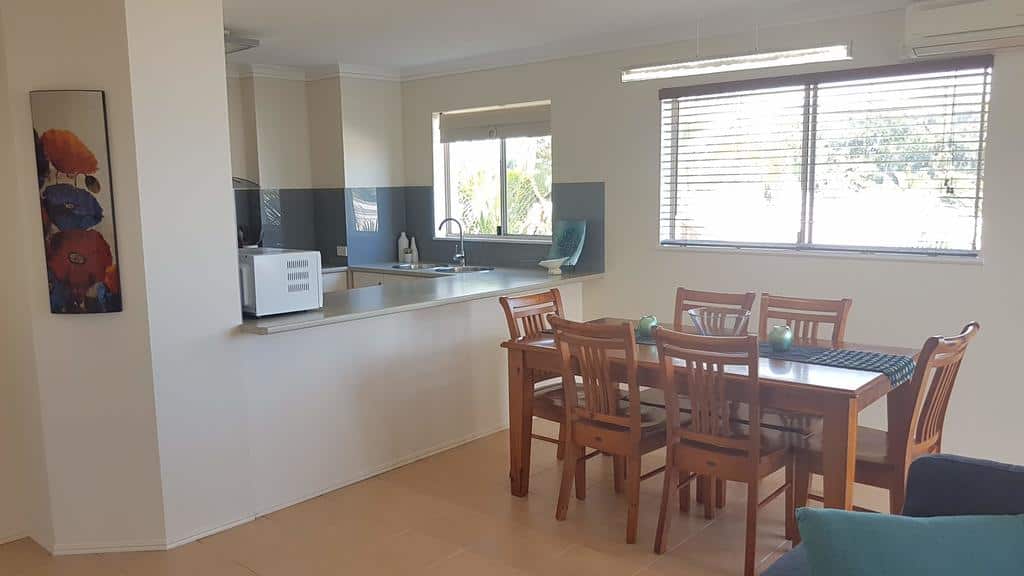 Room Types
The rooms at Santalina are spacious and contemporary. Moreover, these rooms are either 1 or 2 bedrooms and feature a pool or ocean view.
The rooms are also air-conditioned and seem to feature double or queen beds. The rooms contain small kitchens as well which are great for prepping some delicious dinners to have on the balconies!
The rates for the rooms range between $130 to $190 depending on the number of bedrooms. This rate is subject to change and can increase during peak seasons.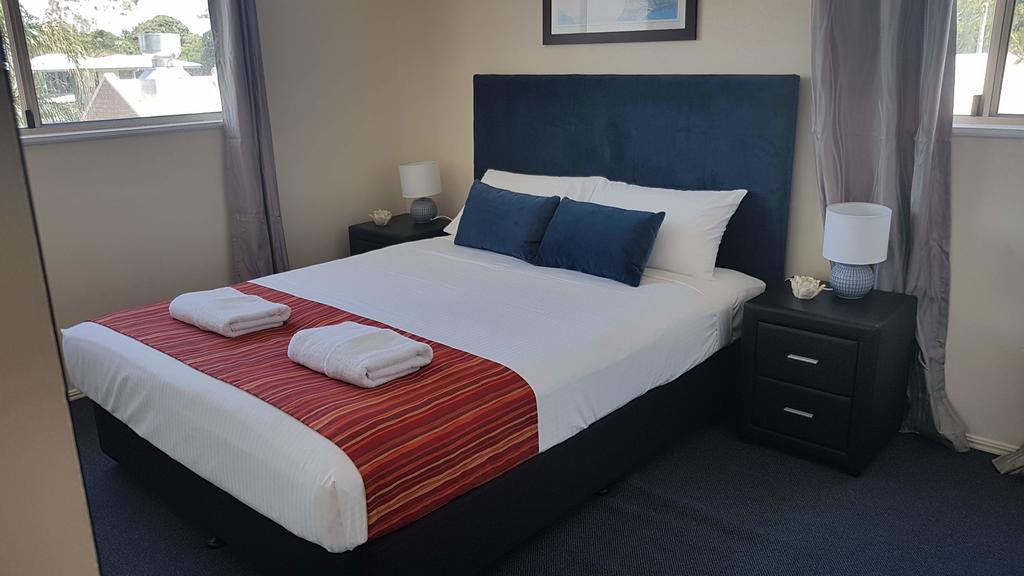 Surroundings and Location
The location and contact information for the Santalina on Hervey Bay is as follows:
556 Charlton Esplanade
Urangan, QLD 4655
Phone 07 4183 8978
The surrounding area of Santalina includes the popular Urangan Pier, which is a historical landmark in Hervey Bay. While its primary purpose used to be for transportation of timber and other items, it is largely a fishing pier now.
It also features stark views of the sunset and various marine life as well. The apartments are also close to Urangan Beach.
This beach runs from the rocky area to the Urangan Boat Harbour and is perfect for fishing, especially near the harbour walls. Swimming at the beach is only advised during high tide.
Other options include visiting local eateries for a bit to eat and small shops for trinkets. The apartments also feature booking options for the different boating tours that are available during whale watching season and for Fraser Island tours.
Facilities
On-site and off-site parking
Basics like hairdryers and ironing boards
Check-In and Check-Out Times
Check-in time is 2 pm and check-out time is 10 am. Additionally, the reception office hours are Monday through Friday from 8 am to 4:30 pm, Saturdays from 8:30 am to 1 pm and Sundays from 9 am to 12 pm.
The reception office is closed during public holidays specifically Christmas Day.
Staying in Hervey Bay comes with various luxury options, this especially includes Santalina! Those looking to explore the Urangan area of Hervey Bay will find this a proper choice!


Resource Links To Products We Use And Recommend
More Recommendations For Accommodation
link to Discovery Parks Fraser Street Hervey Bay
On the Fraser Coast, Hervey Bay is an oasis of the best natural world the area has to offer. Just across the way from Fraser Island, you will also find beautiful botanical gardens, a stunning...
link to Caravan Parks Hervey Bay
One of the most iconic ways to experience Australia is by experiencing its beautiful natural surroundings. Because the country offers an abundance of stunning landscapes from coast to coast, caravan...