Before cracking open the possibilities of Fishing Charters Hervey Bay, you first need to know some details about this area.
Hervey Bay is pronounced har-ve bay and named in 1770 by Captain James Cook for Lord Augustus Hervey, the Earl of Bristol in England and Captain Cook's superior at that time.
Cook didn't realize that Fraser Island, east of this area, was an island and mistook the curved crescent-like area that includes Fraser Island to be a bay, hence, the reason it's called Hervey Bay.
Where Is Hervey Bay?
Hervey Bay is on the southeast side of the Australian state of Queensland at the general region where Australia's coast gradually veers to the north, northwest as one travels north.
It's approximately 300 kilometres north of Brisbane, just 34 kilometres northeast of the Bruce Highway (National Highway A1) from Maryborough. Driving from Brisbane to Hervey Bay takes about three hours.
Jetstar, Virgin Blue and QuantasLink are airlines that provide flights into the Hervey Bay airport. Premier Motor Services and Greyhound Pioneer provide motorcoach transportation and Queensland Rail provides train service between Brisbane and Maryborough West.
Hervey Bay encompasses about 18 kilometres of coastline. The Urangan Boat Harbour is the starting point of most area Hervey Bay fishing charters.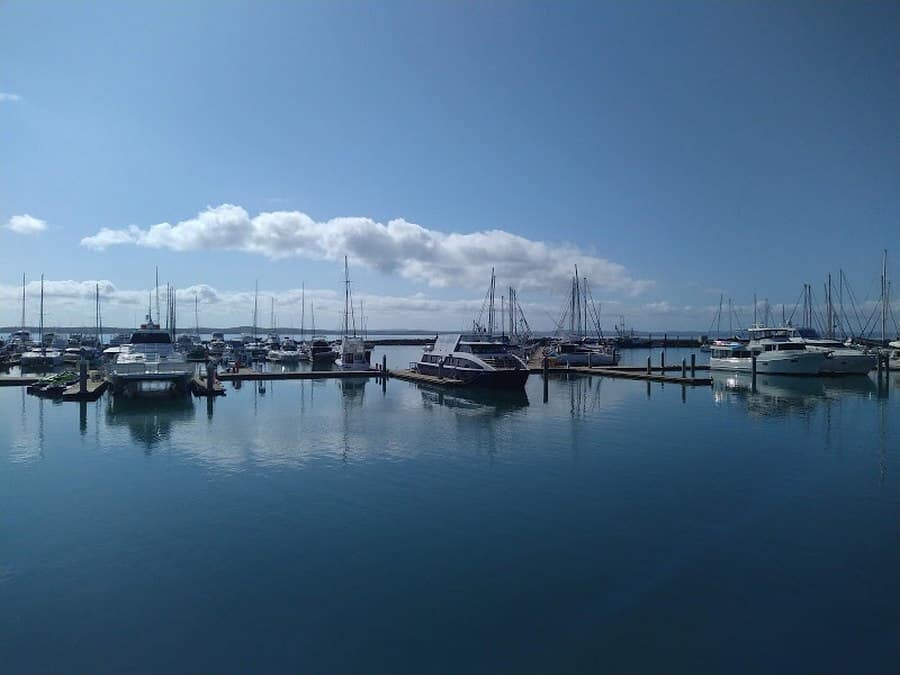 Fraser Island, at 184,000 hectares, the world's largest sand island, is located east of Hervey Bay. Filled with a hundred freshwater lakes, massive rain forests and white sand beaches, this island is large enough that you just can't see it all in a day.
There are NO freshwater fishing possibilities on Fraser Island fishing in fresh water on Fraser Island is prohibited. Other spots east across the Great Sandy Strait from Hervey Bay is Round Island, followed by Woody Island and also beach fishing at Rainbow Beach.
Turn south down the water of the Great Sandy Strait and you'll eventually find Walah Island and Turkey Island.
Fishing Charter Listings
Hervey Bay Sport Fishing Offering you guided sport fishing on this anglers playground Hervey Bay. Andrew uses his expert knowledge of the area and local conditions to help you catch that trophy fish.
Ally Jay Fishing Charters A Hervey Bay owned and operated fishing business with years of knowledge of the area to back them.
Time n Tide Charters Time n Tide Charters are the proud owners of the M.V Getaway, which is a 50-foot catamaran that has been custom-built for professional fishing.
Hervey Bay Fishing Charters A wide range of fishing charters are offered, including half-day and full-day fishing outings involving a minimum of six and a maximum of eight people.
Fraser Coast Sport Fishing An innovator in fly fishing both salt and fresh water species of fish, Fraser Coast Sportfishing offers a variety of fishing opportunities.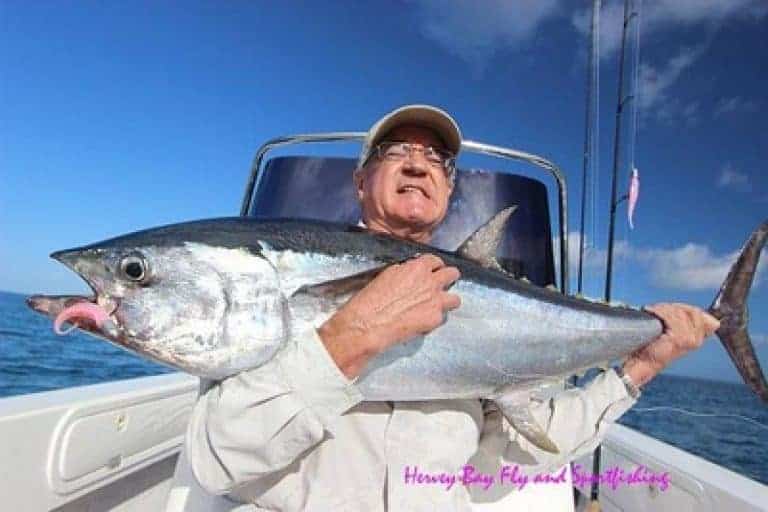 Photos courtesy Hervey Bay Fly and Sportfishing
Hervey Bay Fishing Charters Types
A wide variety of charters are available for fishing the waters of Hervey Bay, Fraser Island and the Great Sandy Straits. Half-day excursions are available that include rods, reels, fishing tackle and bait, along with beverages and even meals.
A usual length of time on half-day Hervey Bay fishing charters is five to six hours. Full-day fishing charters are also available that usually last 10 hours long. Night fishing trips are possible, too.
Longer, multi-day fishing charters from Hervey Bay are also possible, which extend north and south along the Australian coast. Usually, the catch can be instantly cleaned and frozen on this type of fishing adventure.
Meals and sleeping quarters are provided onboard the Hervey Bay charter fishing vessels on these two to seven-day trips.
Some of the fishing destinations for fishing charters from Hervey Bay include Rooney's Point, which is the northerly point of the inside of Fraser Island fishing.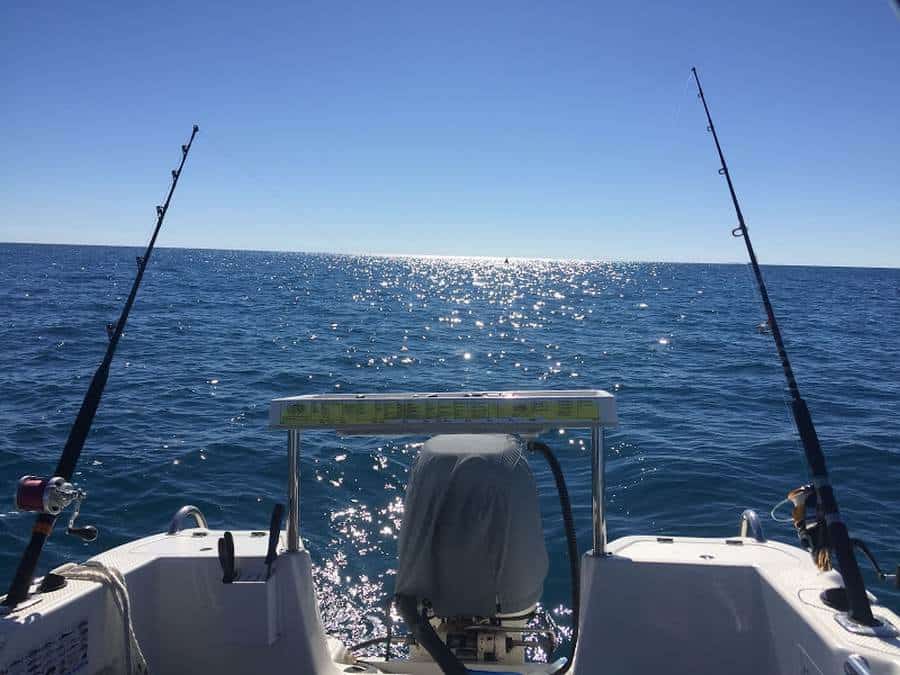 Southern Gutters, located about 30 knots northwest of Hervey Bay; Fraser Island Shoals, which extends 15 miles north of Fraser Island, Lady Eliot Island and the Bunker Group of Islands, located at the southernmost part of the Great Barrier Reef, and Swains Reef, situated due north of Hervey Bay.
Sometimes, a long venture into the Coral Sea is not required to get into some excellent fishing. Instead, spin casting or fly fishing possibilities are available in the flats where hooking into Golden Trevally, mackerel or tuna puts you into some fishing action that is second-to-none.
Of course, deep-sea fishing is also part of the adventure of fishing charters at Hervey Bay, too. This includes trolling with big level-wind reels mounted on sturdy saltwater rods. It can include bouncing the bottom with a variety of jigging presentations using both bait and artificial lures.
An interesting aspect about the fishing charter operators here is that our neighbouring Fraser Island, along with the estuary systems of the region, provides a natural marine environment for not only fish but humpback whales that calve in the warm and relatively protected waters which are sheltered from the rough seas by the big sand island.
Important Information To Know While Fishing Hervey Bay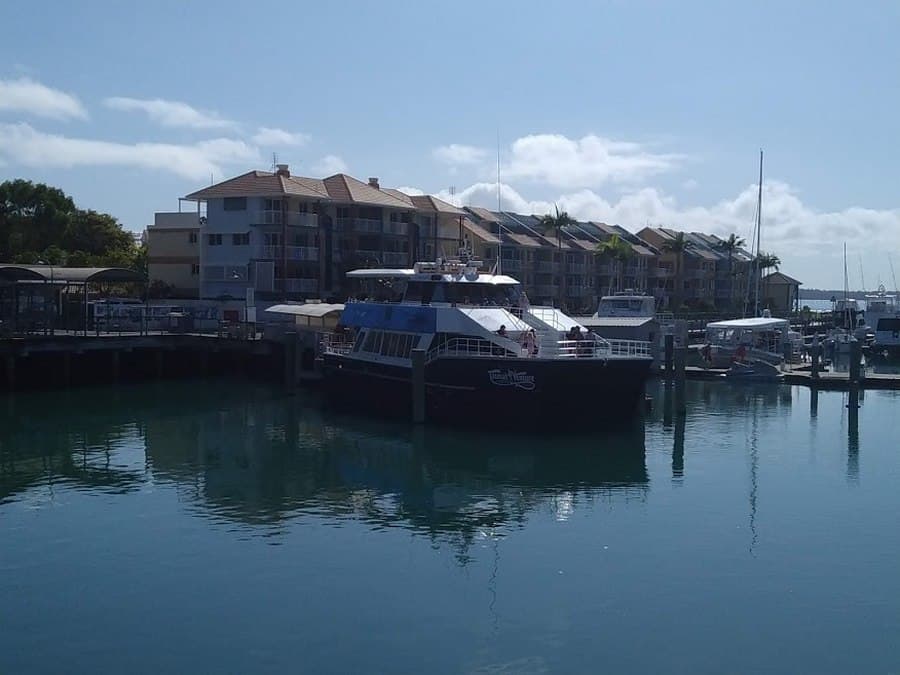 As fish populations change, so do Australia's regulations governing the sports fisherman visiting Hervey Bay. Fishing bag and size limits can be found on the Queensland Government's Department of Agriculture, Fisheries and Forestry website.
This government web location is home to a good source of figuring out the types of fish in the area by pointing your browser to Species Identification.
With a huge variety of fish species, the Hervey Bay fishing charters offer amazing opportunities for sports fishing enthusiasts that shouldn't be missed.
Resource Links To Products We Use And Recommend
More Pages On Fishing
link to Are There Stonefish In Hervey Bay?
Stonefish are known to inhabit various coastal regions around the world, and Hervey Bay in Australia has had a few encounters over the years with the dreaded stonefish. Hervey Bay offers a diverse...
link to 9 Best Baits For Australian Salmon
Loved for their delicious, oily flesh, Australian salmon are a prized catch for many anglers. And while they can be caught using various techniques, baits are often the most effective. But which...