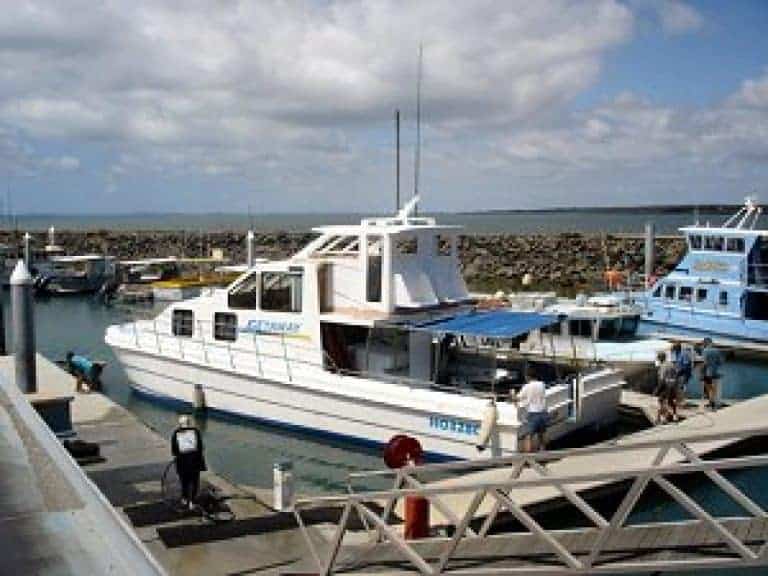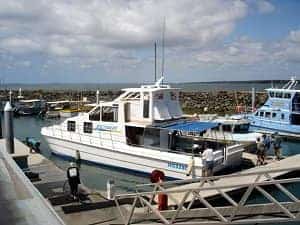 Time n Tide Charters are the proud owners of the M.V Getaway, which is a 50-foot catamaran that has been custom-built for professional fishing.
The newly revamped model has been refitted for charter fishing and some of the features from the professional fishing phase still remain, such as the 240V 6 cubic meter freezer and the long-range tanks for those extended trips the vessel takes.
This wonderful vessel takes up to 10 people per trip comfortably and you have the advantage of enjoying a 3-day fishing trip with Time n Tide Fishing Charters.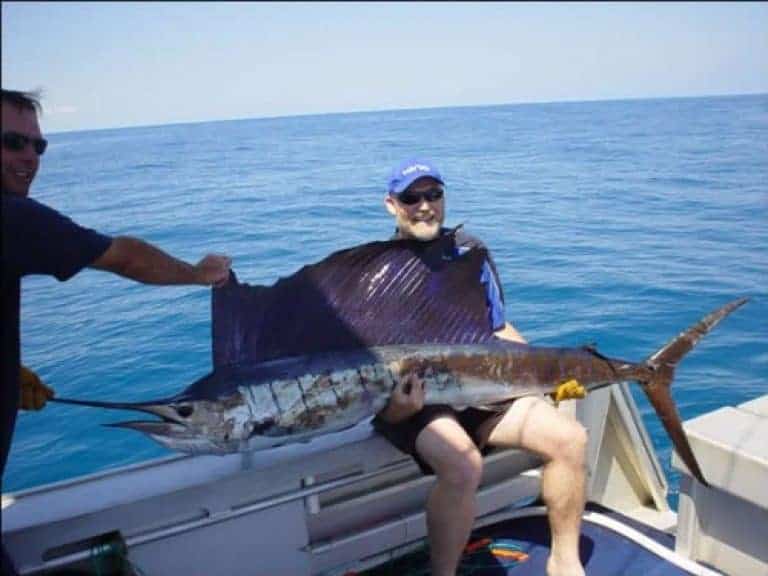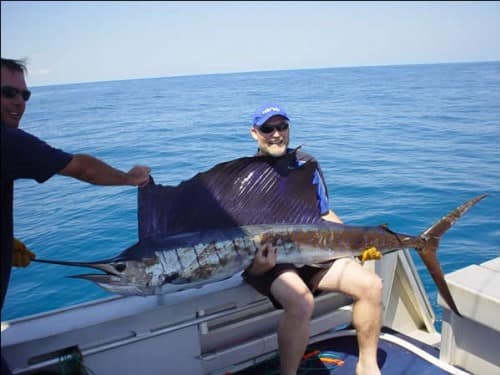 Once you depart the Urangan Harbour Marina, you will venture into a world of learning all about the deep sea, fishing, which bait is right for which fish and all the protected open waters of Hervey Bay.
With inshore and offshore scenic fishing tours around Fraser Island and Hervey Bay waters, you will enjoy the sights surrounding you, as well as the calm waters that the Bay area is well known for.
Reef fishing is what this Charter boat specializes in as well as sport fishing, live baiting, trolling and line records.
All expert fishing equipment is fully provided when you are on tour. Expert rods and reels, bait and tackle to choose from as well as the professional crew who know just where to take you to enjoy your fishing adventure.
Onboard you will learn to hook your bait, cast your line and how to reel in the catch of a lifetime! The experienced crew are happy to answer all of your questions about the Great Sandy Straits oceans and give knowledge on the best-kept secrets about the Bay's waters.
You won't go hungry when you are out on your 3 day get-away! All meals are provided as well as drinks.
Bed linen is also provided so you sleep comfortably between fishing spots and the crew at Time n Tide Charters ask that if you wish to bring your own alcohol along with you, you are more than welcome, but please remember to keep drinking to a moderate level for the enjoyment of everyone onboard the trip.
The 3-day trips average two departures per week from the Urangan Harbour, with approximate days of departure being Sunday evening to Wednesday afternoon and Thursday afternoon to Sunday lunchtime.
Make sure you bring your sunglasses along as the glare from the water can affect your eyes, especially if you are not used to the gleam from the ocean. Hats are essential too, so please ensure you bring along a hat (or two) so the sun doesn't ruin what will be an amazing trip for you.
The above listing has not been verified and all information is to be used informative base only.
Address: P.O Box 7100, Urangan Hervey Bay, 4655
If you decide to contact us by phone
Please let us know you found us on Discover Hervey Bay
Resource Links To Products We Use And Recommend
More Pages On Fishing
link to Are There Stonefish In Hervey Bay?
The stonefish, scientifically known as Synanceia, is renowned for its incredible camouflage and potent venom. It is often considered one of the most venomous fish in the world. This venomous...
link to 9 Best Baits For Australian Salmon
Loved for their delicious, oily flesh, Australian salmon are a prized catch for many anglers. And while they can be caught using various techniques, baits are often the most effective. But which...