Hervey Bay in Queensland, Australia is the ultimate destination for seeing wildlife, tropical islands, tranquil beaches, and so much more.
With so much to explore, the Hervey Bay area also has to have a lot of lodging for its visitors.
While the bay area does have a lot of accommodation to choose from, knowing a bit more about those locations helps in the final decision for booking.
The best part about the lodging in Hervey Bay is that it caters to all tastes and preferences by offering caravan parks, resorts, motels, etc. No matter what someone's budget might be, there's a lodging choice for everyone!
Tower Court Motel Location
Finding the type of accommodation that suits someone's needs starts with knowing the basics of a particular location. This includes its facilities, room types, pricing, etc.
Hervey Bay has many to choose from fitting all budgets. The Tower Court is one of those options and this quirky spot is a great choice!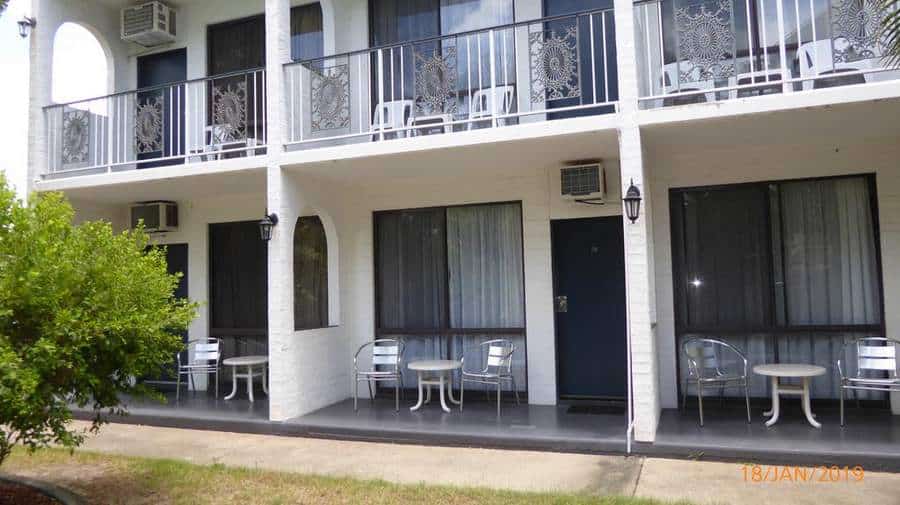 Description
With a quirkily shaped building featuring a small castle tower and red-shingled roof, it was certainly memorable from the very start! The grounds include a small tropical garden and two floors of rooms.
While it only stands two stories, the Tower Court prides itself on being close to local shops and steps away from the beach.
Moreover, the rooms are contemporary with fresh, bright decor and lighting.
Popular Facilities
Saltwater swimming pool (surrounded by the tropical garden!)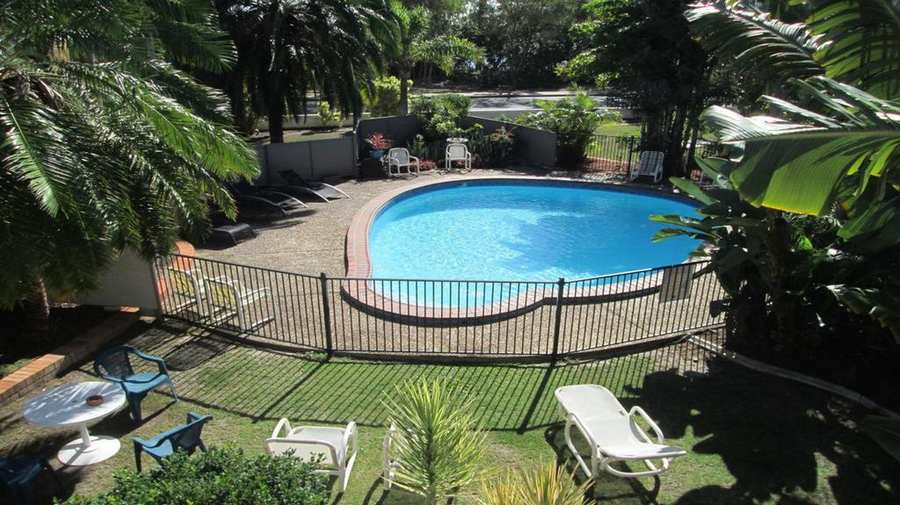 Ratings
Many accommodation choices are awarded an overall star rating to help guests see the level of comfort and quality of the facilities provided. This rating is typically only based on the quality and not the quantity.
Tower Court is said to have a 3-star rating. A 3-star rating isn't bad, it simply means the facilities are about average and still acceptable to guests.
When it comes to guest reviews, Google users rate the location 4.3 stars out of 5 stars. While guest reviews should be taken with common sense in mind, most guests comment on the location's cleanliness, staff, and overall location.
Room Types
The room types at Tower Court come in four choices: 2-bedroom suite, family suite, queen room, or twin room.
The rooms are air-conditioned and feature small kitchens and lounge room areas aside from the bedroom space.
The choices of the rooms make this location ideal for small families or even a couple looking to get away a little bit.
These self-contained room types are spacious and nice choices for those who have a small home-away-from-away. Below are the prices for staying in these suites based on one night's stay for two guests.
These prices are subject to change based on availability, peak seasons, etc.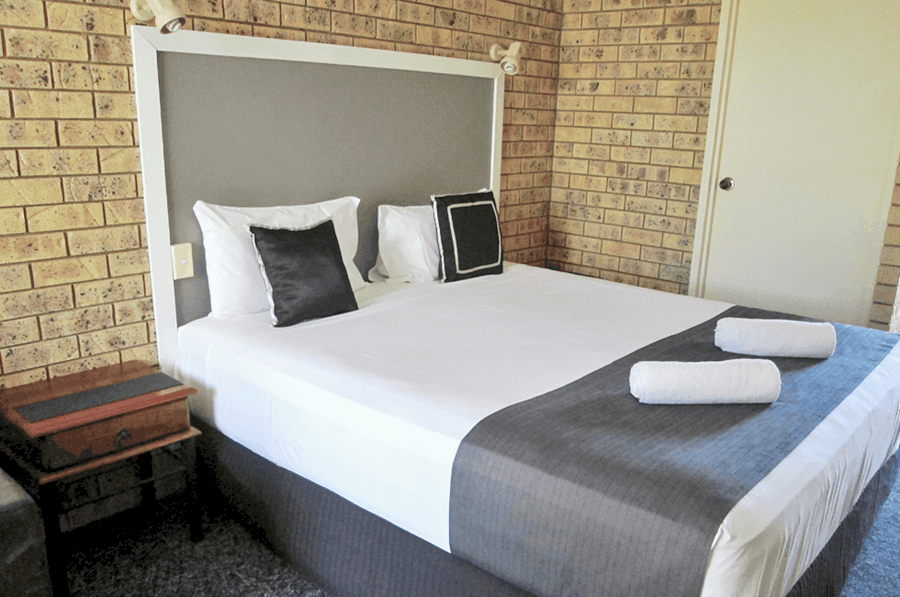 Surroundings and Location
The address and exact location of the Tower Court Motel are as follows:
460 Esplanade
Torquay, QLD 4655
Phone 07 4125 1322
Tower Court is right by the esplanade which is one of Hervey Bay's most popular things to see. Stretching about 14km along the coast, the esplanade is a great way to see the perfect blend of ocean views and small towns and villages along the coast.
Whether it's to exercise or see once-in-a-lifetime views of the ocean, the esplanade is the place to go.
Other notable places to check out are obviously the beach and even tours to Fraser Island, the world's largest sand island. Moreover, the motel is nearby a shopping centre stretch that features local shops for finding fun trinkets.
Visiting Lady Elliot Island (only accessible by plane) is one of the best ways to see the Great Barrier Reef as it is the most preserved in that area. Snorkelling and diving adventures await on the island!
The Hervey Bay Botanical Gardens are a great way to see local flora and plants as well as gorgeous birds. There are also boat cruises along the Mary River to Port Maryborough as well. Simply put, there's so much around to explore!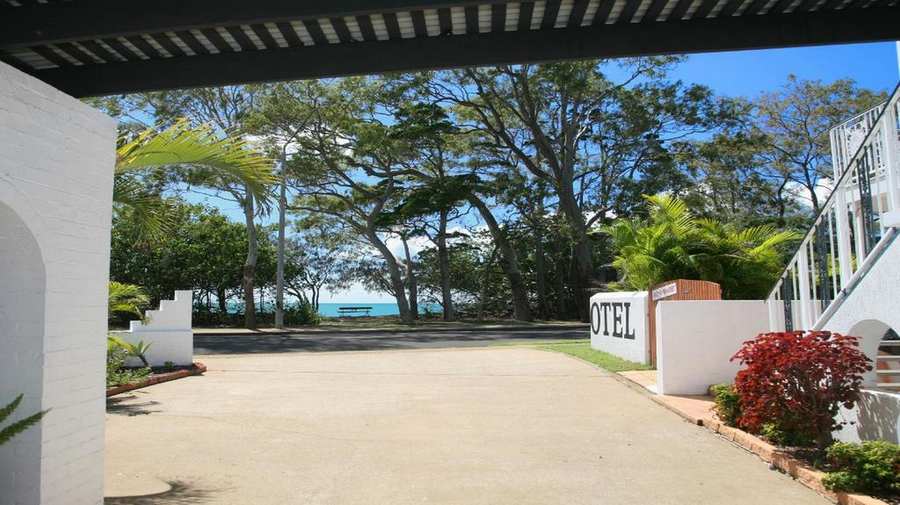 Facilities (Other than the popular ones!)
Non-smoking rooms (for clean and crisp air!)
Full fridges and bar fridges
Check-In and Check-Out Times
Check-in is between 2 and 8 pm and check-out is any time before 10 am.
The Tower Court Motel is an affordable way to have a modern room and be close to all things that make Hervey Bay wonderful!
Resource Links To Products We Use And Recommend
More Recommendations For Accommodation
link to Discovery Parks Fraser Street Hervey Bay
On the Fraser Coast, Hervey Bay is an oasis of the best natural world the area has to offer. Just across the way from Fraser Island, you will also find beautiful botanical gardens, a stunning...
link to Caravan Parks Hervey Bay
Throughout the region of Hervey Bay, there are over 20 caravan parks to choose from. All these caravan parks are slightly different from one another. Some are bigger while others are smaller in size...