Any holiday deserves a proper hotel or accommodation booking. There's a variety of different options for accommodation, especially in Hervey Bay, Australia.
One option is the Charlton Apartments Hervey Bay. These chic self-contained apartments are a modern way to enjoy the amenities of a hotel while feeling home away from home!
Moreover, they are located in the idyllic Hervey Bay where there is a lot to explore and see among the gorgeous landscapes.
Apartments In Hervey Bay
When booking accommodation for a holiday, there are key aspects to check before committing to the reservation. These things include the overall feel of the atmosphere, the rating of the establishment, any amenities that are included, etc.
Considering there is a wide range of accommodation types in Hervey Bay, taking a closer look at some of the types helps in the final decision!
Sure, we all want a bit of comfort in the place we choose, however, there is more to it than just comfort levels. Certain questions should be asked, such as "What else does it offer?" or "What makes it really stand out?".
These questions make a well-rounded decision.
Description
Charlton Apartments are self-contained which means they provide everything for the guests that are needed for a stay. It is essentially living quarters that mimic being at home.
This is a super attractive benefit for those looking for something a bit more modern with accessibility. Not only do the apartments give off a home vibe, but they are also close to the beach as well!
Having a beachfront view is not only gorgeous, but it also makes heading out for beach activities super convenient. Between the ease of access to a self-contained apartment and is located right near the beach, everything is at the guest's fingertips!
The Charlton Apartments also feature garden views. This is an exclusive garden full of lush plants, trees, and flora that surround the apartments.
With the choice of an ocean view or garden view, guests can expect some peaceful sights. The tranquillity of ocean or garden views intensifies the overall relaxation that comes with an accommodation stay!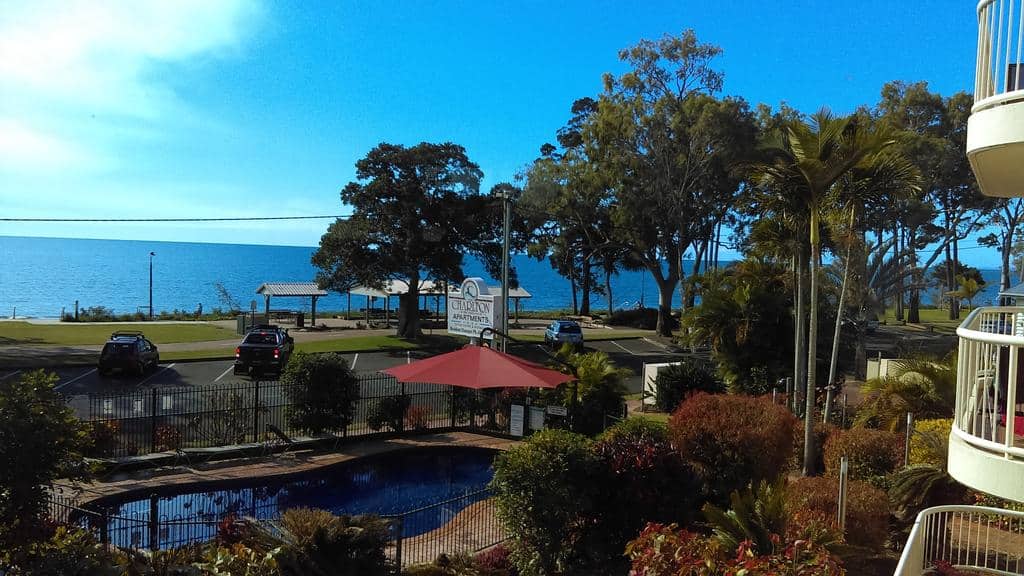 Popular Facilities
While there are plenty of amenities at these apartments, there are some more popular facilities that really can attract guests. Below are the most favoured facilities at the Charlton Apartments!
Special parking spaces for motor vehicles. These spaces are also covered to ensure protection from the elements.
Private balconies. Balconies are a fantastic way to enjoy beautiful views and relax during the evening. All balconies come with outdoor seating.
Outdoor swimming pool. The pool has beach views for the ultimate relaxing experience.
These four facilities are the most popular and provide an edge over other apartment locations. A truly adventurous trip can be had with these accommodations!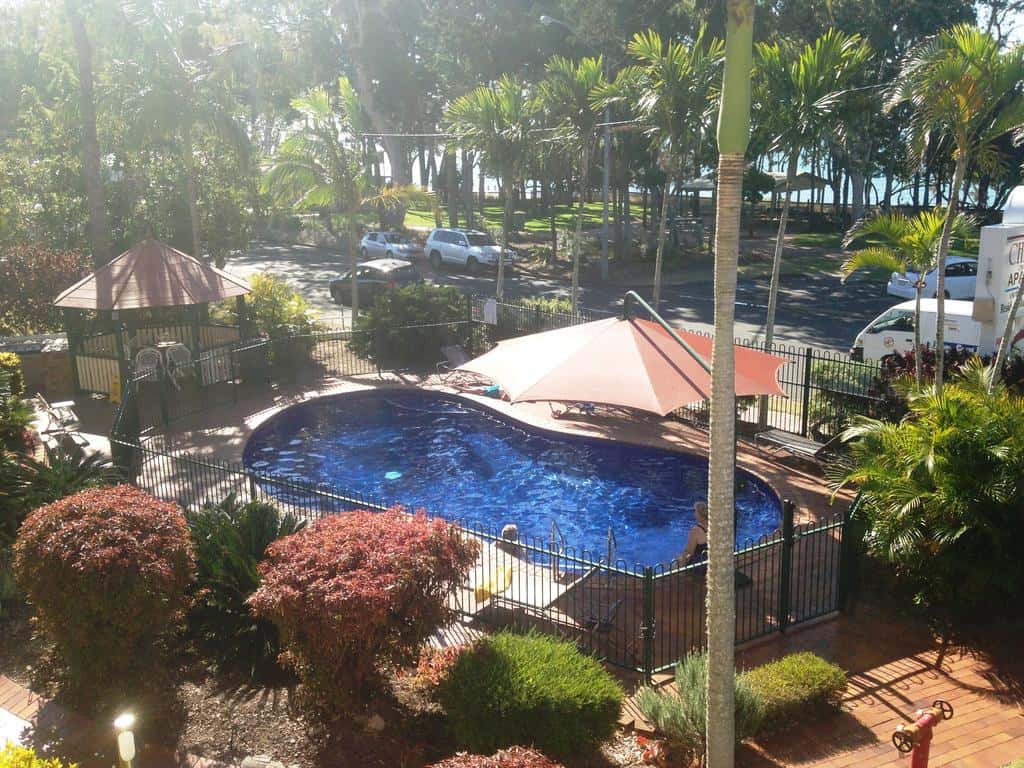 Rating
Hotels and other forms of accommodation are often rated by their guests and also have an overall rating for their facilities. In terms of the overall rating, the star rating serves as a way to ensure guests of the experience they will have while staying.
These stars are awarded based on the above and beyond services or facilities that a hotel or other form of accommodation provides.
This can include laundry services, room service, access to spa treatments, pools, beaches, etc. The more luxurious feeling that a place has, the better the star rating it will have.
When it comes to the overall star rating for the Charlton Apartments, it is considered a 4-star hotel. This specifically means it offers more amenities and quality things than other hotels or apartments that may be available.
This has been showcased by its availability of parking spaces for guests, private balconies, and outdoor swimming pool areas. However, that star rating also applies to the other amenities that are included in the location.
Another aspect of the rating includes guests' experiences themselves. These reviews and ratings on places like Google, really give insight into personal experiences.
Common sense should be used when addressing these reviews and the overall number of ratings should be considered compared to the star rating given by the guests. On Google, Charlton Apartments is rated with 52% of the 34 reviews being a 5-star rating. That is pretty decent!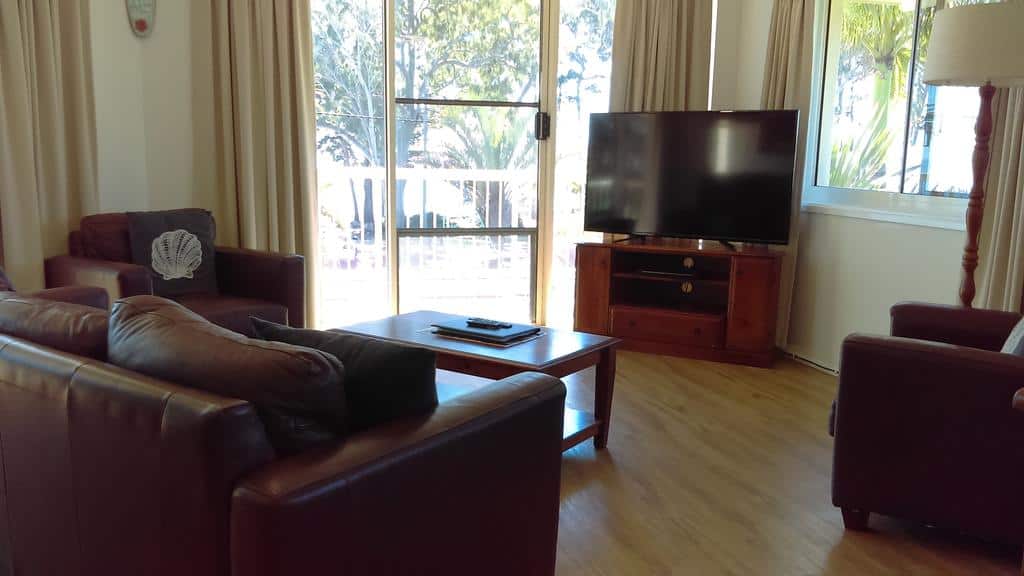 Room Types
The rooms are self-contained apartments that come in 1, 2, or 3 bedrooms. They have flat-screen TVs, laundry facilities inside of them, fully operational kitchens, and two toilets.
These rooms are spacious and suitable for families of all sizes. The cost behind the room types ranges from $135 to $170/day for the 1 or 2 bedroom options.
The 3 bedroom options do require direct contact for final pricing. There are choices of ocean or garden views for the rooms!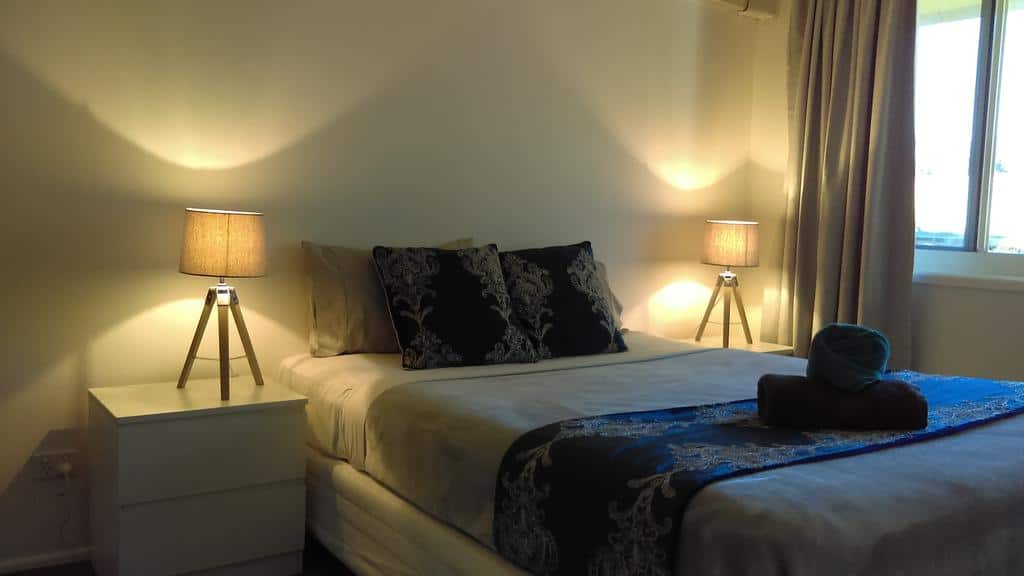 Surroundings and Location
The address and contact information for the Charlton Apartments Hervey Bay are as follows:
451-452 Esplanade
Torquay, QLD 4655
Phone 61 7 4194 8200
The surrounding area of the apartments includes shops and local restaurants. Other points of interest include the esplanade, which stretches 14 km along the Fraser Coast in Hervey Bay.
This esplanade is a great way to get some exercise or enjoy the area between the local shops and the beachfront area which is the best of both worlds!
Access to local boat clubs is also available, including complimentary bus shuttles.
The surroundings around the apartments have also been known to attract various wildlife, which is one of the most iconic ways to experience Australia.
It is known for its exotic animals (some that are dangerous, so being alert is important!) and there have been sightings in the local area around the Charlton Apartments.
These sightings include exotic birds and even a local bee species possibly as "sugar bag bees". These bees do not have stingers and are completely harmless to humans. Their sole purpose is to help pollinate the local area which feeds into protecting the ecosystem!
Obvious other locations include boating tours for whale watching and ones that operate off of Fraser Island. The apartments do help with bookings of these tours and offer certain specials. This location is also only 2.5km from the Hervey Bay Botanical Gardens!
Facilities (In addition to the popular choices)
Reverse air condition and ceiling fans
Single, double beds, or queen beds
Access to transportation like buses, mopeds, or bikes
Check-In and Check-Out Times
Check-in times are 2 pm and check-out times are 10 am. Early check-in is available provided that arrangements have been made in advance. Late check-out is available (up to 5 pm) for an additional fee.
This fee is said to be 50% of the cost for one night's stay pricing.
The Charlton Apartments Hervey Bay is an idyllic way to enjoy the bay area with tons of access to fun spots, the beach, and other interesting places. Moreover, there is plenty of modern comfort at an affordable price here!
Resource Links To Products We Use And Recommend
More Recommendations For Accommodation
link to Discovery Parks Fraser Street Hervey Bay
On the Fraser Coast, Hervey Bay is an oasis of the best natural world the area has to offer. Just across the way from Fraser Island, you will also find beautiful botanical gardens, a stunning...
link to Caravan Parks Hervey Bay
One of the most iconic ways to experience Australia is by experiencing its beautiful natural surroundings. Because the country offers an abundance of stunning landscapes from coast to coast, caravan...