Australia's abundant natural beauty, from thriving coastal beaches to emerald-green parks and trails, offers plenty of opportunities for camping. Local governments are very accommodating to those who take to the great outdoors, but is it true that you can park your campervan anywhere in Australia?
You cannot park your campervan anywhere you like in Australia. Like other vehicles, they can only travel in specific locations as regulated by local authorities.
In this article, I'll discuss where you can and cannot park your campervan throughout Australia to always be on the right side of the law. Continue reading if you want to make the most out of your next Australian outing.
Parking Campervans In Australia
According to the Campervan Industry Association of Australia, 1 in 13 households

registered a campervan or other RV in 2019. These numbers reflect a continuously growing interest in camping across the country for locals and tourists alike.
With such a large and growing number of camping vehicles on the road, local governments have to closely regulate where they can park to keep roads safe and traffic moving. As a result, most restrictions are on where you can park a campervan overnight.
Here are some general rules for parking RVs across the country. However, don't assume that these are universal across every town and city in Australia. Always double-check with local councils to be sure.
Roadside Campervan Camping
You're free to park your campervan alongside the street, just like any other vehicle.
However, many places will not allow an RV to park on a roadside overnight and require you to move by a designated hour. Failure to do so could result in fines, removal, or both.
Heavily-travelled areas will feature signs that list parking hours. Local councils and tourist centres can also provide that information.
In the quest to find a completely free camping experience, some people advocate parking overnight at stores or on less-populated backroads. However, the former is only allowed at the whim of the business. The latter is still illegal, even if there are fewer people around.
It's worth noting that some locations treat "parking" and "camping" differently. Often, the difference is whether or not someone is sleeping in the van while it's parked.
You can learn more about parking restrictions at the National Transportation Commission's Australian Road Rules webpage here

.
ABC Gold Coast reports

that campervans can park overnight on city streets, so long as they meet specific measurements. However, people can not stay in the vehicle while it's parked overnight because, at that point, they're camping.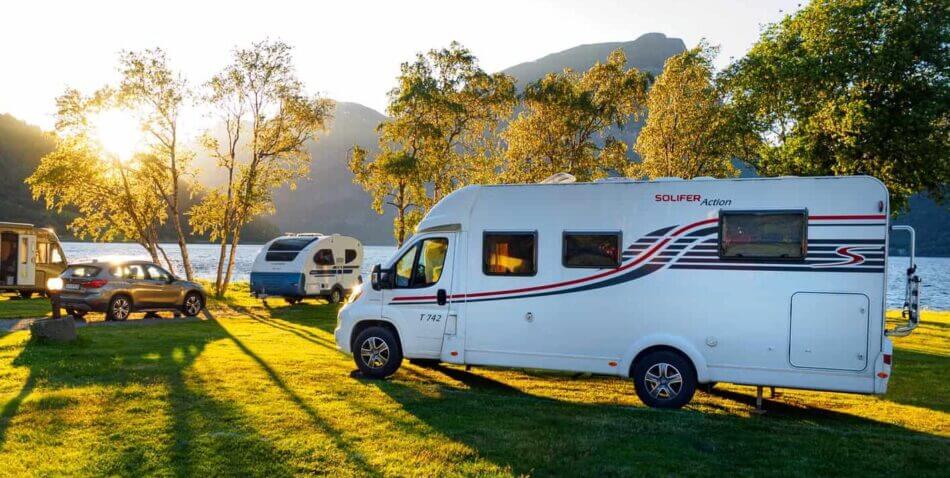 Beaches With Campsites
As people flock to Australia's beaches for fishing, surfing, and swimming, it's only natural that you'll see campervans dotting the coast.
Beach parking follows similar rules as roadside parking and thus isn't viable overnight. Furthermore, given their popularity as a tourist destination, you're likely to encounter law enforcement if you try to stay overnight.
However, you can park at a beachside campsite. Some beaches do have designated overnight RV parking near the beach itself. You can park your vehicle on a beach and access amenities like showers, restrooms, Wi-Fi, and more for a small nightly fee.
One such example is the Airlie Beach Hostel

, which boasts a dedicated camping site and hostel. Other beaches feature designated campervan parking areas for a more minimal camping experience.
National Parks And Campervans
Travellers in campervans can pay to stay overnight in one of Australia's national parks. Unless you have permission to park on private property, this is the cheapest option for overnight camping.
Some even have free options, such as Kakadu National Parks

campgrounds.
The variety of park options means you can enjoy whatever type of camping experience you want, whether you're looking for isolated spots with minimal amenities or shared campgrounds with kitchens, showers, and other managed services.
National parks designate specific sections for vehicles, so make sure you're parking where you're welcome. The government website Parks Australia lists each site

and what vehicles are allowed in different regions.
Private Campsites For Campervans
Because camping (and campervans) are so popular in the country, many privately owned parks have opened their doors to campers with vehicles. While more expensive than state parks on average, they come fully equipped with modern technology, like charging stations, to keep you comfortable on your trip.
The most significant difference between private campsites and national parks is management. Private parks can be managed however the owner likes (within the confines of the law) and can have wildly varying standards from park to park.
On the other hand, national parks are government-managed and generally have more consistent standards.
Rest Stops And Campervans
While not an ideal place to camp, rest stops allow overnight parking and provide bare essentials, like toilets and showers. The main appeal of rest stops is that they are free, and some are near popular camping locations.
The trade-off is that rest stops aren't built specifically for camping and lack direct management should you need help with something.
Things To Avoid
Other solutions to the campervan parking problem can seem appealing, especially if you cannot find a spot on short notice. However, these approaches outlined below are illegal, dangerous, or both.
Parking at Vacant Property: An abandoned home or business isn't necessarily public property. If you park your campervan on vacant property, you could run afoul of trespassing laws.
Parking Somewhere After Hours: A business is closed, and all the employees have gone home. You may think you won't get caught parking there, but you could face trespassing charges if you are.
Parking Where Other Campervans Are: Don't assume it's legal to park somewhere because others are already there. They could be mistaken or willfully breaking the law.
So, check your surroundings and the local laws where you want to camp before you park your van. That way, you can have a comfortable stay and avoid breaking the law.
Conclusion
While you can't park everywhere in Australia with your campervan, there are still plenty of options available that will suit your needs. By taking the time to research local spots and restrictions, you will have no issue finding a suitable parking spot for your next camping adventure.
Resource Links To Products We Use And Recommend
More Pages On Camping