When it comes to taking your dog out for some exercise it's always a good idea to check which places are allowed to take your dog to. Not all the beaches in and around Hervey Bay are dog friendly nor are the parks. There are two categories, off-leash parks and on-leash parks.
Being able to determine which is which can be tricky, so we have set out a list of both on-leash and off-leash parks for you to make it easy. Before you look further into the list of places it is good to know some simple dog etiquette first.
Be sure your dog comes to you when called if going off-leash to avoid any unnecessary accidents. Be sure to clean up after your dog, whether it be feces or a toy you brought along. Be respectful of other dog owners, make sure their dog is dog friendly before approaching if they have their dog leashed.
Overall have fun and enjoy the experience of not only yourself getting some fresh air but your dog as well, as both can benefit from getting out and stretching from being inside.
Off Leash Beaches In Hervey Bay
| | |
| --- | --- |
| Beach Name | Location |
| Point Vernon Foreshore | Located between Aplin St and Pines Park In Point Vernon, the time allowed is 24 hours |
| Toogoom To Craignish Foreshore | Located between Ries Road and Peterson Road, the time allowed is from 3 PM to 8 AM |
| Serenia Beach Burrum Heads | Located from the Southern end of Burrum Street to Orchid Drive, the time allowed is 24 hours |
| Urangan Beach | Located Between Margaret St and Churchill St, open 24 hours |
| Dundowran Beach-Point Vernon Foreshore | Located from Ansons Road to Spence Street, Open 24 hours |
| Pialba Foreshore | Located Between Taylor Street to Zephyr Street, between the hours of 3 PM to 8 AM |
| Point Vernon Foreshore | Starting from beach marker PVT20 to just 100 metres past Esa Park, open 24 hours |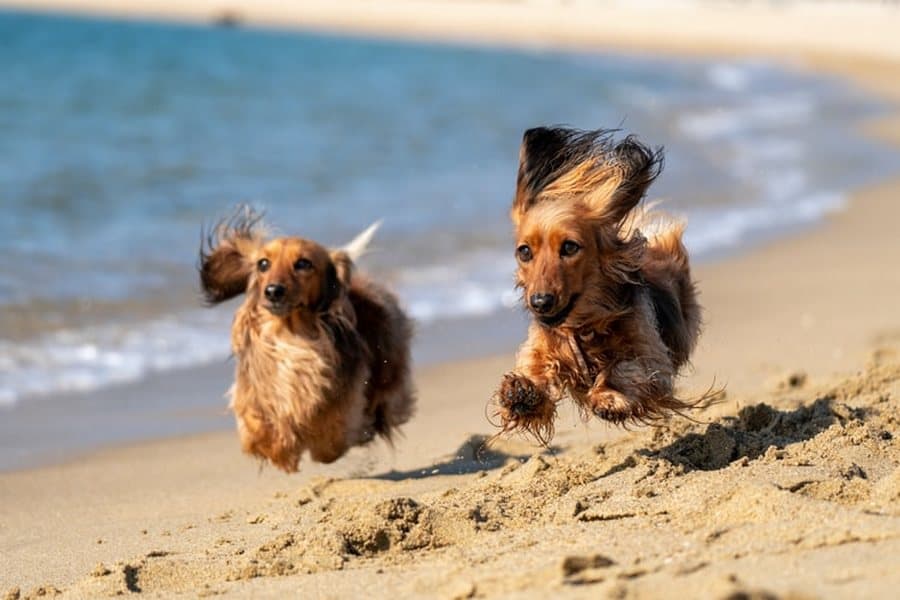 Off-Leash Parks are only to be used if you have good voice command controls with your dog, such as they come when called. If your dog is unable to come when called then you must keep your dog leashed when using these beach areas.
Do keep in mind that if you walk your dog on these beaches while leashed, there is a chance that other dogs may run up to yours. Most off-leash beaches are used daily by other dog owners so they may or may not know the behaviour of your dog, just as you won't know theirs.
If you prefer to use a leashed beach, all other beaches not mentioned are available to walk your dog but council rules

state they must be leashed in those areas. If you're unsure if dogs are allowed in an area be sure to check the signs around the area. The council PDF map for all areas allowed can be found here

.
Off Leash Dog Parks In Hervey Bay
| | |
| --- | --- |
| Park Name | Location |
| Scarness Park | This is a 24-hour park located off of Denamns Camp Road Between Totness St and Parkway Drive |
| Craignish Park | Located off Of Petersons Road and Dundowran Road in Craignish, The park is newly opened to the public and open 24 hours |
| Augustus Estate Dog Park | Located in the Augustus Estate In Urraween located off of Blaxland Road, this park is open 24 hours |
| Urraween Dog Park | Located in Urraween and 50 Julie Anne Street and open 24 hours |
| Howard Park | Located at 2-14 James Street in Howard and open 24 hours |
| Neptune Park Maryborough | Located at 3 Neptune Street in Maryborough and open 24 hours |

Most dog parks in and around Hervey Bay will have some basic facilities, such as toilets, a covered sitting area, a water tap, and dog bag dispensers.
Please be mindful of other patrons when going to one of these dog parks and remember to pick up after your dog and keep the area clean. It makes it nicer for not only other dog owners but for the council to come in behind and maintain the area.
Again these are off-leash areas so expect to be around other dogs without a lead if attending these areas. If you are not confident with your animal or they are still in training it is best to keep them on a leash or to go at a time when the park is not busy so that you can get the most out of the park.
Wherever you choose to take your dog out for a walk, some agility training, or for some basic training make sure to remember dog etiquette. It makes not only enjoyable for you and your pet but for those around you as well. Always pick up after your dog and always ask on approach if someone else's dog is dog friendly.
So get out there and enjoy walking your dog, whether it be at a park or one of the many beautiful beaches that surround Hervey Bay.
Resource Links To Products We Use And Recommend
More Pages On Hervey Bay
link to Sunset Cruise In The Great Sandy Marine Park
The Sunset Cruise Great Sandy Marine Park has a lot to offer, from stunning scenery to a range of wildlife and marine life. Here are some of the things you can expect to experience on a sunset cruise...
link to Is Hervey Bay Full Of Old People?
Hervey Bay is a popular retirement destination and has a higher proportion of older residents than some other cities in Australia. However, it is important to note that Hervey Bay is a diverse...