For any weary traveller, there is nothing quite like getting into a comfy bed after a long hot shower, and the Arkana Motel is just that haven for the weary travellers venturing to the Maryborough area.
They pride themselves on having comfortable rooms, cleaned to an exacting standard, and a warm welcome for anyone who comes to their door. And if you look beneath the surface there is a whole lot more to be happy about when you spend the night there.
The Arkana Motel is a 3-star motel located in Maryborough, Queensland. It has a wide range of rooms, including a handful of dog-friendly rooms, breakfast, BBQ areas, an outdoor pool, and a variety of facilities. There is also a tour desk that can help you to plan your excursions to the local area.
Arkana Motel Description
The Arkana Motel is a 3-star budget motel at its finest. It is family-run and welcoming, and the owners pride themselves on their exacting cleanliness standards (rooms are serviced every single day).
There are rooms to fit every budget and group size (including dogs in some rooms) and there are all of the facilities that you would expect to help your stay be more comfortable.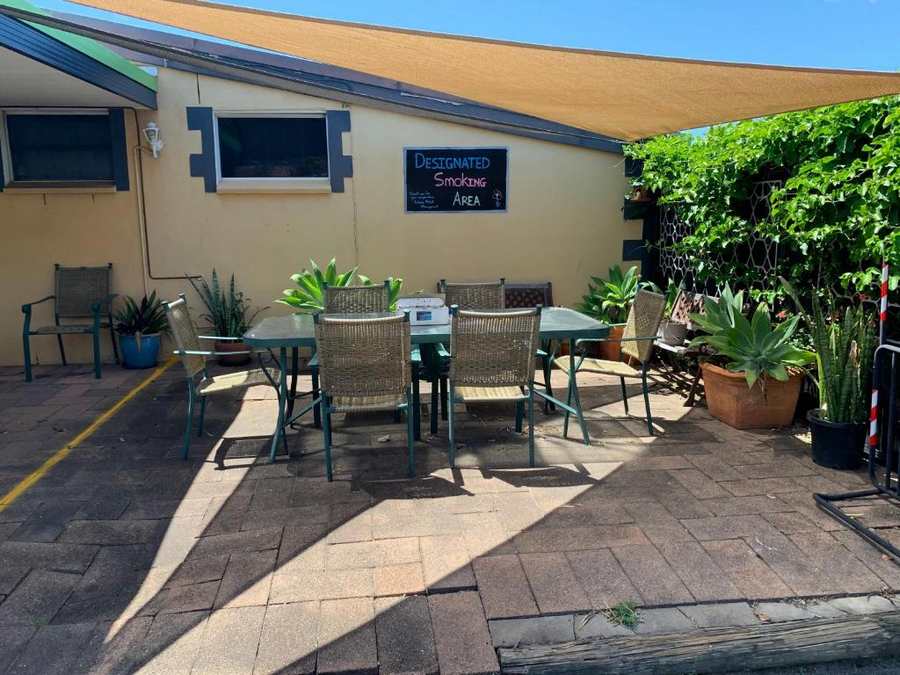 Arkana Motel Popular Facilities
While the Arkana Motel really is the perfect place to rest your head after a long day travelling or sightseeing, it also boasts a range of popular facilities that help to give it that little extra sparkle. There is an outdoor fenced swimming pool with a shallow end and pool toys for the children.
It also has beach chairs, lounges, and umbrellas so that you can really get that chance to relax, as well as beach towels on offer.
There is a barbeque area and playground with picnic benches and a garden area so if you are staying with family or friends you can use this area to socialise, or you can head over there by yourself to take advantage of the outdoor space.
The tour desk can provide you with advice and tickets to many of the top sites nearby (including whale-watching during that period).
The motel is in a central location within easy walking distance of shopping centres and a wide variety of places to eat.
Arkana Motel Ratings
The Arkana Motel has a score of 3.5 out of 5 ("Very good") on Trip Advisor. Guests really appreciate the high attention to cleanliness offered at the Arkana Motel and they feel that it is above and beyond what would be expected for the price.
Those guests with dogs also appreciate the option of a dog-friendly room. Many guests were pleasantly surprised by how quiet the soundproofed rooms were given the proximity to the main road. Some guests point out that the motel is in an older style which makes it look a little dated.
Arkana Motel Room Types
The Arkana Motel has 33 rooms available in total and they come in a variety of sizes. Some of the rooms are pet-friendly, although only dogs are allowed. And you can choose on booking whether you want to stay in a pet-friendly room or one that has never had pets stay in it.
All rooms have a private bathroom with toiletries and a hairdryer. They are air-conditioned and soundproofed and they have a fridge, microwave, and coffee/tea making facilities.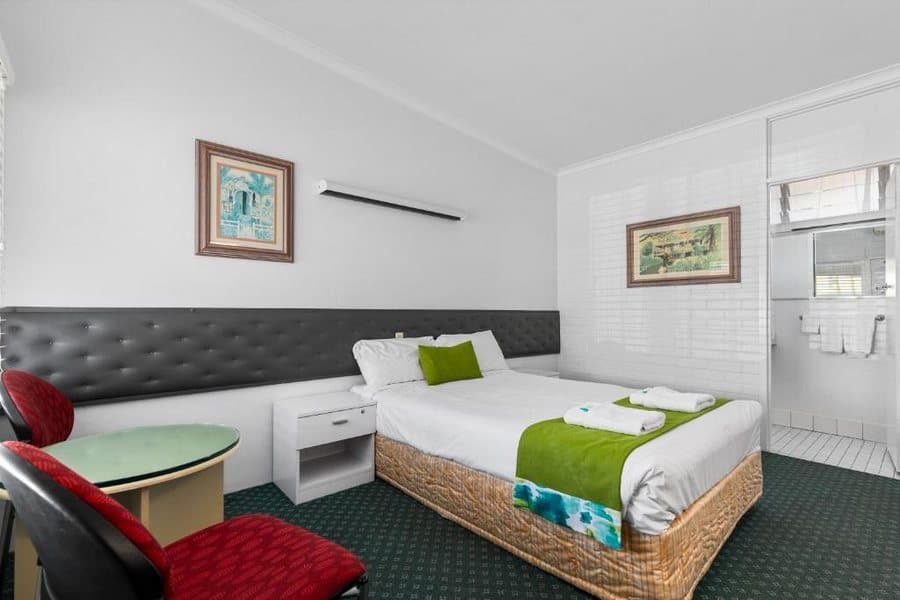 Double Rooms
These rooms will fit two guests and have a standard double bed.
Queen Rooms
These rooms will also fit two people and have a more luxurious queen-sized bed.
King Rooms
And if a queen-sized bed just isn't spacious enough for you, you can opt for a king room.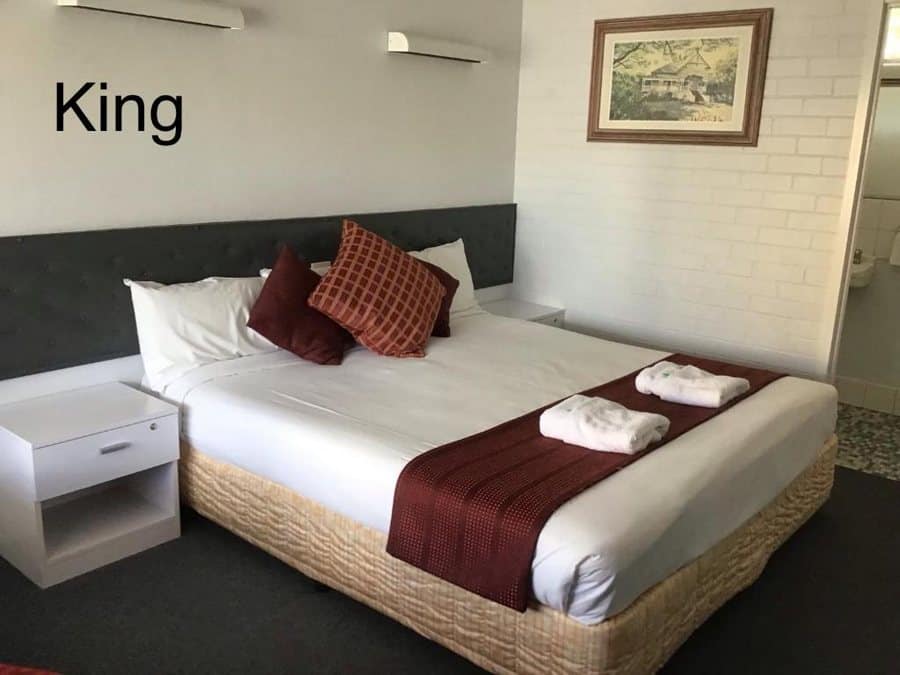 Twin Rooms
These rooms fit three people and have a double bed and a single bed.
Family Rooms
These rooms will fit four people and have either a double or a queen bed with two twin beds.
Large Family Rooms
These rooms can fit seven people in total. There is a partition wall that separates the room into two sleeping areas. One side has a queen bed and two single beds and the other side has three single beds.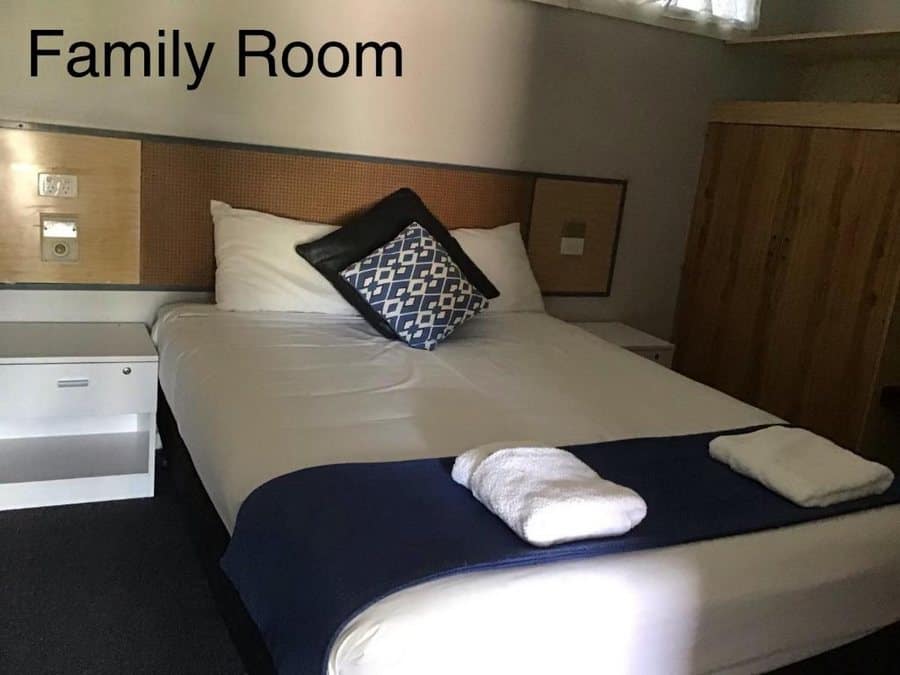 Triple Rooms
These rooms fit three people and have three single beds.
One Bedroom Apartments
These apartments have a double bed, kitchen, and living area, as well as the en-suite.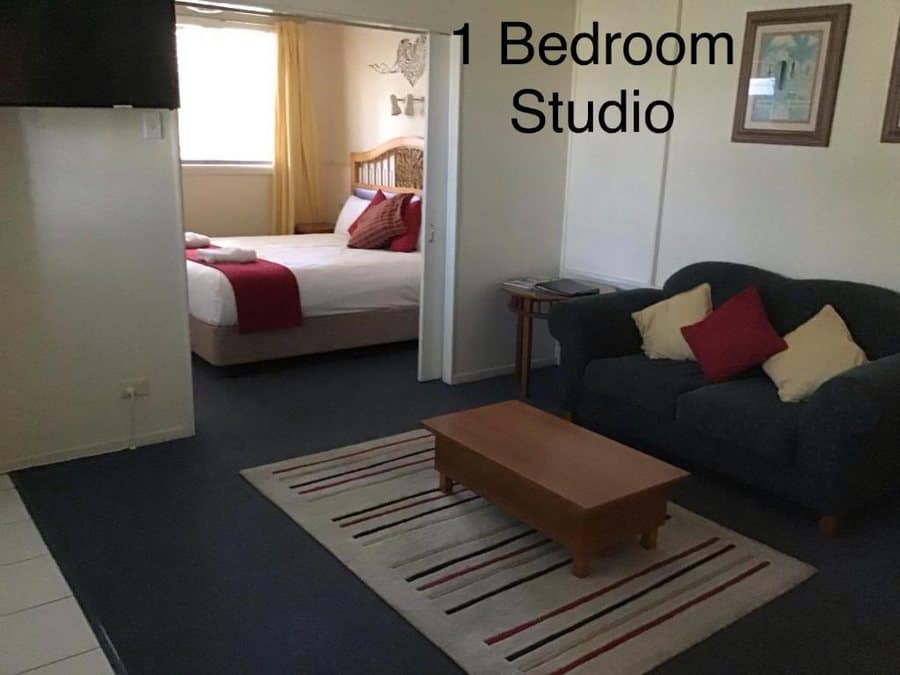 Three Bedroom Apartments
These apartments can fit fourteen people in total, spread out among three bedrooms, and they have a living area, kitchen, and bathroom.
Pet-Friendly King Rooms
These are one of the room types that will accommodate dogs and they have a king-sized bed and hardwood floors.
Pet-Friendly Family Rooms
These are the other room types that will accommodate dogs and they have a queen-sized bed and bunk bed (child single on top and double on the bottom).
Arkana Motel Surroundings/Location
The Arkana Motel is located at:
46 Ferry Street
Maryborough
Queensland 4650
It is within walking distance of a busy shopping centre, featuring shops such as Aldi and IGA. There are also plenty of eateries nearby, including a Happy Days Diner, McDonald's, Dominoes, and Hungry Jacks. There are also pubs nearby that serve food as well as drinks.
It is less than a mile from Maryborough Golf Club and is also close to fishing facilities (you can arrange your visit to both with the tour desk). It is centrally located and less than a 10-minute drive to Maryborough city centre, where there are plenty of things to do and see.
Arkana Motel Facilities
The Arkana Motel has a wide variety of facilities, including:
Daily housekeeper
Outdoor swimming pool
Barbeque and picnic area
Tour desk
Fax/photocopying facilities (extra charge)
Vending machine
Daily breakfast
Laundry services (extra charge)
A designated smoking area away from rooms
Air conditioning
Soundproofed rooms
Pet bowls and baskets
High chairs
CCTV throughout common areas
Arkana Motel Check-in And Check-out Times
Check-in at the Arkana Motel is between 14:00 and 20:00 and check-out is between 08:00 and 10:00. You can check-in online before you arrive to cut down on waiting times.
If you are looking for somewhere to stay that is warm and welcoming with clean and comfortable rooms to rest your head and relax, the Arkana Motel could be just the place for you.
It is a bit of a hidden gem, with lots more on offer than may first meet the eye, and the owners put their all into making everyone's stay as enjoyable and relaxing as possible.
Resource Links To Products We Use And Recommend
More Recommendations For Accommodation
link to Discovery Parks Fraser Street Hervey Bay
On the Fraser Coast, Hervey Bay is an oasis of the best natural world the area has to offer. Just across the way from Fraser Island, you will also find beautiful botanical gardens, a stunning...
link to Caravan Parks Hervey Bay
One of the most iconic ways to experience Australia is by experiencing its beautiful natural surroundings. Because the country offers an abundance of stunning landscapes from coast to coast, caravan...