The blowhole of the humpback whale like all baleen whales have two openings, unlike the toothed whales which have only one. This is best shown in the photograph below as to Humpback Whale Breathing.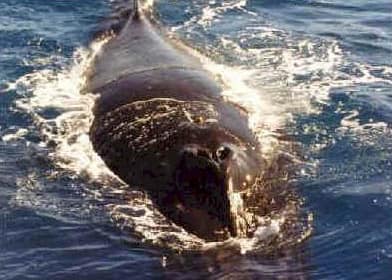 The first sign of whales in an area is usually the 'blow'. Air leaves the blowhole at more than 400 kilometres an hour. When tie whales surface, the exhalation of warm air produces a distinctive cloud, formed by condensation of vapour expelled from the lungs under great pressure.
Adult humpbacks have two lungs, each the size of a small car, which they can empty and refill in less than two seconds.
Whale breath is quite fishy to smell, and if a blow happens to drift on to an unsuspecting photographer they will find their equipment will have a light smear of oil on it.
If you plan on coming to Hervey Bay anytime during August to October, a tour out to see the magnificent Humpback Whales at play in Hervey Bay is an experience not to be missed.
Watching these 40-tonne animals play is a truly amazing sight. There are tours to cater for all tastes.
We can help you with your choice of a tour to suit your requirements
Its reputation as the Whale Watch Capital of the World is enhanced by a pristine marine environment and expansive sheltered waters for the Humpback Whales.
More Pages On Whales
All photographs shown on this page are copyright © 1997 Seaspray Charters – used with permission.
Resource Links To Products We Use And Recommend