Everyone loves diversity when it comes to food; tasting dishes from different cultures is an enjoyable experience. Not only does it introduce you to a new and unique taste, but it also introduces you to the culture of that place. Thai dishes are one such cuisine that is loved by many and has gained popularity in America over the years.
The most popular Thai dishes in America are Pad Thai, Tom Kha Khai, and Thai Fried Rice. Not only do these dishes taste divine but also provide a warm and homely feeling. Various types of Thai curry are also loved in the US, allowing you to eat a new dish every day of the week.
If you are a new Thai dish fan or are merely looking to try out some popular Thai dishes, you have come to the right place. We have compiled a list of the most popular Thai dishes in America, and also a list of a few popular places you should visit if you are looking to indulge in the deliciousness of Thai food.
Best Thai Dishes To Try Out In America
From various takes on curry to some warm and homely Thai fried rice, there is a bundle of delicacies to try out of the Thailand culture. Here are some popular Thai feasts you can indulge in while living in the States: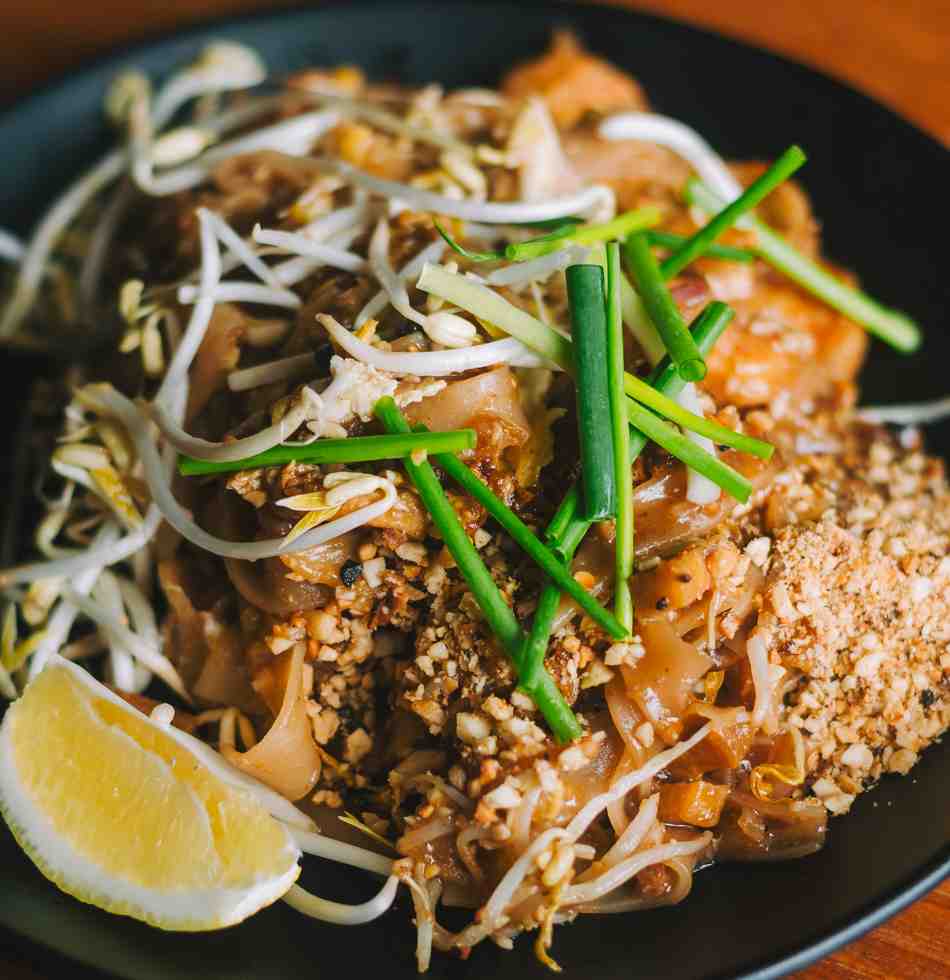 1. Pad Thai
Every beginner and newbie to the Thai cuisine world starts by having Pad Thai. It is the perfect dish to introduce you to the world of Thai flavours, with its vibrancy. However, you need to visit a reputable Thai place to get the authentic dish; most restaurants will serve you a sweet, liquidy version of what they think Pad Thai is.
Pad Thai is made with rice noodles stir-fried with eggs, chicken, shrimp, onions, and bean sprouts. The sauce is a mixture of fish sauce, chillies, palm sugar, and tamarind. The dish is served to you by topping it off with crushed peanuts.
2. Tom Kha Khai
Tom Kha Khai is an enhanced version of chicken noodle soup. If you think you've had the best noodle soup, you are wrong, you need to have a taste of this Thai dish. The specialty of this dish is the coconut milk used in it; the coconut milk acts as a glue that binds together the spices with a tad bit of sweetness, effectively capturing the essence of a Thai dish.
It consists of a coconut broth with lemongrass, lime leaves, chillies, galangal, and shallots added to it. The dish is topped with slices of chicken before being served to you.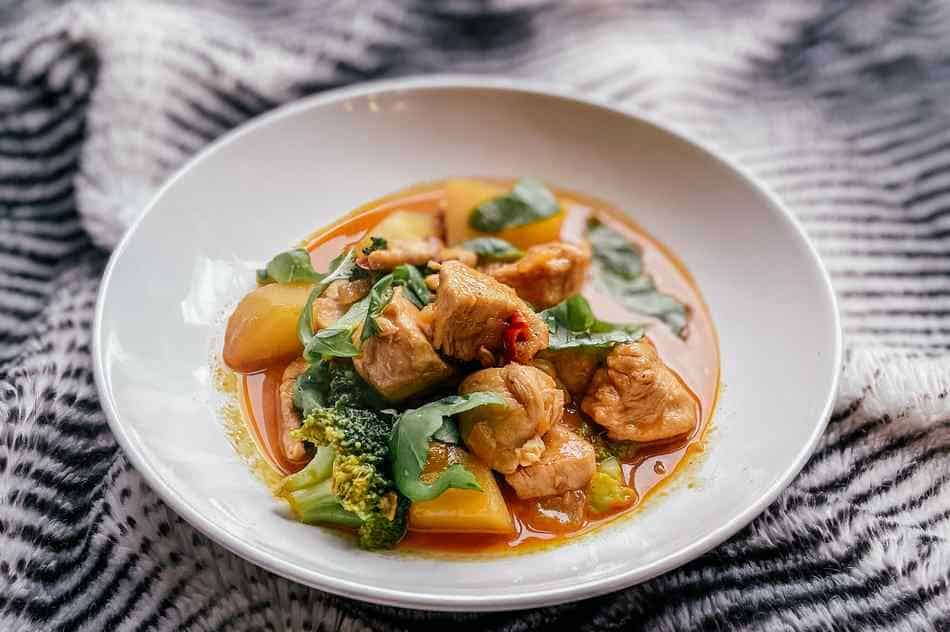 3. Thai Curry
Thai curry is to Thai cuisine like hamburgers are to American cuisine (yes, they are that vital a dish in Thai cuisine). No wonder it has emerged as one of the most popular Thai dishes in America! There are multiple Thai curries that you can try, each bringing its own unique taste experience for you.
Red Curry
Red curry is a combination of red chillies, lemon grass, coriander, garlic, and shrimp paste amongst other ingredients. Not to worry though, as it is a sweet sauce and won't burn your tongue, despite being made of chillies!
Massaman Curry
Emerging from Persia, Massaman curry is a special type of Thai dish consisting of nutmeg, cardamom, cloves, and cinnamon. These ingredients are not usually used in Thai dishes, which is what makes this dish stand out.
In Thailand, the Massaman curry is prepared with beef, however, in the US it is made with chicken according to popular demand.
Sour Curry
Sour curry is made using the fruit tamarind, shrimp paste, shallots, turmeric, and red chillies. It is a simple, water-based curry, and is served with pork or seafood.
Green Curry
Made of coconut milk, shrimp paste, shallots, lemon grass, and makrut lime rind as the main ingredients, this curry is not suitable for those who don't like spices. Since it is made of green chillies, the curry is extremely spicy and is, therefore, known as the 'spiciest' out of all the curries.
Yellow Curry
An ode to the Indian curry, the yellow curry gets its traditional colour and flavour from turmeric, red chillies, cumin, ginger, lemongrass, and coriander as a few of the ingredients.
Panang Curry
The Panang Curry is made of a diverse range of Thai spices and famous Thai red chillies that make it very spicy. In the US especially, the Panang curry is topped with crushed peanuts.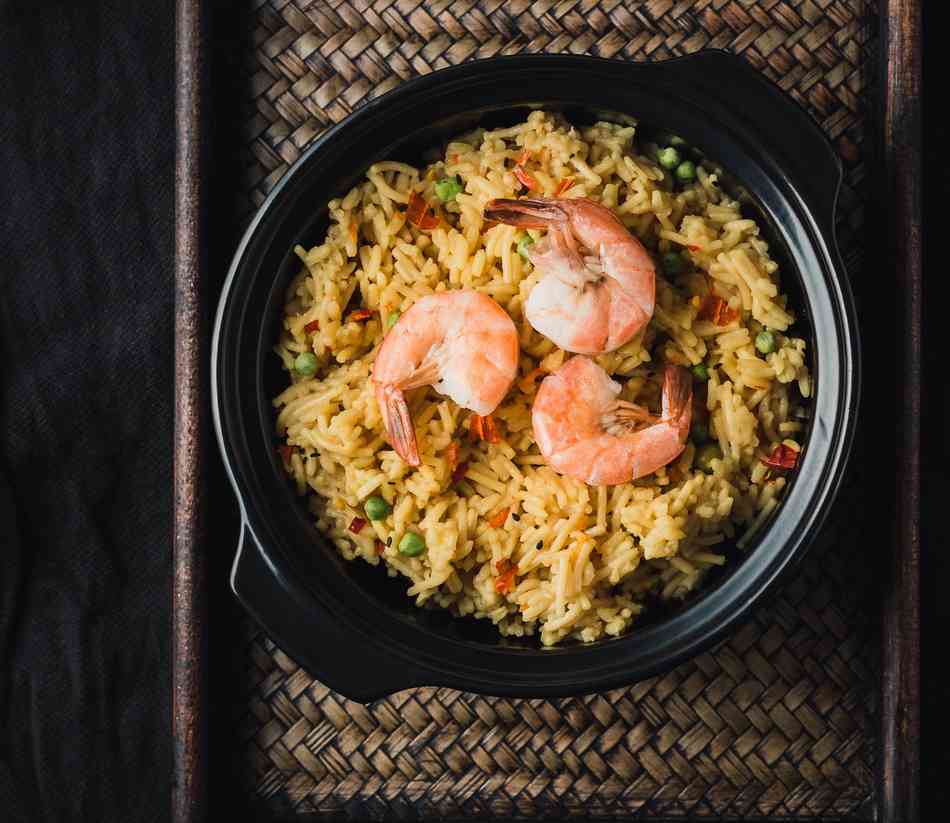 4. Thai Fried Rice
If you are a fan of rice, you need to try out Thai fried rice. Nothing can beat the way the Thais make their rice! The best part of Kao Pad rice is that you can build your bowl; you can add sauces, meat, and vegetables, according to your liking of the fried rice.
You can choose any sauce from the famous fish sauces, chilli sauce, sugar sauce, and soy sauce.
The typical Thai fried rice is jasmine rice made with a mixture of garlic, eggs, and onion. You can, however, choose to get the basil fried rice, pineapple fried rice, or the coconut fried rice too!
Best Places To Visit For Thai Food In The US
Now that you know some of the best Thai dishes to try out, it's time to grab a look at some authentic Thai restaurants which serve such meals. We've listed some popular restaurants which are guaranteed to impress your tastebuds and keep you wanting more.
Lers Ros
Located in San Francisco, this Thai place serves everything according to true Thai standards. Don't expect decreased spices because you are in the US! Furthermore, they also serve some 'interesting' dishes like frog legs and alligators.
For more info head to their website

. Or the address below.
Address

: 730 Larkin St, San Francisco, CA 94109, United States : Phone: +1 415-931-6917
Jitlada
Jitlada, situated in Los Angeles, has a reputation for a reason; they cook Thai food that will explode with flavours in your mouth. It is a place visited by many celebrities too, even though it is located in a small part of Thai Town!
For more info head to their website

. Or the address below.
Address

5233 1/2 W Sunset Blvd, Los Angeles, CA 90027 : Phone: +1 (323) 667-9809
Kin Len
For a taste of Thai street food, Kin Len is the perfect option. Based in San Diego, this place not only serves you top-class Thai food but also gives you the perfect ambience for a date night or simply a relaxing atmosphere to chill in.
For more info head to their website

. Or the address below.
Address

: 3517 Fremont Ave N, Seattle, WA 98103, United States : Phone: +1 206-582-1825
FAQs
Should I Use Chopsticks To Eat Thai Dishes?
Not at all! Even locals in Thailand only use chopsticks when it comes to eating noodles. For rice, and other dishes they stick to the traditional fork and spoon.
Is Thai Food Very Spicy?
Traditionally, Thai food is meant to be spicy. However, you don't have to worry as the spice is often combined with sweetness, and most restaurants will mention the level of spiciness on the menu.
Can Thai Dishes Be Eaten By Vegetarians?
Yes, as you saw above, most Thai dishes are prepared with spices and veggies. The meat is added later, so you can simply ask the restaurant to not add it.
Final Thoughts
Thai food is an experience on its own, and we recommend everyone have it at least once in their life. Furthermore, don't forget to try out the popular dishes listed above, and for the best experience, try out the dishes from the places we have chosen!
Resource Links To Products We Use And Recommend
More Pages On Food