Find the best deals on accommodation at Royal Centrepoint Motel


326 Kent Street
Maryborough QLD 4650
The Royal Centrepoint Motel is a charming historic building that was rebuilt in 1901 and refurbished in 1997. Its early vice-regal patronage earned the use of the Royal Coat of Arms.
Situated on 326 Kent Street, located in the heart of Maryborough and all of its delights from the pokies, karaoke bar and nightclub scene to the shopping, restaurants and attractions such as the Wharf Street precinct, Heritage Gateway and Bond Store Museum, Brolga Riverside Theatre, Mary River, marina and the Return Services Leagues Club.
Offering non-smoking standard and superior suites, the common facilities include air conditioning, ceiling fan, ensuite, blanket, hairdryer, clothes dryer, clock radio, internet access, telephone, facsimile/modem point, iron and ironing board, fridge, microwave oven and tea/coffee making facilities.
Other facilities at the hotel include guest laundry, 24-hour reception, business services, communal kitchen, courtesy transfer, cots, secured car park, fax and secretarial service as well as a tour desk.
Pets are allowed upon request. For more details, contact +617 4121 22241.
To compare prices for Maryborough accommodation,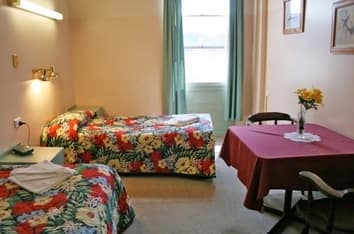 Accommodation Features
Non smoking accommodation
Standard rooms
Superior Suites
Air conditioning
Ceiling fan
Ensuite
Blanket
Hair dryer
Clothes dryer
Clock radio
Satellite TV, Video Cassette recorder, DVD player
Internet access
Telephone
Iron/ironing board
Fridge and microwave oven
Tea and coffee making facilities
Hotel Facilities
24 hour reception
Guest Laundry
Business facilities
Communal Kitchen
Courtesy Transfer
Cots available
Secured carpark
Fax and secretarial services
Tour Desk


Resource Links To Products We Use And Recommend