It is no secret that mealtimes in Spain differ from what is standard in other countries, as does the pattern in which they are eaten. Therefore, asking what the Spanish eat for dinner is essential for any dinner plans you may have for a trip to Spain. You wouldn't want to miss out on a delicious meal or go hungry in such a beautiful country, would you?
A typical Spanish dinner is a light meal that comes after a filling lunch (La Comida) and snacks (La Merienda). It can be a light meal, such as an omelet, salad, or sandwich, or something a little heartier, such as fish or meat. However, on the weekends, pizza or leftovers may be served as a dinner option.
It is a well-known fact that Spaniards adore their food and take their time to thoroughly enjoy every bite. As a result, one excellent way to learn about Spain is through its cuisine. Continue reading to find out more about Spanish dinners and mealtimes.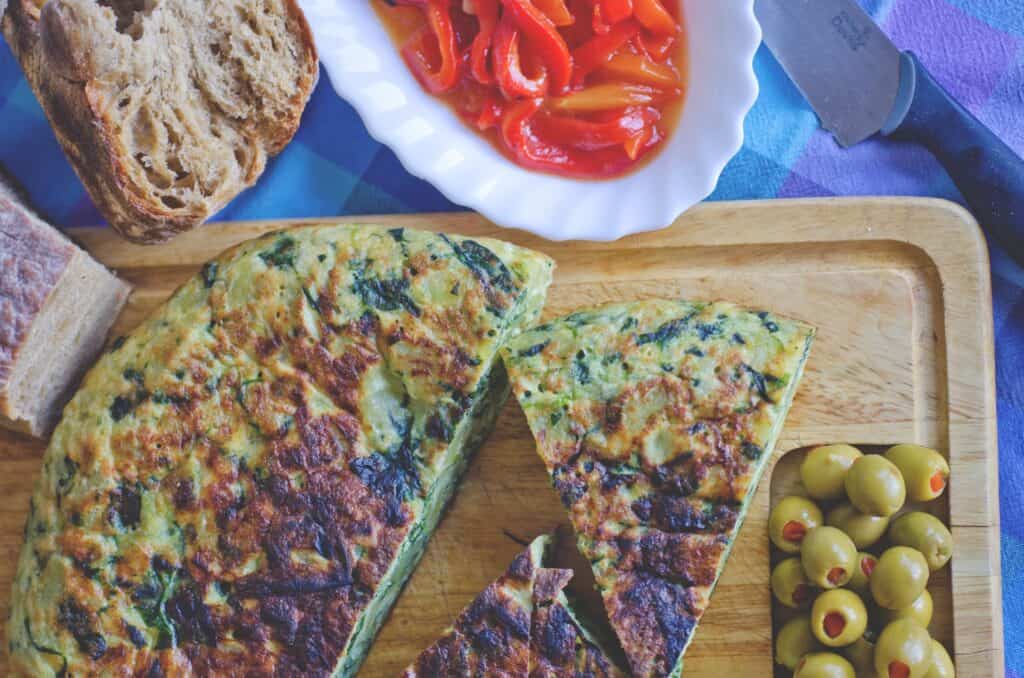 Dinner In Spain: What's On The Menu?
Meals are typically savored and spaced throughout the day. Instead of the three mealtimes observed in most parts of the world, there are usually five.
The Spanish know how to enjoy their food, and spend a lot of time doing so. In addition to satisfying one's physical hunger, eating also serves as an important social and cultural function in Spain.
If you're on a diet and trying to stay fit, the number of mealtimes might seem to be too much. But don't worry, the portions can be quite small. These meals give you the energy you need without making you too full or causing food paralysis.
Fun Fact: During World War II, Spain's former leader, Gen. Francisco Franco, adjusted the clock an hour earlier to align with Nazi Germany's Central European Time zone (GMT). The time has remained unchanged.
Spanish Dinner (La Cena)
In Spain, La Cena is essentially family time. To give you an idea of what it's like, imagine a family sitting around the table and talking about their days and other dining-appropriate topics, or a group of friends eating and talking at a restaurant.
Dinner is served from 9-11 p.m., rather than the traditional 5-7 p.m. Spanish dinners are light. They may include several courses, but the total amount of food consumed is relatively small.
In most cases, there is even an after-dinner meal or snack for night owls, who can meet up with friends at a nearby cafe, club, or tavern. On their way home, they can also stop at a churro stand.
Even though La Cena is a relatively light, late-night meal, it is typically consumed as a full course. Due to the small portions, the overall weight of each dish is significantly less than in other countries.
A group of friends, especially on the weekends, can opt to dine out at various tapas bars in the area instead of staying at home or going to a restaurant. In Spain, going out to dinner to eat tapas is so common that they have a phrase for it: "ir de tapas." This is typical in Madrid.
In Valencia, the group stays in one place and orders a variety of tapas to share with everyone. After 'tapas-bar-hopping', they could go to a club. Dinner could be eaten around midnight on these nights.
A 3-course dinner menu in Spain includes appetizers (usually tapas), the main course meal, and, of course, a drink.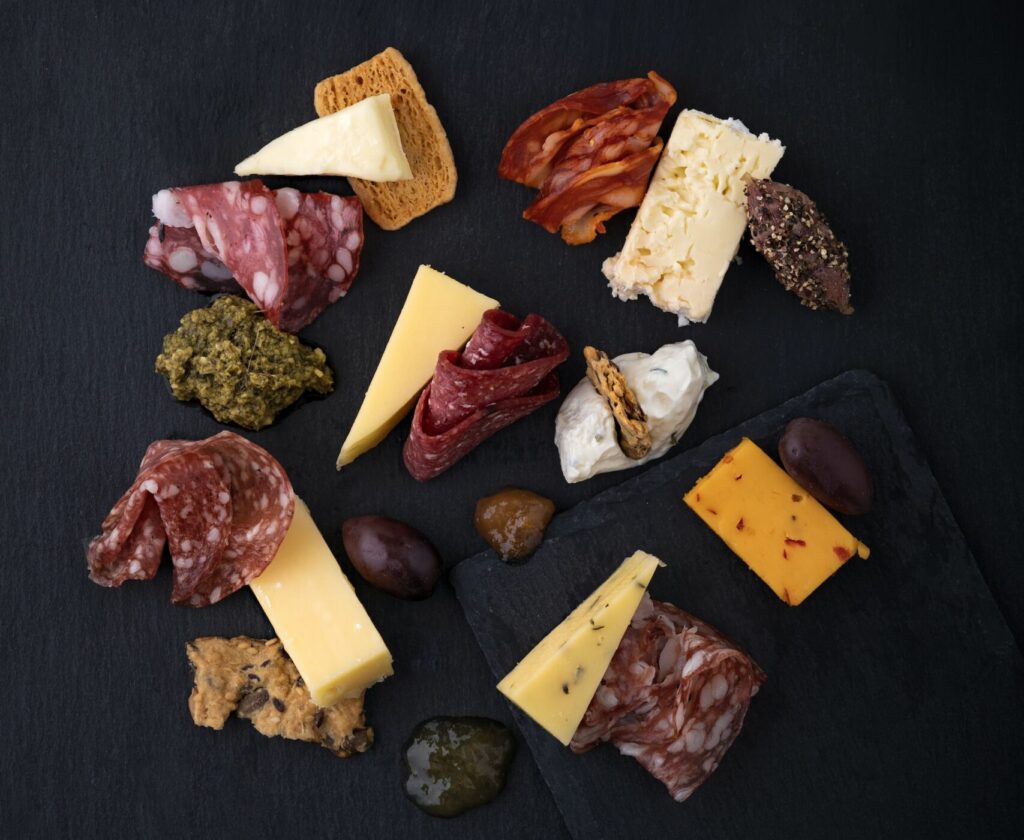 Appetizers: Tapas
Tapas are traditional Spanish small plates of delectable cuisine. They are Spanish appetizers or snacks that do not refer to a single dish but to a variety of foods that vary by region and season. These foods, like canapes or finger foods, can be served warm or cold.
They are sold in small plates to be enjoyed with beer or wine at a tapas bar, and they can be combined with other dishes to make a complete meal. Moreover, tapas is a meal (light snack) in and of itself, typically consumed before the mid-afternoon La Comida and hours after breakfast.
The number of tapas examples consumed in Spain is growing as more dishes are created each year. However, some are extremely popular throughout Spain.
They include patatas bravas, tortilla espanola, gambas al ajillo, croquetas, albondigas, chipirones, pimientos de padrón, gazpacho, etc.
Patatas Bravas (Spicy Potatoes):
This dish is frequently served at both tapas bars and dinner tables. The recipes can vary by location or residence. The spicy kick from the 'brave' sauce inspired the name 'patatas bravas.'
In Burgas and Valencia, the potatoes are cut into small pieces and fried in oil. They are then served with a tomato-based sauce or aioli.
Tortilla Espanola (Spanish Omelet):
This could easily be considered a national dish in Spain. It is also known as a tortilla de papas (potato omelet). This dish is an excellent option for dinner due to its moist and flavorful nature. This delicious omelet can be used to make bocadillos (sandwiches) by placing a slice between two baguettes.
This tapa is made with only three ingredients: olive oil, eggs, and potatoes. The potatoes, with or without onions, are slowly fried in olive oil before being topped with an egg and other garnishes.
Another great thing about tapa is that it can be served cold. This could imply that it can be leftovers or that it can be prepared ahead of time and refrigerated.
Croquetas:
This popular tapa is served in tapa bars and restaurants and consists of fried meatballs. Some traditional recipes use iberian flavors like jamon (cured ham), bacalao (fresh cod), or morcilla (blood sausage), while others are stuffed with vegetables, meat, fish, and a variety of other ingredients to bring the tasty tapa to life.
Gambas Al Ajilo (Garlic With Shrimp):
This dish is a favorite when it comes to seafood, hence its popularity with locals and tourists. It is served in the majority of tapas bars and restaurants in all its delectable and complex flavors.
Fresh shrimp are sautéed in olive oil with plenty of garlic and a little bit of pepper. They are then served in a clay or metal bowl with bread to soak up the sauce.
Pimientos De Padrón:
These are salted and fried small peppers. It's a fun and fresh appetizer. The peppers originate from Galicia in northern Spain.
Empanadas:
Empanadas are fried or baked crescent-shaped pastries filled with a variety of delectable ingredients. Empanar is a Spanish word that means to wrap in bread.
The flavor in empanadas comes from the filling. Depending on the recipe, it may contain shredded or diced meat or fish, potatoes, apples, onions, peppers, etc.
Usually, tapas bars provide free tapas with the purchase of a drink. This is still done in some traditional tapas bars.
Main Course
The main course portion is larger than the tapas portion, but it is still small and light. Typical dishes consist of rice or fried potatoes accompanied by fresh fish or seafood, roasted chicken, or lamb. It's also worth noting that many tapas dishes can be served as a main course, but with larger servings.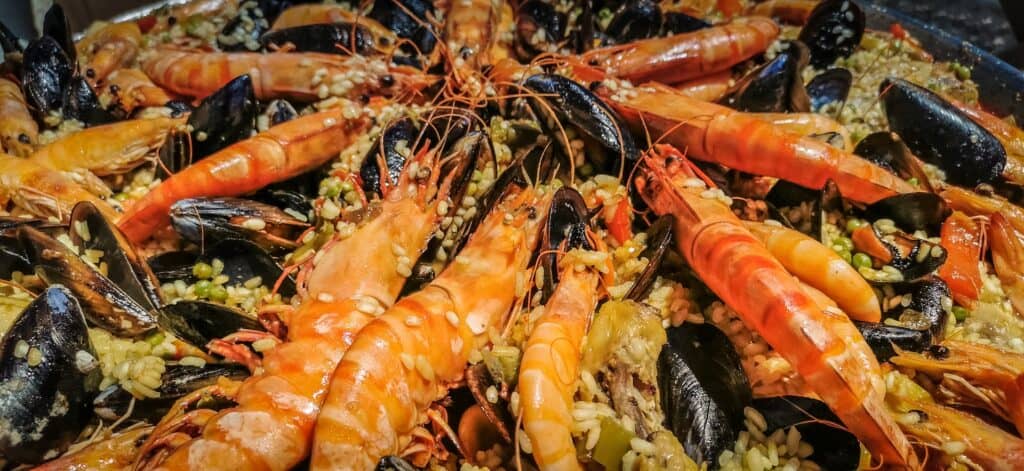 Paella:
This is one of Spain's most popular rice dishes. It originated in Valencia and has since spread throughout the country and beyond.
Traditional variations include the use of meat, rabbit, or seafood. Meat and seafood are typically served alongside white beans, green beans, and other herbs in this saffron-flavored rice.
The saffron gives it a distinctive yellow color. A variety of seafood, such as clams, shrimp, and prawns, can be added to the dish to boost its freshness.
If you really like to try new things, you can also try black paella, which is cooked with black rice and colored with octopus and shrimp ink.
Arroz Cubano:
The main components of this dish are rice and an egg, so it's easy to put together quickly. It is popular in all Spanish-speaking countries and comes in a variety of flavors. Garlic may or may not be added to the rice.
The dish can be complemented with sofrito, a tomato sauce made with fresh tomatoes, garlic, pepper, and onions. In some regions, it is customary to add a slice of fried banana.
Dessert
Dessert is usually the most anticipated course of the evening. It is expected to be both sweet and savory, as well as a welcome source of comfort. Well, Spanish desserts never fail to impress.
Churros Con Chocolate:
This popular snack can be eaten for breakfast or during social gatherings. Churros are a Spanish and Portuguese snack that has spread to other Spanish-speaking countries.
Churros are fried dough that has been sprinkled with sugar and/or cinnamon. When you think about it, they're simply donuts with a crispier texture and a stickier (sometimes knotted) appearance.
They, like pretzels, are sold by street vendors who fry them hot and fresh in their stands. They have ridged edges and a prism shape because they are piped from a syringe-like tool called a churrera.
Someone came up with the brilliant idea of dipping it in chocolate, creating a mind-blowing dessert or snack combination.
Leche Frita:
It's clear from a dish like this that Spanish cuisine is diverse and aimed at satisfying the senses to the fullest extent possible. The Spanish dessert, leche frita, which translates to "fried milk," is a favorite among children throughout northern Spain.
Leche frita is made by wrapping milk pudding in a warm, crunchy batter flavored with sugar and cinnamon. It is then topped with whipped cream or ice cream and served.
Drinks
Sangria is one of the most popular wines in Spain. It dates back to 2,000 years ago, when alcohol was added to water with the intention of killing bacteria. It is still served today as a combination of red wine, orange juice, brandy, and sliced fruit.
Locals prefer a similar drink, Tinto de verano, to Sangria, which is mostly served to tourists (red wine of summer). It is a combination of red wine, gaseosa (lemon-lime soda), and ice.
You could try it instead of sangria to feel more like a local, and it's half the price, which is a bonus.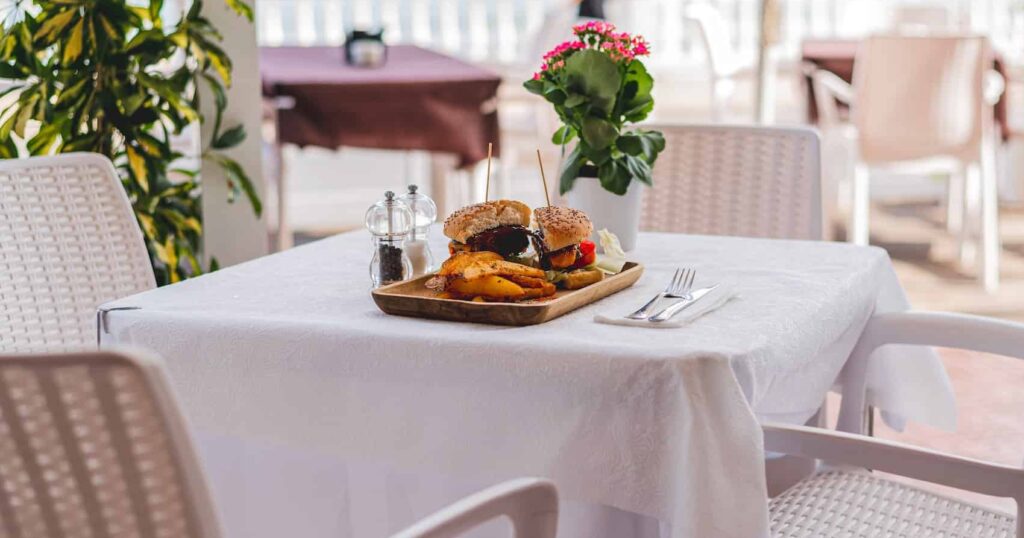 Getting Ready For Dinner In Spain
When visiting this country with an unusual dining customs, you'll want to make these preparations in advance of your meal:
1. Make A Schedule For Meals And Snacks
If dinner is unusual, consider how different the other meal times will be and what you will eat.
Breakfast (el desayuno) is served between 7 and 9 a.m. Don't be too surprised to learn that it isn't the most important meal of the day; in fact, it is the smallest. A magdalena, or Spanish cupcake, and cafe con leche, or steamed milk, will do.
Between 10 to 11:30 a.m., a mid-morning snack (almuerzo) is served. Coworkers usually go to a tapas bar for this snack, which can be accompanied by water, fruit juice, or beer (a light-style lager but sometimes not). Other snacks could be bocadillos, which are Spanish sandwiches on baguette bread, or toast with olives or tomatoes.
Here comes the day's most important meal: lunch (la comida). It is served between 2-4 p.m. This is a little later and lasts a little longer than the 12-1 p.m. lunch that the rest of the world is used to. Most restaurants offer a menu-del-dia, a three-course meal with a fixed price. Coffee is consumed after the meal for digestion and relaxation.
The midafternoon snack (la merienda) is served between 5:00 and 7:00 pm. This snack is usually sweet, for example, churros, bocadillos, or cakes, or healthier options like fresh fruits, avocado toast, and smoothies. It prepares you for dinner by satisfying your hunger without filling you up.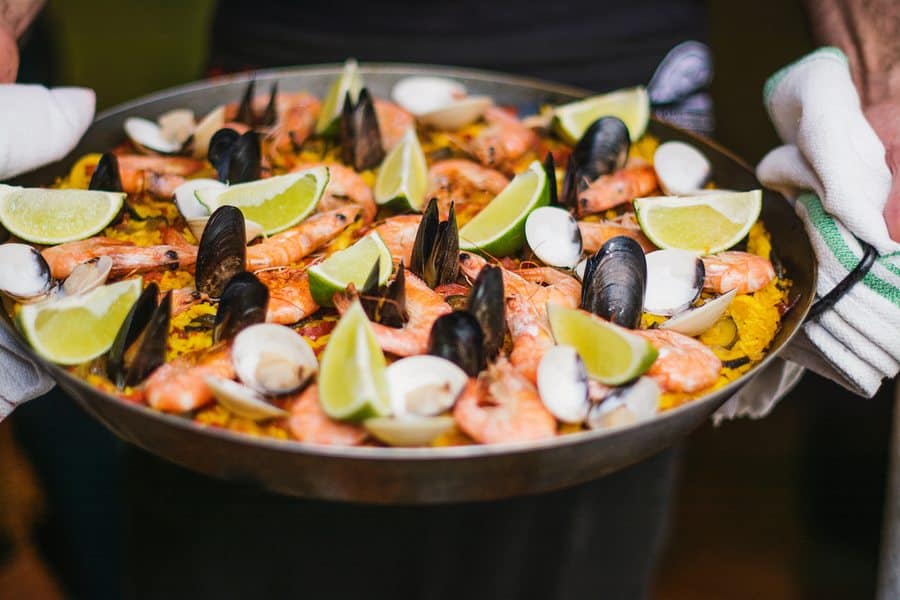 2. Plan Your Dinner Ahead Of Time
You can use websites like Restaurant Guru to help you plan ahead of time by providing information about a restaurant's location, menu, and reviews/ratings. This will save you time while exploring the city and will also inform you of what to expect.
Additionally, you can register for a food tour. You could also decide to travel across the country to eat at restaurants where various dishes are best prepared.
| | |
| --- | --- |
| Destinations In Spain | Dish |
| Barcelona | Escalivada |
| Seville | Gazpacho |
| Santiago de Compostela | Pulpo a fiera |
| Valencia | Paella |
| Madrid | Bocadillo de calamares |
| Granada | Plato Alpujarrenno |
| San Sebastian | Pintxos |
| Bilbao | Anything Seafood |
Source

:
Frequently Asked Questions
Is Siesta Still A Part Of The Spanish Daily Routine?
No, it is not. Siestas are no longer practiced by approximately 80% of Spaniards. After la merienda, the majority of them must return to work or school.
Do People Tip Waiters In Spain?
Yes, but it isn't customary. However, approximately 5–10 percent of the bill is left by locals at fine dining and excellent-service restaurants.
Is There A Plan To Correct The Time Zone In Spain?
The Spanish Prime Minister announced in 2016 that the country would adopt the GMT time zone, but nothing has been done since.
Final Thoughts
As a matter of fact, if you'd rather not adhere to the so-called "Spanish culinary customs" and instead eat at tourist-friendly restaurants, you can do so. However, you may miss out on an important part of Spanish culture and not get the full experience.
Whether you are in Spain or not, immerse yourself in the culture by consuming a traditional Spanish meal today!
Resource Links To Products We Use And Recommend
More Pages On Food