It makes sense that you wouldn't want to leave Thailand, one of the most beautiful places in Asia with a rich cultural history, without bringing food back with you. You can go to the nearest supermarket or market to get food that will give your loved ones a taste of Thailand.
Suthera's Thai coconut rolls and chips, Mama instant noodles, Chao Sua's pork sticks, Bangkok mini cookies, Tao Kae Noi seaweed, durian chips, Kunna dried fruit snacks, and Thai spices are some of the foods you can bring back from a trip to Thailand. These items are non-perishable and suitable for travel.
Your last two days in Thailand are quickly approaching, and you're making a mental note of "foods I can bring back from Thailand as a tourist." This article will help you choose the best foods to bring home with you.
8 Foods You Can Bring Back From Thailand As A Tourist
Even with the most advanced technologies, bringing food back from Thailand can be difficult. However, there are some snacks that go to great lengths to evoke the flavors, textures, aromas, and textures of Thailand.
These are authentic Thai foods that will give you and your loved ones a Thai experience even if you are not in Thailand. They are typically lightweight, easy to transport, and very tasty. These foods are widely available at affordable prices in supermarkets, night markets, and airports.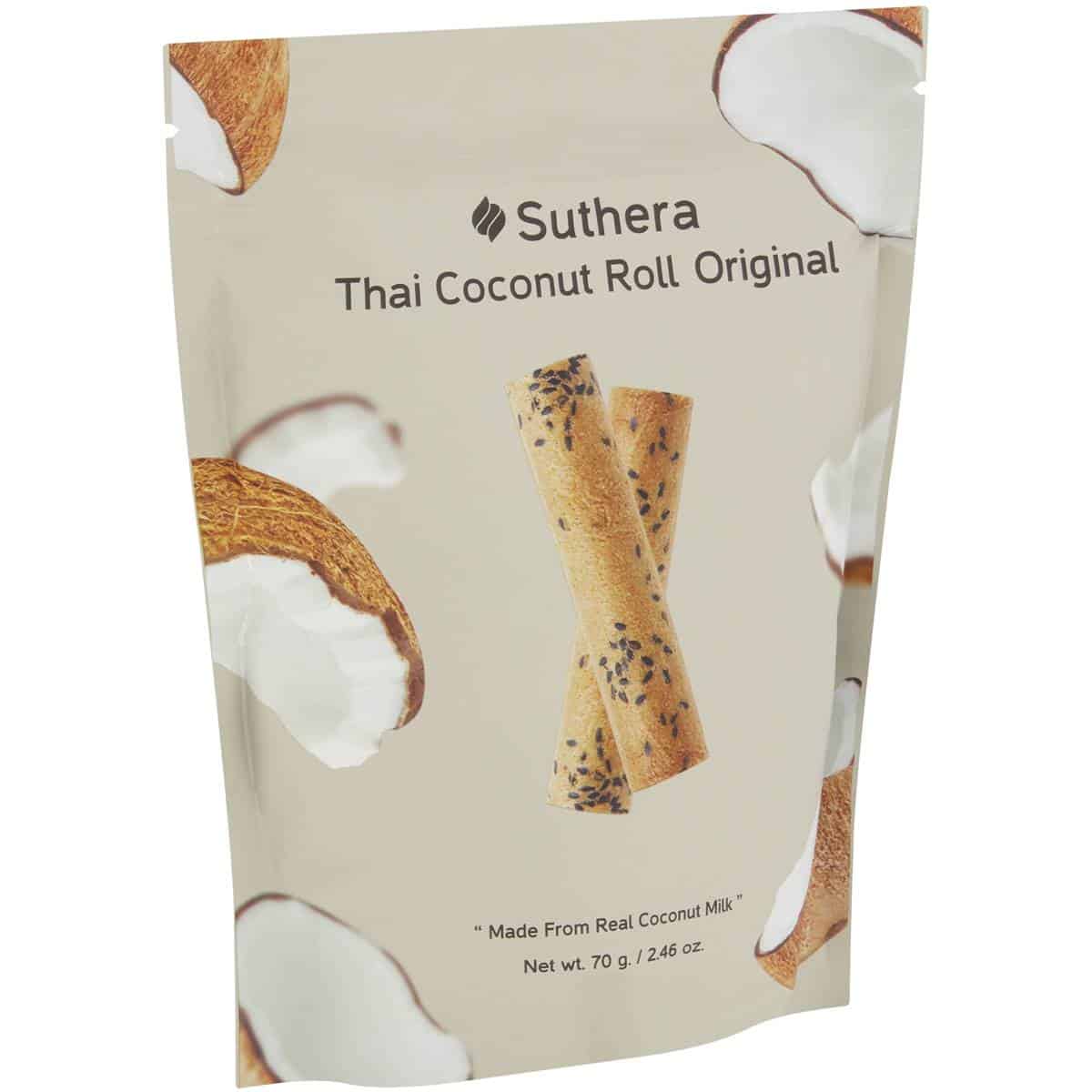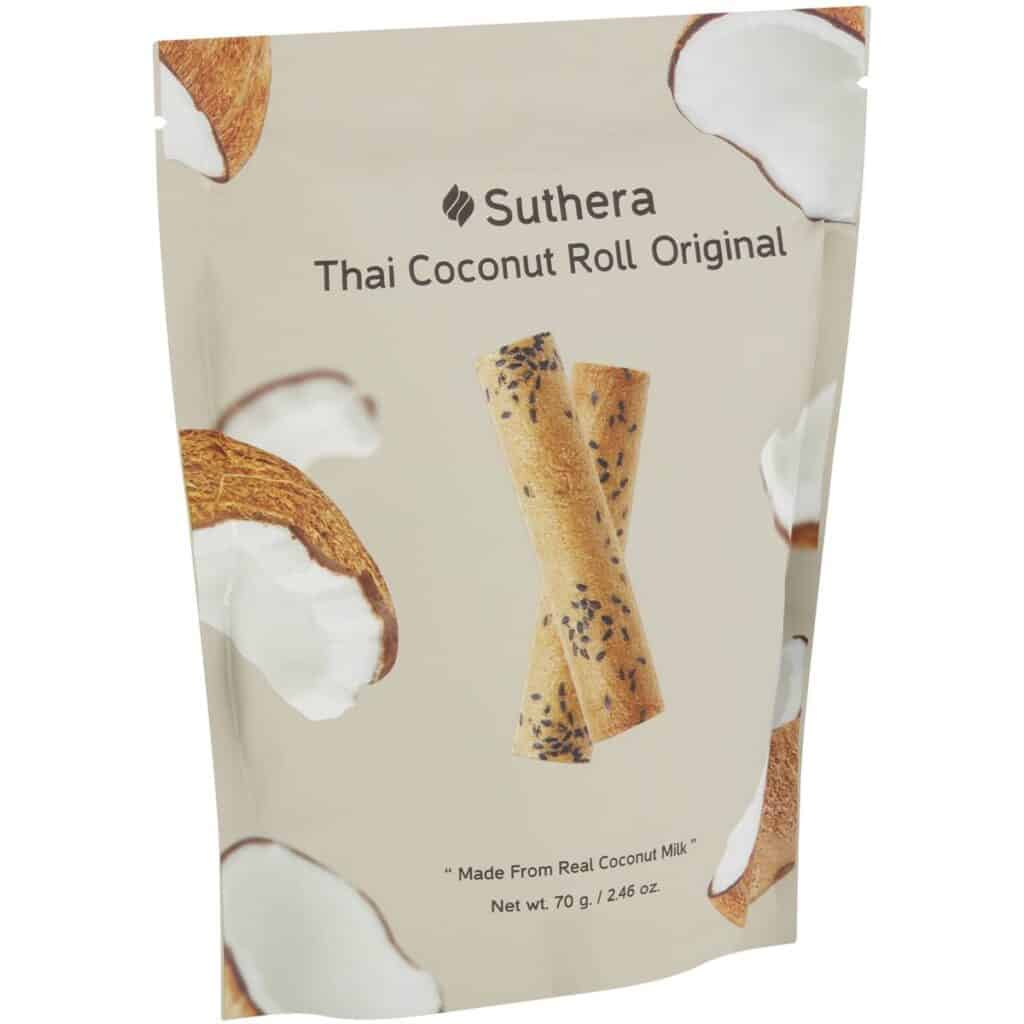 Suthera's Thai Coconut Rolls And Chips
Suthera Thai coconut rolls and chips are more than just a snack. It was created specifically to represent Thailand's culture to the rest of the world.
Its branding and packaging are also being upgraded to make it the ideal souvenir for tourists, carrying an image of Thailand's excellence and creativity.
Mr Vichien Jentrakulroj of Srifa Bakery founded the Suthera brand about 20 years ago after attempting to make Thai coconut roll wafers with his hands.
Suthera has been dedicated to using the best ingredients, such as coconuts from Southern Thailand, since its beginnings in a small townhouse.
Fun Fact: The name SUTHERA was created by combining the first letters of each of Mr. Vichiens' family members. This indicates that the brand adheres to Thai core values, one of which is family.
This "Michelin Star Chefs" certified brand has grown over the years to be an international industrial factory that is recognized all over Asia, with its core goals being determination, meticulousness, and originality.
They received three stars in the Superior Taste Award for two consecutive years, 2020 and 2021, and three stars in the Crystal Taste Award in 2022.
The main ingredient in the Suthera Thai coconut roll is fresh coconut milk obtained from Phap Sake Coconut, one of the best coconut plantations in Prachuap Khiri Khan

province.
The coconut grown there is fleshy and has a honeyed flavor. It is then squeezed to produce rich coconut milk, which Thais mix with coconut or palm sugar to make Nam Tan Puek. Coconut sugar is a natural sweetener obtained from the sap of the coconut palm tree by cutting the stem of the flower bud to extract the sweet nectar.
There are a variety of other ingredients that go into the Suthera Thai coconut roll, including rice flour, taro, eggs, artificial flavoring, and a variety of carefully selected fresh fruits.
Wasabi, purple potato, durian, banana, honey, strawberry, salted black sesame seed, pandanus, cocoa, sweet corn, and "original" are the flavors available.
Furthermore, they are available in a variety of sizes or packages, such as the gift set, which contains approximately 8 different flavors in a box, and the family pack, which is larger than the standard pack and can be shared with friends and family.
These snacks have a wide range of health benefits thanks to their use of natural ingredients. A snack that is both delicious and healthy is an incredible combination.
They are also widely available and can be purchased at Srifa bakeries, Suthera shops, and supermarkets throughout Thailand. Isn't this the perfect souvenir?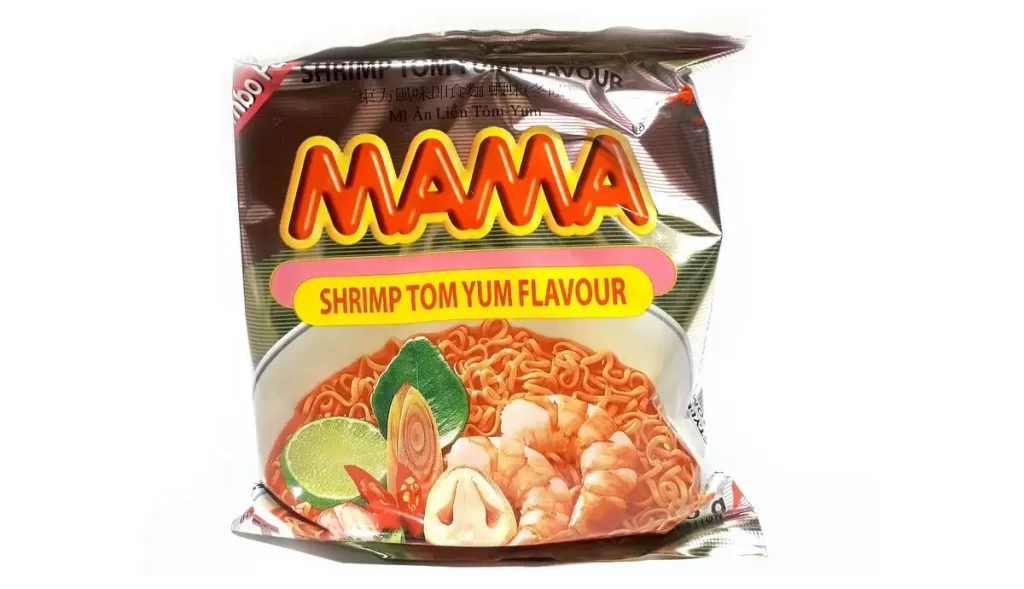 Mama Instant Noodles
Mama instant noodles are the most popular product of the Thai President Foods Company, a Bangkok-based Thai company.
This company was founded in 1972 and offers a variety of products, including oriental style instant soups, parboiled rice, confectioneries, and seasonings, as well as soft drinks, fruit juice, herbal juice, and dairy products.
Mama instant noodles are the company's most profitable product, and it is also the largest manufacturer of instant noodles in Thailand. Mama Instant Noodles, particularly the Tom Yum Shrimp Flavor, are popular with both tourists and locals.
The Tom Yum Shrimp flavor was the first flavor produced by Mama Instant Noodles, but it does not appear to have lost its novelty as more people give it rave reviews.
They have a hot, spicy, and savory flavor with a chewy and soft texture. Because they are air-dried, they have fewer calories than other deep-fried instant noodles. They are also healthier due to the absence of trans fat.
These noodles are packaged in plastic packets of varying sizes (55-60 g), making them suitable for travel and allowing you to choose the desired size. So this is a good thing to bring home for your family to enjoy and make them feel like local Thai people.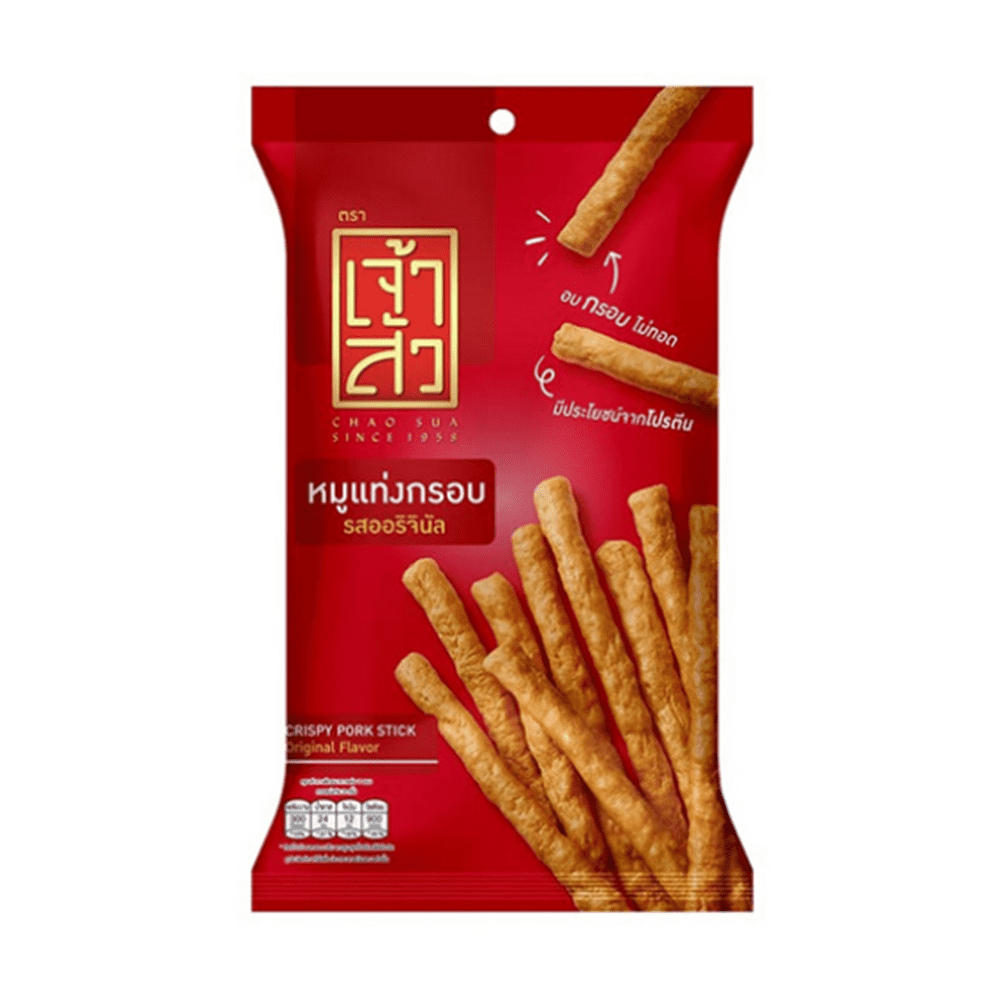 Chao Sua's Crispy Pork Sticks
This is the protein-and-crispiness combination you never knew you needed. It is a snack that Thai people love. It has a sweet flavor and can be shared with friends while hanging out and drinking a beer.
This high-protein snack has a light texture and contains no preservatives. It has a shelf-life of about 6 months after production.
Crispy pork sticks are in high demand in Thailand and around the world. It is made using about 60% pork, 20% chicken, 16% sugar, 2% soy sauce, and 2% fish sauce. It weighs 80g and is affordable.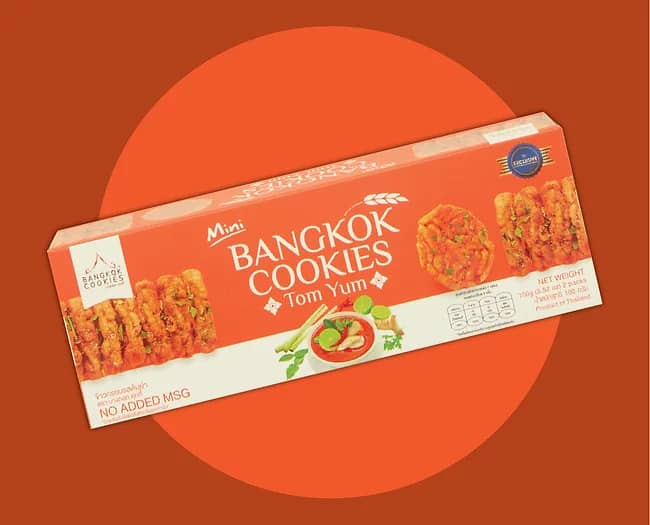 Bangkok Mini Cookies
These are the ideal last-minute food gifts for your loved ones, as they are only available at airports.
It is believed that they may have been created solely as a souvenir for tourists because of where they are found. However, that doesn't take away from their deliciousness, which can rival the best butter cookies. 
Bangkok mini cookies are made with delectable spices that give them flavors similar to popular Thai foods.
Some of the flavors are Tom Yum, crab curry, green curry, seaweed, coconut chips, almond and chocolate, cookies and cream chocolate mix, durian chips, cheese, crayfish, and more. There's a lot to choose from, yum.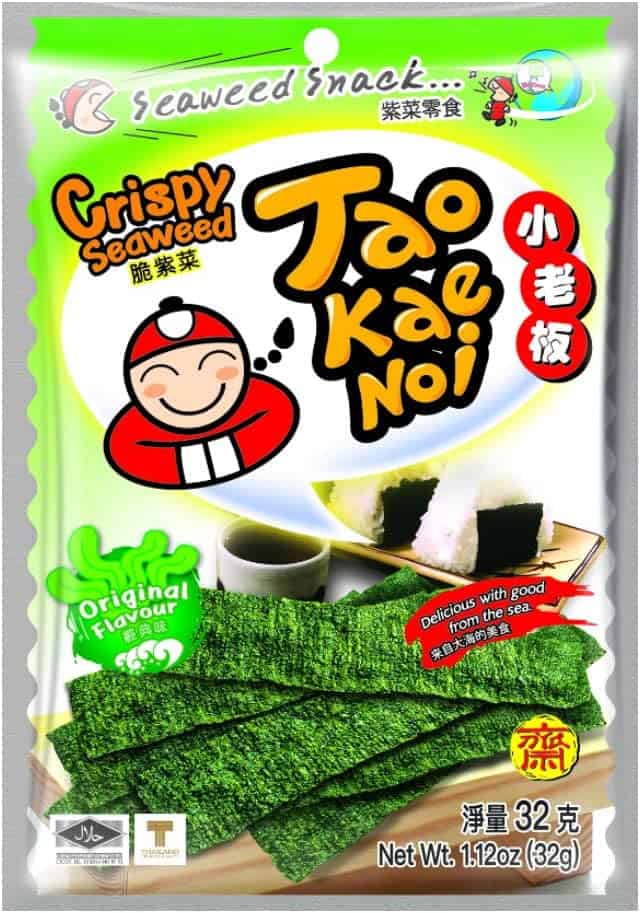 Tao Kae Noi (Seaweed)
Tao Kae Noi seaweed is a crispy seaweed snack product of the Thai food company Taokaenoi Food & Marketing PLC, which was founded in 2004.
The name Tao Kae Noi means Little Boss in Thai, which is appropriate given that seaweed is one of Thailand's largest exports.
After the founder, Mr. Itthipat Peeradechapen, first tasted traditional Korean roasted seaweed snacks, he set out to create a healthier and tastier seaweed snack. The seaweed was previously only fried, but it is now grilled and roasted for a crisper texture.
Seaweed is high in iodine, fiber, vitamin B12, Omega-3 fatty acids, and antioxidants such as vitamins A, C, and E. It also contains protein.
This nutritious Asian staple food has gained global recognition for its versatility and health benefits and is increasing demand for exports to other parts of the world.
Tao Kae Noi has expanded to Singapore, the United States, China, and Europe. It is also Thailand's largest seaweed producer. Because this snack is exported internationally, it is available in a variety of countries.
However, it would be less expensive and preferable in Thailand because of the variety of flavors available.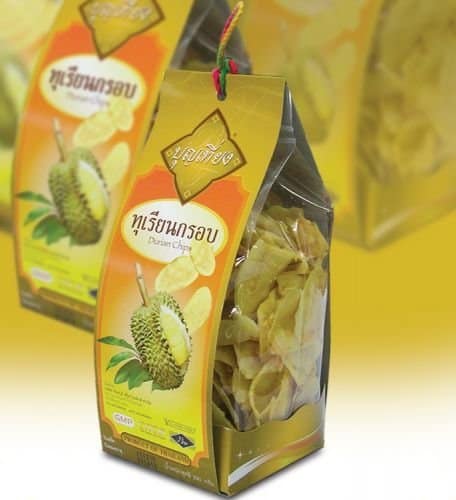 Durian Chips
Durian chips from Thailand are a great way to get acquainted with Durians, which are said to be the best durians produced and exported in all of Asia.
When compared to the actual fruit, these chips have a milder flavor and fragrance. Despite this, the flavor's complexity is not lost on it, as it dances between sweet, savory, and creamy flavors.
Since these chips are made from the best durians, they don't have the bad taste that some people get when they try durians for the first time. When they are still unripe, they are used to make crispy durian by slicing them thinly with a machine and then frying them in oil after air drying.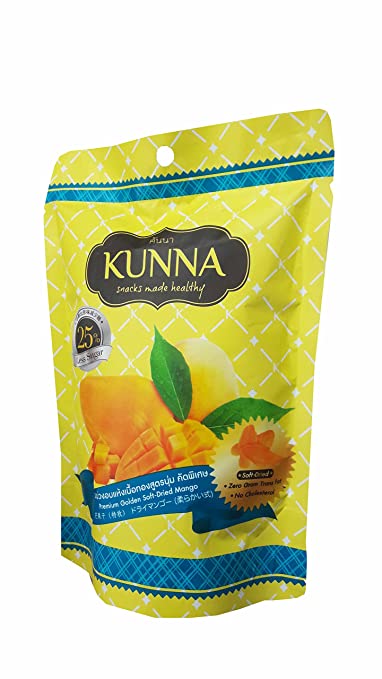 Kunna Dried Fruit Snacks
Thailand is a large producer of many delicious fruits on a large scale due to its ideal climate. Since most of these fruits are perishable, they are typically dried, freeze-dried, oven-baked, or vacuum-fried to extend their shelf life. This makes for yummy snacks!
The Kunna brand of dried fruits does not sacrifice the flavor of healthy snacks and has devoted time and resources to the brand's research and development.
Kunna fruit and fusion snacks have become the best-selling brands for Thai snack souvenirs in Thailand's top department stores such as Gourmet Market and Central Food Hall.
Kunna sells delicious dried, freeze-dried, or oven-baked snacks. Here are some examples:
| | | |
| --- | --- | --- |
| Dried | Freeze-dried | Oven-baked |
| Premium golden soft-dried mango | Freeze-dried Mongosteed | Oven-baked crispy coconut |
| Golden sun-dried banana | Freeze-dried Mango | Oven-baked durian chips |
| Dehydrated dragon fruit | Freeze-dried Monthong Durians | |
Source

:
They also have some particularly tasty products that combine healthy and sweet cravings beautifully, such as chocolate-coated Homthong bananas and milk chocolate-coated dried mangoes.
Other great snack souvenirs from Kunna include crispy seafood tom yum, coconut waffles filled with milk, crispy coconut chocolate in cups, durian-coated coconut crispy rolls, and durian-coated coconut waffles filled with milk chocolate.
They also have biscuit sticks coated with mango, coconut, and durian, which can be purchased separately or as a set in larger boxes.
These snacks are a great way to bring Thailand back to your loved ones in a creatively delicious way because they represent the fertile land and pleasant climate. They are also lightweight and convenient for travel.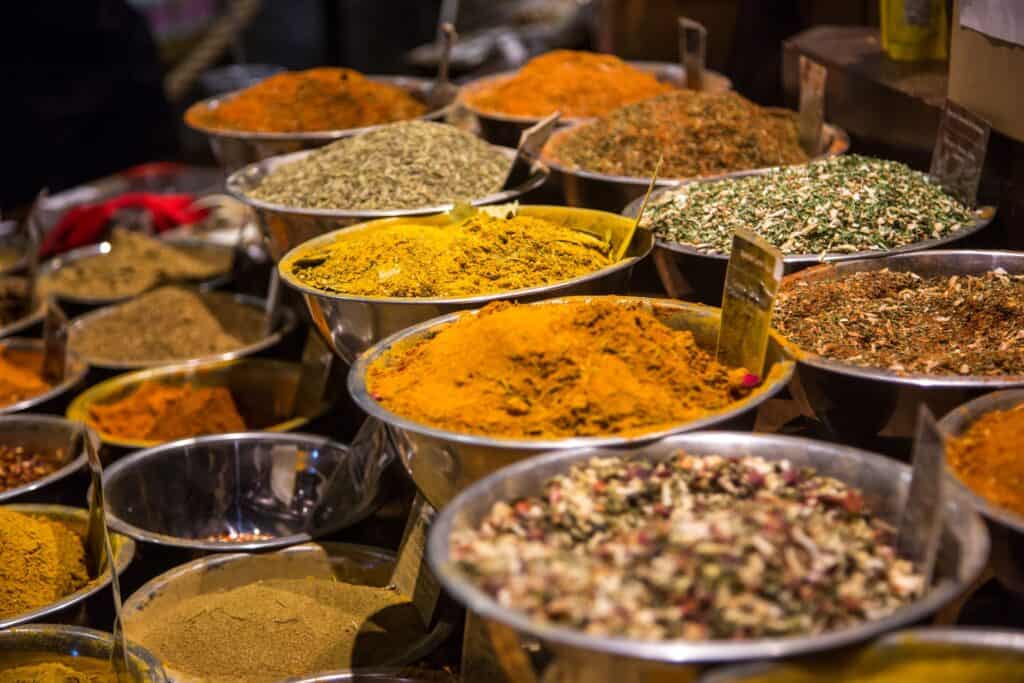 Thai Spices And Sauces
If you or a loved one enjoys cooking, these are souvenirs you won't regret bringing home. Spices are an excellent way to convey the essence of Thailand. Simply inhaling the aroma or taking a small bite or sip of a dish made with them can transport you back there.
Thai spices are the life of Thai cuisine, which is currently one of the most popular cuisines in the world. They are very flavorful and nutritious because of the rich Thai soil in which they were grown. 
Thai cuisine is known for its spiciness and the use of common spices like chili peppers, garlic, ginger, onion, and turmeric.
There are also other great spices like lemongrass, which is an important part of the famous Tom Yum dish, coriander, which is used in soups and stews, and cinnamon, which is a staple in Thai food.
These spices are packed in airtight containers and they will assist you in recreating your favorite Thai dishes.
You can get Pad Thai sauce to make it easier to recreate your favorite dishes, such as Pad Thai, a stir-fried rice noodle dish popular as street food.
This sauce can also be a nice addition to other dishes, like instant noodles. Green curry sauce is another great premade sauce to have because of its exotic flavor. These sauces are well-packaged and readily available in supermarkets.
Frequently Asked Questions
1. Can I Buy Fabrics From Thailand?
Yes. Thailand is famous for its exquisite silks and fabrics, the best of which can be found at the renowned Jim Thompson house.
2. Is Food In Thailand Cheap?
As opposed to western food, yes. You can eat less expensive but authentic Thai food, especially in night markets and street carts, than in high-end restaurants.
3. Why Are Medications In Demand In Bangkok?
Thai medicines are organic herbal products that are known to be highly effective and an excellent solution to common health problems.
Final Thoughts
The souvenir options for tourists in Thailand are endless, especially for food souvenirs, because food is a major part of Thai culture.
Whether you remember at the beginning of your trip, while you're viewing the city, or you remember right before boarding your flight home, you can get a delicious snack that your loved ones will love.
Resource Links To Products We Use And Recommend
More Pages On Food