Lunchtime is vibrant in Spain! An excited crowd of employees, students, and other Spaniards en route to their favorite restaurant for a 2-hour rest and a hearty lunch for La Comida (traditional Spanish lunch), filling the streets of Spain with palpable energy.
For Spaniards, this is a typical lunch, but for tourists, it might feel like the heartbeat of Spain.
A typical Spanish lunch includes three courses: entrantes or primer plato, segundo plato, and postre. Entrantes are typically light salads or soups, Primero are heavier fish or meat dishes, and Postre are simple Spanish flan, fruit, or sweet pastries.
Read on to learn more about the courses in La Comida and the various dishes you can find on a typical Spanish lunch menu.
What Do The Spanish Eat For Lunch?
Following a very light El Desayuno (breakfast) and Almuerzo (mid-morning snack), La Comida (lunch) is a large meal with multiple courses eaten in the afternoon or midday (2:00–4:00 p.m.). In Spain, lunch is generally referred to as La Comida, but in some regions, it is called Almuerzo.
Under the menu del dia (menu of the day), each course can have up to 5 or 6 options to choose from, all for one price.
The Spaniards pace themselves because La Comida serves large portions of food. This means they don't eat more than necessary between courses, regardless of how delicious the meal is.
Meals are usually accompanied by a glass of wine or a cup of coffee. It is not uncommon for Spaniards to take a siesta or linger over coffee after a meal in order to digest their food.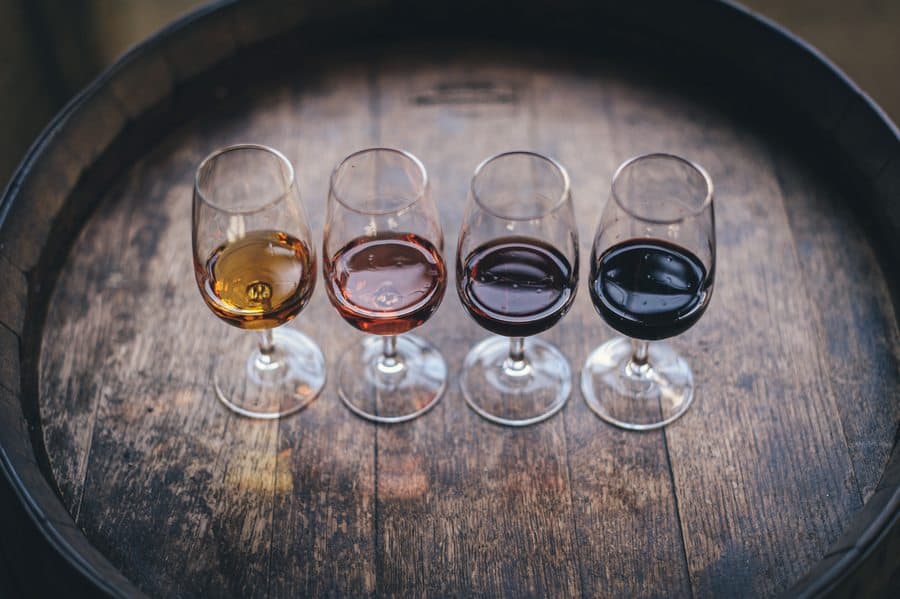 Fun Fact: Siesta used to be an important part of lunchtime in Spain. It gave workers, especially farmers, a chance to rest after a big meal and get ready for the rest of the day's work.
Large cities such as Madrid and Barcelona have employees who work the standard 8-to-5 schedule, so they do not adhere to the typical La Comida pattern.
Meal times, especially lunch, are taken really seriously in Spain, and they operate on a strict schedule. Most restaurants are closed until lunchtime, opening around 1:30 p.m. to prepare.
Because of this, it's critical to note meal times so that you don't end up eating at an expensive tourist restaurant because you drove too early or too late.
| | |
| --- | --- |
| Typical Spanish Meals | Time Of The Day |
| El Desayuno (Breakfast) | 7 – 9 a.m |
| Almuerzo | 10 – 11:30 a.m |
| La Comida | 2 – 4 p.m |
| Merienda | 5 – 7 p.m |
| Cena | 9 – 11 p.m |
Source

:
A Typical Spanish Lunch
The menu of the day is a very substantial meal for a low price, typically between 8 and 14 euros. To order it, you can ask the waiter, "Hay un menu del dia?" Full a la carte menus (menus with individual prices for each dish) can be provided for those who prefer a more simple meal. This is an example of a typical Spanish lunch: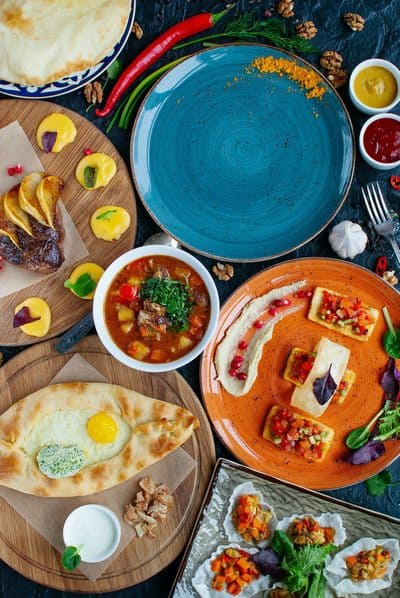 Appetizers (Entrantes) Or Primer Plato
The first course consists of entrantes (entremeses) or primer platos (primeros). Sopas (soups) and ensaladas (salads) are listed separately or as subcategories. Also, you can't have both entrantes and primer plato on a menu; only one can be present.
Although tapas are not technically appetizers, they can be ordered as such in restaurants. Bread is always available for mopping up sauce and soup.
As far as choices go, the most common ones are as follows:
Tapa e.g. Croquettes
Sopa e.g. Gazpacho
Salads e.g. Ensalada murciana
These are almost always options on a Spanish lunch menu.
Croquettes:
These deep-fried balls can be stuffed with chicken, mushrooms, or ham (Spanish ones). It is believed to have originated in France, but Spaniards adore it and consider it part of their culinary culture.
Croquettes are typically served in restaurants and tapas bars. They are slightly heavier than standard appetizers, but they make an excellent starter.
The authentic Spanish croquette is the ham croquette, or croquetas de jamón. While the ham is a special component of these croquettes, the key ingredient is the bechamel sauce filling, which gives each bite a creamy and soft texture.
This white sauce is created by combining roux (butter and flour) and milk. In most cases, flavoring and herbs are also added, and this sauce is one of the "mother sauces" of French cuisine.
Gazpacho: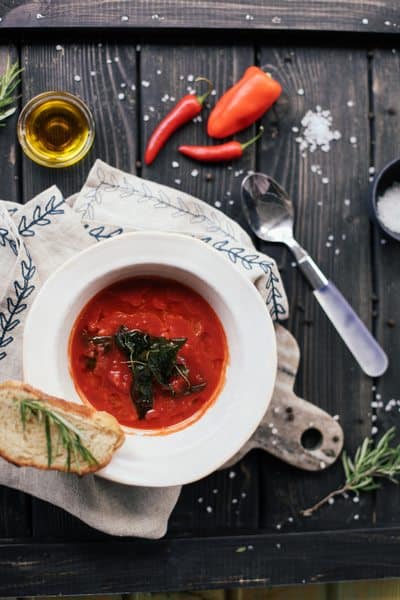 This is a cold bowl of soup (cold soup? Well, yes). It is the most popular soup in Spain and a local favorite because it is a great way to beat the summer heat. This classic appetizer is made with crushed tomatoes, chopped cucumbers, pepper, garlic, vinegar, herbs, and garlic.
There are numerous variations of this soup, including gazpacho de mango, gazpacho blanco, and gazpacho trigueros (trigueros — slim wild asparagus). It goes well with roasted bread.
Ensalada Murciana:
This traditional Spanish salad, Ensalada Murciana, originated in Murcia. It is made with tomatoes, tuna or cod, hard-boiled eggs, black cuquillo olives, and olive oil.
After olive oil has been drizzled over the well-mixed salad, salt is used to add flavor. It is served chilled in the summer and at room temperature during the winter.
Plato Principales, Segundo Plato: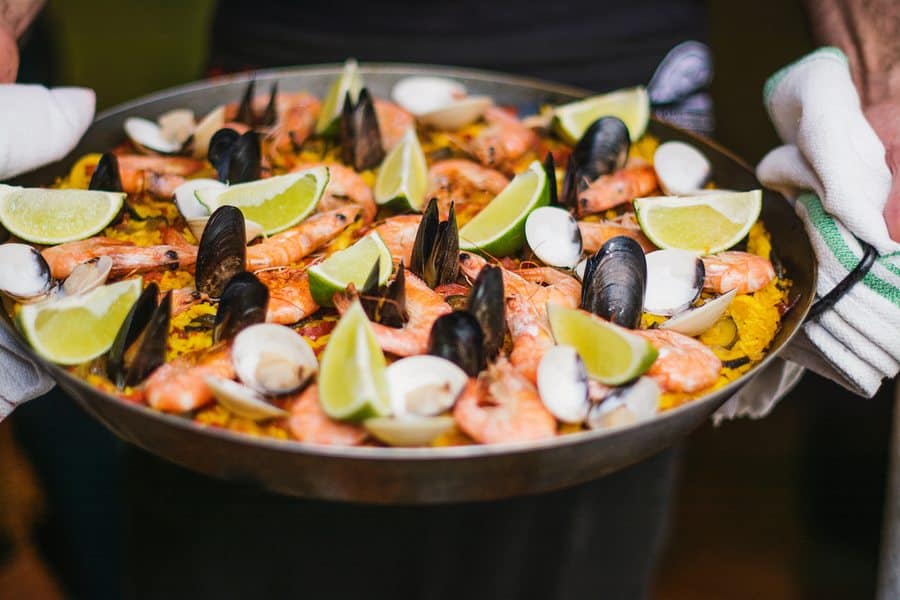 Plato principales means the main course, whereas Segundo Plato refers to the second course. This course consists primarily of Pescados or Carnes, which are fish or meat, respectively.
It could just be a big plate of meat or fish with not much else on it. Alternatively, guarniciones (side dishes) are typically listed at the bottom of most menus.
The Plato Principales may be listed with a side dish selected by the restaurant as part of the package, but you have the option to order something else. This course is usually the heaviest.
Pescados:
The Spanish adore all types of seafood, from prawns to octopus. It doesn't matter what size it is as long as it is really fresh when served.
Because Spain is surrounded by 3,400 kilometers of coastline and groups of islands, Spaniards have developed a love for seafood, which has inspired numerous delicious seafood dishes that are widely enjoyed throughout the country.
The iconic Paella de Marisco (seafood paella) is one of the most popular seafood dishes in Spain, and even in other parts of the world.
It is a mix of seafood and rice, combined in the most mouthwatering and irresistible manner, making it Spain's national dish.
Paella de marisco originated in Valencia and has since spread throughout Spain and international communities. The golden hue of this seafood paella is achieved with saffron, garlic, paprika, and seafood such as shrimp, mussels, clams, and/or prawns.
Carnes: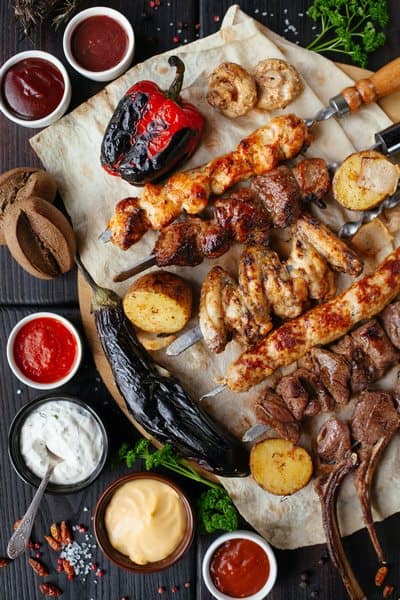 In Spanish lunches, you'll find a wide variety of meats, including chicken, ham, pork, and more. Most carnes dishes may simply have one type of meat in the soup, like roasted pork, chicken, cured ham, steak, or beef, but some, such as Puchero, are a festival of different kinds of meat in one dish.
Puchero is a Spanish stew that is also prepared in countries such as Paraguay and Mexico. This filling meal may contain chicken, veal, pork, or cured ham.
The name "puchero" means "earthenware or stewpot." It is usually used to refer to food for the poor and is prepared with rice, pasta, celery, bacon, and vegetables like chickpeas, carrots, cabbage, and potatoes.
Postre:
There will be dessert after all this food, of course. It's usually postre or cafe on the menu, but you can get both for the same price. Dessert options include fresh seasonal fruit, ice cream cakes, ice cream, flan, and any other sweet pastry offered by the restaurant.
In Spain, flan is a vanilla egg custard with caramel sauce. It is a very soft and light dish, making it the ideal dessert for any meal.
It contains sugar, vanilla extract, whipping cream, eggs, blanched almonds, and sprigs of mint as a garnish.
6 Spanish Lunch Eating Customs To Remember
One of the unique aspects of Spanish life is the tradition of sharing meals with loved ones. Having a meal like la comida has more to do with sharing. Taking part in it is a social ritual that should not be disregarded.
You can't discuss Spanish lunch without mentioning Sobremesa and other customs that are necessary for blending in and getting the full Spanish dining experience.
Here are some traditions to help you eat lunch like a true Spaniard: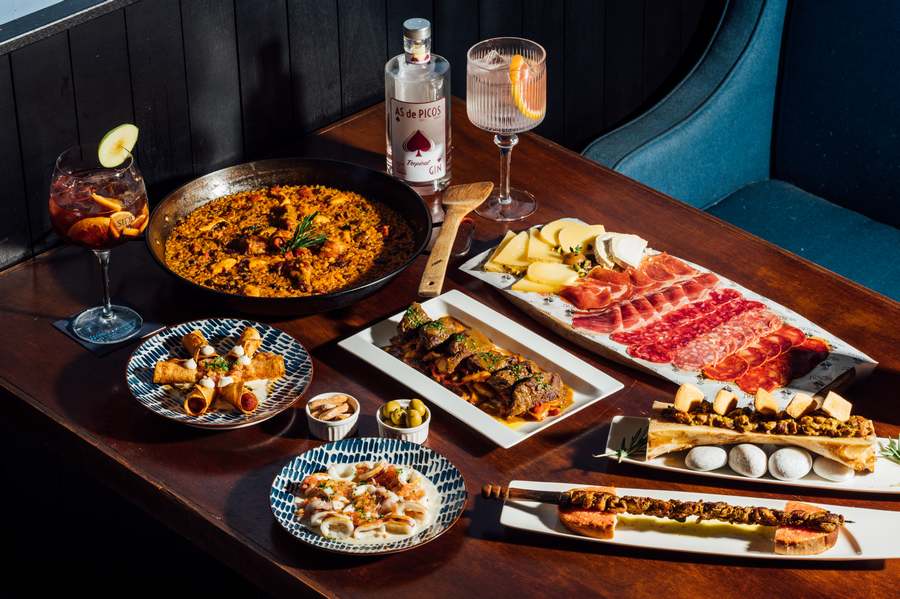 1. Sobremesa:
This literally translates to "over the table" and is a direct continuation of the meal at the lunch table. It can be eaten at postre, cafe, or at the end of a meal. It's the practice of conversing with your lunch partner after the meal.
Spaniards are accustomed to lingering at the table rather than rushing out right after the last bite of their food or sip of their drink.
In addition to enjoying their food, Spaniards also enjoy each other's company, and a good conversation can last for more than an hour and a half at the table, particularly on weekends.
In Spain, eating lunch alone is equivalent to drinking alone in Korea. It's a depressing and lonely thing to do, according to the custom. Therefore, it is preferable to eat in a group whenever possible.
2. Lunch Begins When All Of The Guests Arrive
Everyone is expected to be seated at the table before lunch begins. It is impolite and improper to begin eating before all guests are seated.
On the flip side, it is rude to arrive late to lunch because everyone would be waiting on you before they can fill up their hungry stomach.
3. Bread Is For Dipping
Bread is always on the lunch table because it is customary in Spain to use bread to mop up sauces and oil. So don't be surprised or embarrassed to give it a shot. Dipping bread in a sauce indicates to the chef that you enjoy the sauce.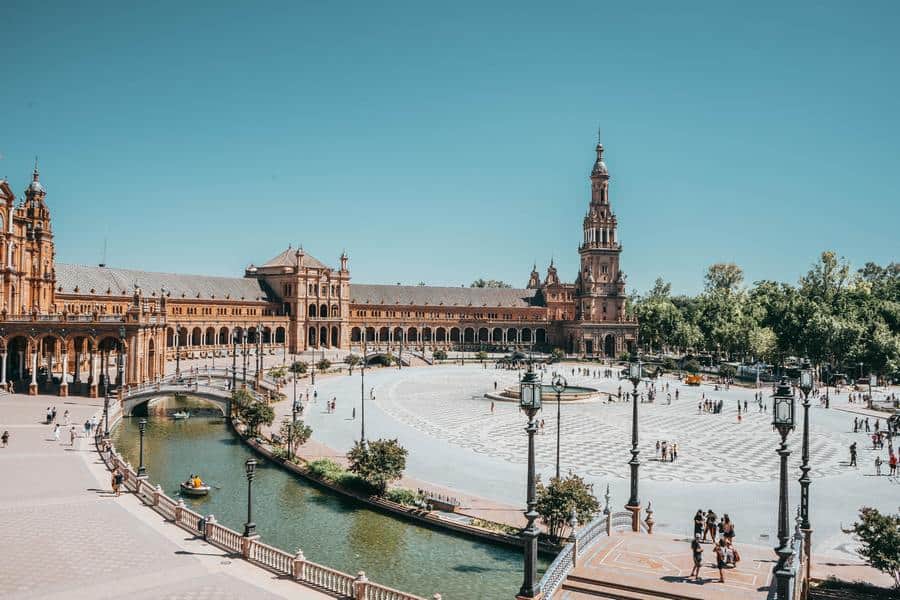 4. Be Willing To Share
This may seem obvious to you, but in Spain, it is a rule. The last bite of a meal is called "the one of shame" (la de la verguenza), so it is customary to leave it untouched until someone else in the group asks if they would like to eat it.
Even if you want it for yourself, it is considered polite to ask. That last piece can be divided evenly so that everyone gets a piece.
5. Visits During Snack Time Are Not Allowed
It is considered wrong to pay a visit to someone's home during mealtime. If the person is a really close friend of yours, it may be tolerated, even accepted. However, if you are unfamiliar with the situation, it is best to wait until after mealtime.
Unless you have been invited to stay for lunch or dinner, it is best to leave if you have been visiting and it is mealtime.
6. Tipping
It is important to know that tipping after a meal is entirely voluntary and is not particularly prevalent in Spanish culture. Spaniards, on the other hand, are nice people, and most of the time they would leave about 10% of the meal's value or round it up to the nearest euro.
Frequently Asked Questions
1. Can You Eat Patatas Bravas For Lunch In Spain?
Yes. This is a nutritious tapa that can be served as the main course of la comida if the portion is increased.
2. Who Invented The Menu Del Dia?
In the mid-1960s, General Francisco Franco invented the menu del dia to attract tourists and to appease hungry workers who couldn't return home for La comida.
3. Where Is Spain's Food Capital?
The food capital of Spain is San Sebastian. This is due to its numerous Michelin-starred restaurants, gourmet food shops, fresh food markets, and so on.
Final Thoughts
A traditional Spanish lunch is a large, leisurely, and lengthy event designed to give Spaniards and tourists an hour and a half to enjoy a hearty meal, socialize, and refuel for the remainder of the day.
The typical Spanish lunch may be extinct in some major cities, but it still remains at the heart of Spanish culture.
Resource Links To Products We Use And Recommend
More Pages On Food