When you think of the best pizza, Naples in Italy comes to mind, but not everyone can afford to travel there to experience this delicious dish. The good news is that American pizzerias have mastered the craft and now offer delectable options. Of all the great pizza states, one has been chosen as the state with the best pizza.
According to the '50 Top Pizza in the USA 2022′ ranking, Brooklyn and Manhattan are home to 18% of the country's best pizzerias. The State of New York had nine pizzerias on the list, with Una Pizza Napoletana leading the way as the best pizza restaurant in the country.
The top directory in this industry, 50 Top Pizza, is a dependable source that adheres to its principles. The fact that it has received this honour is a tribute to the pizza culture of New York. Continue reading to find out more about the best pizzerias and the magic that resides within them.
The Origin Of Pizza In New York City And Why It Is The Best
Pizza is a very popular food in New York City, which is a fact that cannot be disputed. Many people refer to it as the Pizza Capital of the World, despite the fact that Brazil more rightfully deserves to hold that title.
If you don't know much about the origin of pizza, you might even think it came from the Big Apple (as New York city is fondly called). When it comes to pizza, New York City has a long and rich history.
Fun Fact: The first pizzeria in the United States, Lombardi's, was opened in Manhattan in 1905 by Gennaro Lombardi, whose employee and cook Antonio Totonno Pero later opened Totonno's in 1924.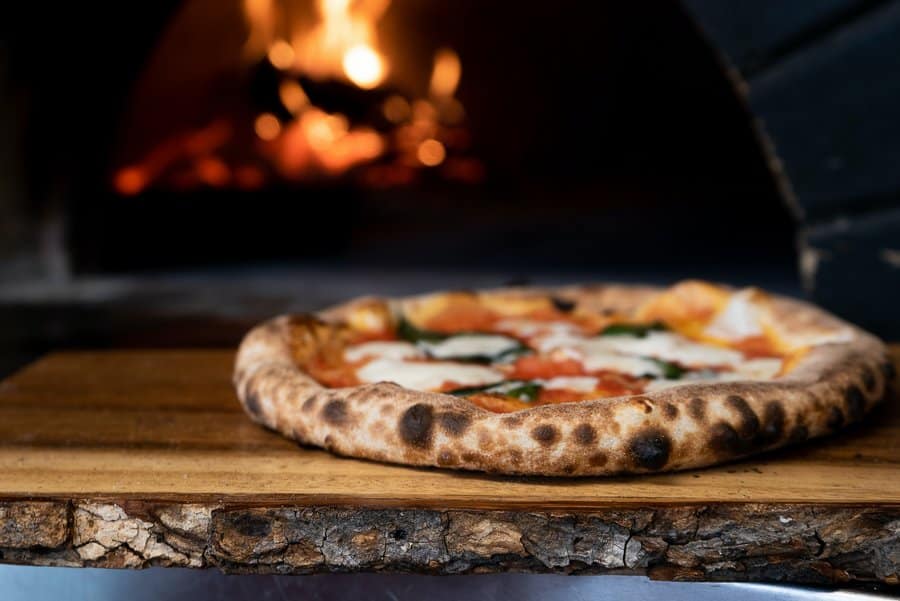 Pizza was introduced to America in the early 1900s by Italian immigrants who brought with them the Neapolitan-style pizza, or pizza Napoletana, which originated in Naples, Italy. The New York style of pizza, with its thin crust and 18-inch diameter, evolved out of this method of making pizza, which only allowed fresh, basic ingredients to be used.
Unlike before the 1700s, when flatbread was not topped off with tomatoes, the pizza Napoletana birthed the modern pizza as tomatoes were introduced to Europe and accepted by peasants as a topping and not poison. This could be called the origin of New York's pizza story and, of course, the style and culture that followed.
In an effort to maintain the city's long-standing pizza tradition, some of New York's first pizza shops continue to cook their pizzas in coal ovens, while others have made the switch to gas ovens.
Lombardi's and Totonno, Patsy's and Di Fara Pizza are two other excellent examples of merging the Neapolitan and New York styles of pizza.
Despite their similarities, New York-style pizza and Napoletana pizza differ in a variety of ways. The size is the most obvious. The Neapolitan-style pizza is nearly 12 inches in diameter with a wet centre caused by an abundance of sauce on the cheese, making it impossible to slice in the New York-style manner.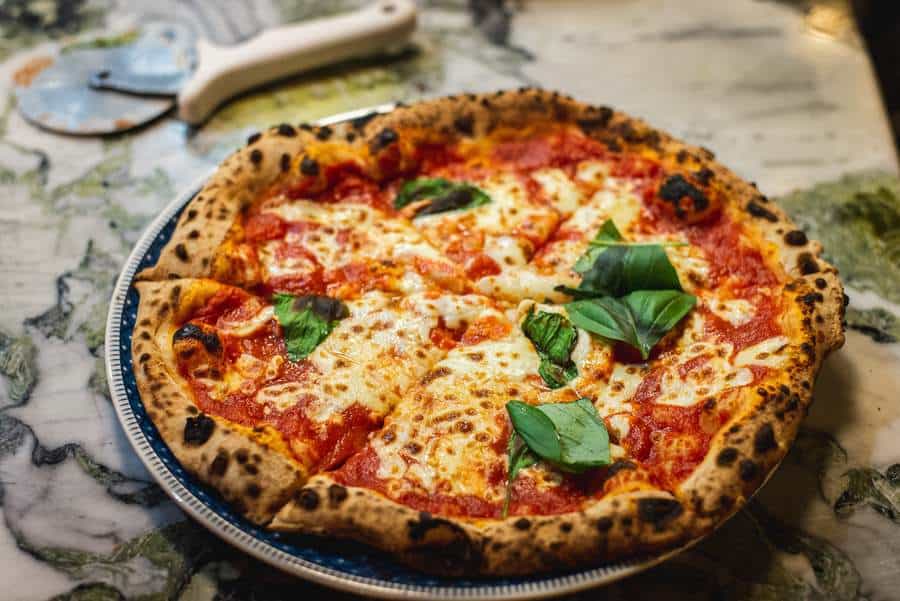 Although New York-style pizza has evolved to include a variety of razzle-dazzle toppings, Neapolitan-style pizza has three official variants: Pizza Marinara, Pizza Margherita, and Pizza Margherita Extra. These variations can be found in pizzerias throughout New York.
New York's pizza culture has endured time and chance for 110 years to emerge in the spotlight as the 50 Top Pizza USA issue for 2022. It has had to compete not only with other regional pizzas like Chicago's Deep-Dish Pizza but also with bagels and cheesecakes as the most popular food in the state. Pizza is undeniably an important component of New York culture.
Fun Fact: The water from the New York River is thought to contain unique minerals that contribute to the uniqueness of the crust!
The Best Pizzerias In NYC, 2022
In New York City, there are over 1,500 pizzerias. Since New York City is almost synonymous with pizza (just kidding), there isn't a single establishment that doesn't serve high-quality pizza. However, four pizzerias stand out from the crowd, appearing in the Top 10 of the Top 50 Pizza USA.
Una Pizza Napoletana
This is a Lower East Side restaurant owned and run by Anthony Mangieri. It is currently on the Lower East Side of New York City and is the sixth location that the owner has changed to fit his idea of what a pizzeria should be like.
In 1996, it was in New Jersey's Point Pleasant Beach. It moved to the East Side of Manhattan in 2004, and then to San Francisco in 2010.
Anthony moved back to the Lower East Side of New York City in 2018, and in 2020, he opened a store in Atlantic Islands, which is located in the state of New Jersey.
It went on to bring New York glory in the 2022 issue of 50 Top Pizza USA after returning in March 2022 to its now-single location in the Lower East Side of New York City, where it had previously been located. Wouldn't you call that fate?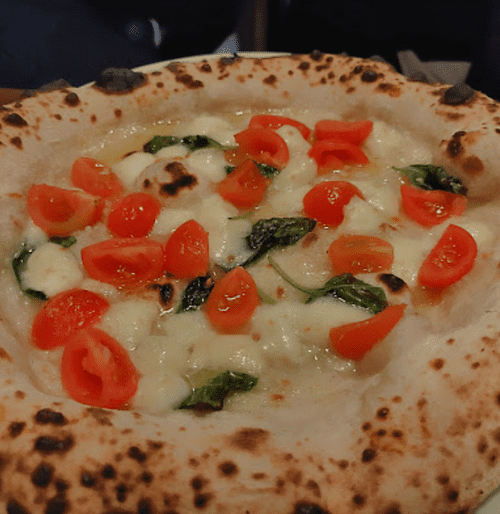 An early fan of pizza, Anthony Mangieri requested his mother take him on a tour of the best pizzerias in the Tri-state area, where he learned everything he could about the dish. Since then, he has spent a lot of time studying and changing his pizza recipes to make the best pizza possible.
Anthony's Italian-American ancestry may be the secret to the crust that has been described as divine or ethereal despite its apparent simplicity. Even though he has moved and changed his recipes, one thing has remained constant: he has always made wood-fired pizzas with natural leavening.
A lot of thought goes into making the crust and the pizza itself. Like the three pizzas in the oven at once, the single location for maximum concentration, and the fact that the pizzeria is only open Thursday through Saturday.
Their menu consists primarily of five pizza options: Margherita, Bianca, Costa, Filleti, and Marinara.
Ribalta Restaurants, NYC
Ribalta NYC is ranked third among the 50 Best Pizzas in the United States in 2022. It is located in New York City at 48 East 12th Street. This authentic Neapolitan pizzeria is located in the heart of New York City.
Everything about Ribalta is rooted in the traditions of Naples, and it strives to preserve and advance them, from the pizza to the people who make it to the people who eat it.
It is co-owned by two Naples native chefs, Rosario Procino and Pasquale Cozzolino, former Keste owner and former chef at PizzArte, respectively. Together with their team, they offer New Yorkers, tourists, and their mostly European clientele a uniquely Neapolitan pizza-style experience.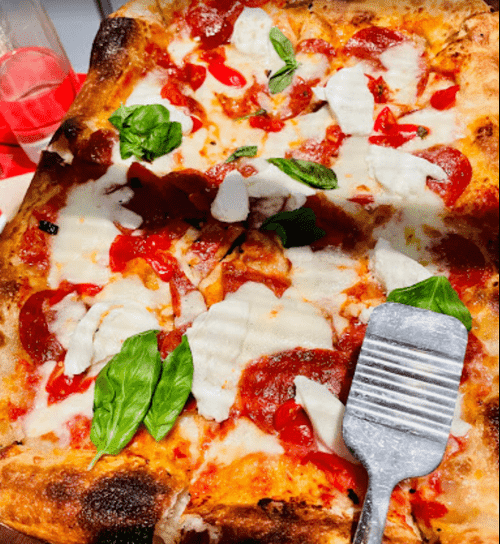 Ribalta's pizza is made with only Neapolitan ingredients. They use certified flour mixtures from the Italian flour mill (Le 5 Stagioni), natural yeast, buffalo milk mozzarella from Campania, and fresh tomatoes.
As traditional as their Neapolitan pizzas may be, Ribalta embraces the beauty of something new by allowing customers to customize their pizzas according to their preferences. Another great addition to the menu here is their Specialita Tradizionale Garantita, a Margherita pizza made with mozzarella (made from cow's milk).
Ribalta serves Italian, Campania, Neapolitan, and Mediterranean cuisines in addition to pizza. They also offer vegan, gluten-free, and vegetarian options to accommodate customers with varying dietary preferences.
Song'E Napule
Ciro Iovine had the idea for Song'E Napule and, with the assistance of his wife, Austria, and brother, Giovanni, brought his vision to life in January 2015. It is located at 148 West Houston Street in New York City. They also have a branch in Rutherford, New Jersey, but we are not discussing it in this article because the focus is on New York.
Ciro was a travelling chef who had mastered the art of pizzaiolo at the age of 13 prior to his visit to New York. He decided to settle in New York after falling in love with the city while on vacation. He fell in love with Austria three years later, and the rest is history.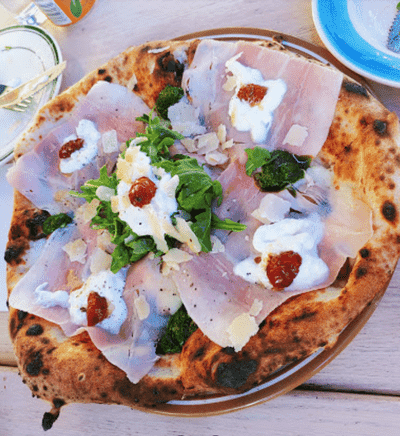 Ciro is a man with a lot of drive and passion. These attributes have shaped his life, as evidenced by the meaning of Song'E Napule, which translates to "I am from Naples." Such a tribute to his heritage and a testament to his restaurant and the man he is!
As a true Neapolitan, Ciro imports almost all of his ingredients from Italy. Cheeses such as mozzarella, rocoto, and buffalo are sourced from Campania, and the preferred datterini tomatoes are sourced from Azienda Carbone. Only a few vegetables are purchased in the US.
This pizzeria and trattoria is known for spreading love and light in a traditional Neapolitan way, as well as for its delicious food. This frequently includes singing, dancing, laughter, and an affordable price list.
It's easy to see why Song'E Napule ranked 7th on the Top 50 Pizza USA list and got a 3 Spicchi award, which is given to the best Italian restaurants based on the Gambero Rosso gastronomic ranking system.
Kesté Fulton
This pizzeria comes in at number 10 on the list of the 50 Top Pizza USA, and it is the fourth New York pizzeria to make the list overall.
Roberto Caporuscio, who is not only an expert in Neapolitan pizza but also a devoted teacher and advocate of this traditional method of making pizza, owns and operates the business. He is a firm advocate of the method.
Roberto grew up on a dairy farm in Pontinia, Italy, which is only an hour away from Naples. He honed his culinary skills by producing and selling cheese until he eventually travelled to Naples, where he learned how to make pizza in the Neapolitan style.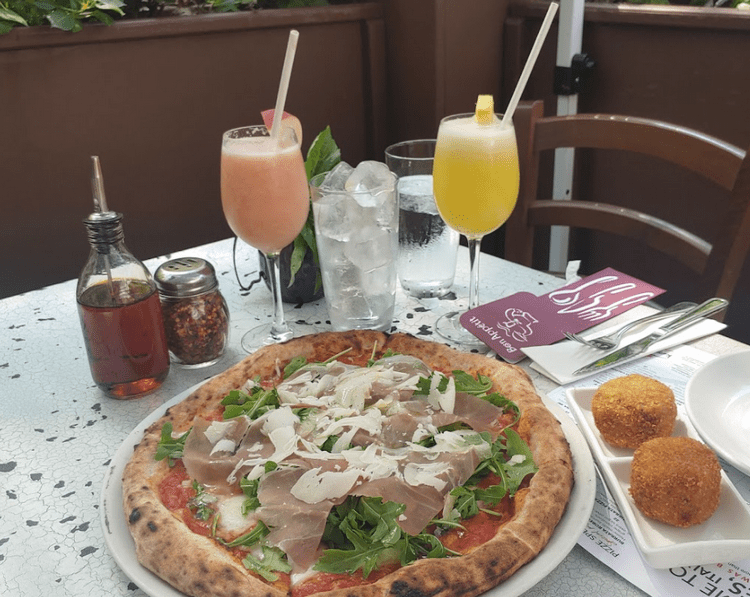 Over the years, he has received high praises from his peers, customers, and the media. He has been named Food Network Magazine's "Best Pizza in New York State," New York Magazine's "#1 Pizza in New York," and Food and Wine Magazine's "25 Best Pizza Places in the United States."
This renowned pizza chef serves as the President of the PAF Pizza Academy Foundation in the United States, an organization that is committed to teaching the Neapolitan art of pizza making.
He also works as a private consultant for restaurants across the United States. Caporuscio had opened a string of successful pizzerias in Pittsburgh and New Jersey before settling in New York.
Kesté Pizza and Vino offer their customers over 40 traditional, wood-fired pizzas, including diet-specific options. The ingredients used are of the highest quality, including his homemade mozzarella. A true masterpiece!
Most Represented States In "The Top 50 Pizza" In 2022
The most represented cities were New York, with nine pizzerias, followed by Portland and San Francisco, each with five. Over a thousand inspectors from five continents conducted this survey anonymously.
The top 15 from this list will be included in the 100 Best Pizzerias in the World, which will be announced on September 7, 2022, at Palazzo Reale in Naples.
This ranking is based on the quality of the raw materials and ingredients used for the dough and toppings, the wine and drink lists, and the level of service they provide to their customers.
Source

:
| | |
| --- | --- |
| City, State | Pizzerias |
| New York, New York | Una Pizza NapoletanaRibalta NYCSong' E NapuleKestè FultonOps Pizza Kitchen & CafeForcellaRoberta'sPasquale Jones |
| San Francisco, California | Tony's Pizza NapoletanaDoppio ZeroDel PopoloFlour + Water Pizzeria |
| Portland, Oregon | Ken's Artisan PizzaLovely's Fifty FiftyApizza SchollsNostranaScottie's Pizza Parlor |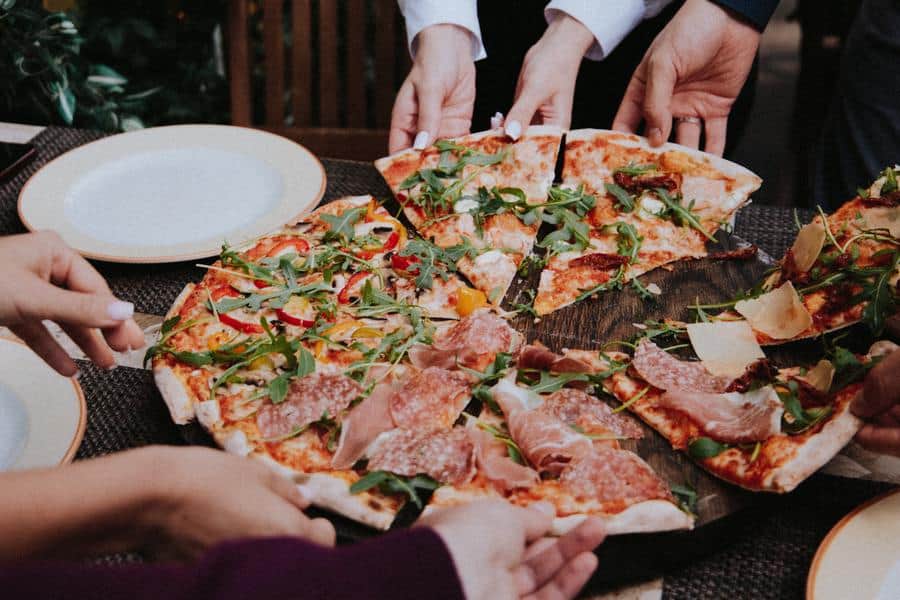 Frequently Asked Questions
1. Which Pizza Is The Most Popular In America?
Pepperoni pizza is America's most popular and most ordered pizza. Pepperoni is used as a topping in approximately 36% of all pies.
2. How Healthy Is Pizza?
Depending on the type of crust, amount of cheese, and toppings, pizzas can range from nutritionally excellent to downright unhealthy.
3. How Many Types of Pizza Are There?
There are eight standard types of pizza: Neapolitan, Sicilian, New York, Chicago, Greek, California, Detroit, and St. Louis.
Final Thoughts
New York pizza has evolved into the perfect fusion of the old and the new over the years and continues to strive for perfection. The magic of New York Pizza lies in its bravery to stray from tradition in order to carry an identity unique to its chef. Make sure to try some delicious New York pizza soon!
Resource Links To Products We Use And Recommend
More Pages On Other Areas