Fraser Island info
Barge Timetable
At Fraser Magic 4WD Hire we cater for all sizes of groups from 2 person packages to 6-8 person packages in our larger Landrovers.
Be it a luxurious romantic holiday or a camping expedition with family & friends, we can make arrangements to suit your needs.
Fraser Island is a rapidly growing tourist destination and the availability of four-wheel drive hire vehicles is limited. Advance bookings are essential to avoid disappointment.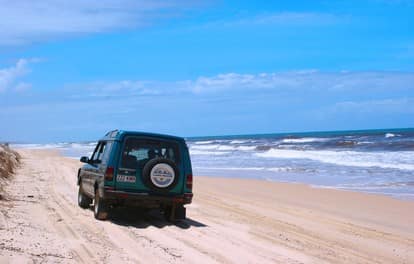 Fraser Magic 4WD Hire is one of the longest established 4WD Hire companies in Hervey Bay operating since 1992. As a family business, we aim to provide a personalised service to our customers.
Quality, reliability and customer satisfaction are our priorities. We are founder members of the Fraser Coast 4×4 Hire Association.
We are progressive, professional and committed to providing the best and safest Fraser Island experience with minimal impact.
Ensuring that you enjoy Fraser Island and its wonders as much as we do ourselves is important to us. If you have any special interests, bird watching, fishing, bushwalking, etc., we will do our best to help you access relevant information to enhance your trip.
In our information session before your hire, we use videos and information approved by the Queensland National Parks and Wildlife Service (QNPWS) to help you enjoy your visit to Fraser Island without doing any damage to yourself or affecting the delicate balance of Fraser Island.
We also supply a detailed map and Fraser Island information with every 4WD.
Barge prices are for the vehicle and up to 4 passengers.
4WD Hire and Conditions
To Hire a 4WD Vehicle:
The driver must present a valid driving license to drive the vehicle being hired.
The driver must be over 21 years of age at the time of driving
A credit card number or a minimum advance payment of one day hire is required to secure a booking.
All vehicles carry comprehensive insurance with $2500 excess (non-waivable).
With every hire, a QNPWS permit must be purchased to access the National Park. This permit is available at the time of hire.
If you intend to camp while on Fraser Island, National Parks camping permits must also be purchased. Camping Gear is available and can be hired with the vehicle.

Contact & Booking Details
For Contact and Bookings with Fraser Magic see our 4wd rental page
Fraser Magic 4WD Hire

Resource Links To Products We Use And Recommend
More Pages On Fraser Island
link to Can You Catch Squid On Fraser Island?
With its varied fishing spots and abundance of seafood, Fraser Island (K'gari) is a favourite destination for anglers. And while the most popular catches are typically whiting, bream, and flathead,...
link to How Much Fuel Can You Take To Fraser Island?
Fraser Island, cut off from the mainland, depends on regular shipments for general products. Thus, even vital supplies like fuel are more expensive on Fraser Island due to extra shipping costs. To...