Your trek to adventures on Fraser Island!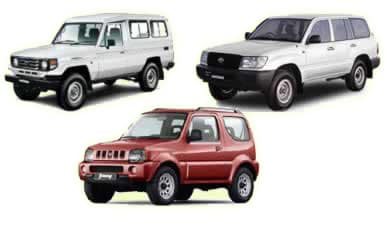 Safari Off Road Centre offers an absolute experience for all travellers wishing to visit World Heritage Listed Fraser Island.
We offer Budget-priced Hire Vehicles with unlimited kilometres, GST and standard off-road liability cover. Camping equipment can also be supplied.
Personalized service is guaranteed – we want you to enjoy the magic and beauty of this special place. Satisfaction of travellers with a guaranteed island back-up service is a great source of pride to us.
A comprehensive briefing on how to drive a 4wd, island driving conditions, suggested itineraries and tide time information is provided to all customers before they depart for the island.
Fraser Island Offers
Endless sun, sea and surf beaches!
Diverse vegetation, flora and fauna throughout the island
Spectacular sand formations
Pristine clear creeks and lakes to swim in
Walk tracks through breathtaking rainforests
The World Famous 75 mile beach offering the best Beach Camping
The purest bred Dingoes known
We'll ensure your trek to Adventure is Tops!
Safari Off Road Centre offers you
Camping equipment hire
Backpacker & group rentals
Island permits arranged
Free customer car parking
Free information & 4wd instruction
Barge transfers arranged
Unlimited kilometres and GST
Accommodation Packages Available
Vehicles Available
BARGE BOOKINGS & ISLAND PERMITS – all organised and booked
for you on the dates you specify.
BARGE TIMES AVAILABLE
To Fraser Island:
From Fraser Island
7.15am
8.30am
9.00am
9.30am
10.15am
1.30pm
11.00am
2.30pm
2.30pm
4.00pm
3.30pm
Barge transfers ex Hervey Bay return
(vehicle + 4 passengers, extra passengers are return)
Hire is Subject to the Following Conditions:
Rental Period – Minimum rental period
is two (2) days. All rentals are subject to barge times and are available
for collection according to barge departure times. One way rentals are
not available.
Collection & Rental of Vehicle –
A pick-up and drop off service is provided to or from resorts and hotels
in Hervey Bay. Pick-up available from 0700 hours, 7 days a week, and drop
off must be by 1800 on the last day of travel.
License/Age Requirements – All intending
drivers must be nominated on the hire contract. All intending drivers
must also hold an open license and be over 21years. International and
overseas licenses are acceptable if they are current.
Bond / Damage Excess – All hires require
a credit card imprint on contract for the security bond – there is no
preauthorised amount taken from the card. All rental vehicles have a damage
excess, which can be reduced to a minimum of $500 by paying an extra fee
per day.
Booking Policies and Conditions – All
rentals are subject to the terms and conditions on the hire agreement.
Resource Links To Products We Use And Recommend
More Pages On Things To Do
link to What Is The Best Time Of Day To Go Snorkeling?
Are you ready to plan your next snorkeling trip? In that case, you must be wondering when is the right time to go - read this article to find out! Snorkeling can be a fun and rewarding experience,...
link to What Is The Best Day To Rent A Car?
Renting a car can be expensive. Between service fees and general charges, the price can really rack up. Even what day a rental car is picked up can save a few bucks. However, knowing some general...