There are no shortages of stellar beaches throughout Australia. With over 10,000 beaches, Australia has some of the most beautiful coastlines in the world. Even though there are numerous beaches dotting the shorelines of Australia not all of them are suitable for regular beach activities.
This is why it is important to know which beaches are considered safe! This particularly applies to swimming, one of the most popular beach activities in the world.
The stretch of narrow sandy beach within the Kinkuna section of the Burrum Coast National Park is a relaxing sight. However, when it comes to swimming at Kinkuna there should be caution taken. It isn't patrolled by lifeguards so it is important to always be alert. Swimming is possible but it usually isn't advised.
Due to the location of this beach in Kinkuna, access is only by 4WD vehicles. For this reason, Kinkuna Beach is known for its driving tracks, the scenery of pristine waters and sand, and the bush camping among the foreshore dunes. Fishing is also a favoured activity due to the beach's access to Coonarr Creek and One Mile Creek.
Both creeks flank the beach at either end (Coonarr to the north and One Mile to the south). While fishing is hugely popular in these areas, swimming isn't advised near the creeks due to strong rip currents in the deeper sections.
Swimming Safety At Kinkuna Beach
Kinkuna Beach may be mostly known for its camping and 4WD driving, however, swimming can be possible. If you decide to swim at this pristine stretch of beach it is critical to know some safety tips. Australia is a unique country with various wildlife and differing water conditions.
If you play it safe and keep certain things in mind, there's always plenty of fun to be had! Below are the key things to think about when swimming at Kinkuna Beach!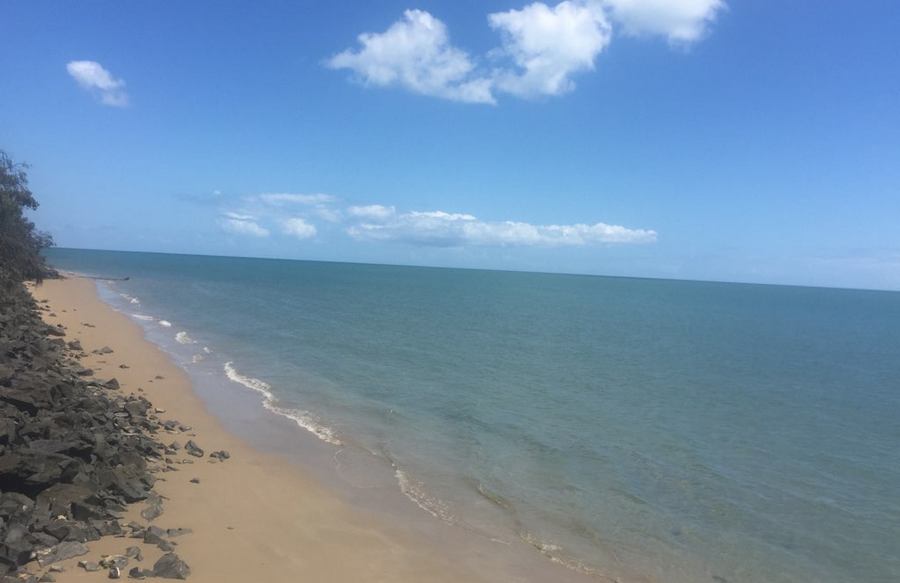 Safety Tips For Swimming At Kinkuna Beach
Never Swim Alone
It would be ideal if every beach could be patrolled by lifeguards. However, this isn't always possible especially in Australia where there are over 10,000 beach shorelines. It simply isn't practical. Because of this, you should never swim alone. This tip can be applied to any of Australia's unpatrolled beaches not just at Kinkuna.
Always bring a beach buddy so that there's another person available in case of an emergency. Things can become too unpredictable and having someone else there is just a smart idea. Both of you can spot each other to ensure everyone's safety. This includes watching out for wildlife, weather conditions, or signs of distress.
Never Swim At Night
Swimming at night has some exciting appeal to it but overall it isn't a good idea. At night, visibility is greatly reduced to next to nothing. Even with a beach buddy, the conditions aren't safe. You won't be able to see what's in the water or on the beach itself. Swimming during the morning and during daylight hours is always the best approach.
Stay Away From The Creek Mouths
Creek's mouths appear innocent enough, however, they can be quite dangerous. They are generally deep channels of water that is moving water from the ocean into the creek's inland areas. Because of the potential for strong currents and sweeping water under the deep channels, swimming in these areas can lead to dangerous situations. Fishing at the creek is a better choice from a safety standpoint.
Be Alert For Wildlife
Unique wildlife can be found all over Australia. The water is one of the most iconic places where wildlife can be found. From stingers to strange tropical fish and everything in between, it is important to be alert for wildlife. While it isn't possible to see everything it is still important to stay alert.
Watch for stingers in the water or fish that you may have never seen before. It is fine to observe these creatures from afar but they can become dangerous there is also talk of sharks caught from the beach here.
Stingers aren't in the waters off of all the coastlines of Australia, however, they are one of the biggest concerns. They can travel far distances and still be found where they usually aren't seen. Wearing swimming shoes is a great idea to prevent accidents like stepping on something less desirable.
Additional body suit protection can be worn as well. This is another reason beach buddies are necessary so that emergency personnel can be contacted if something happens with stingers or other wildlife.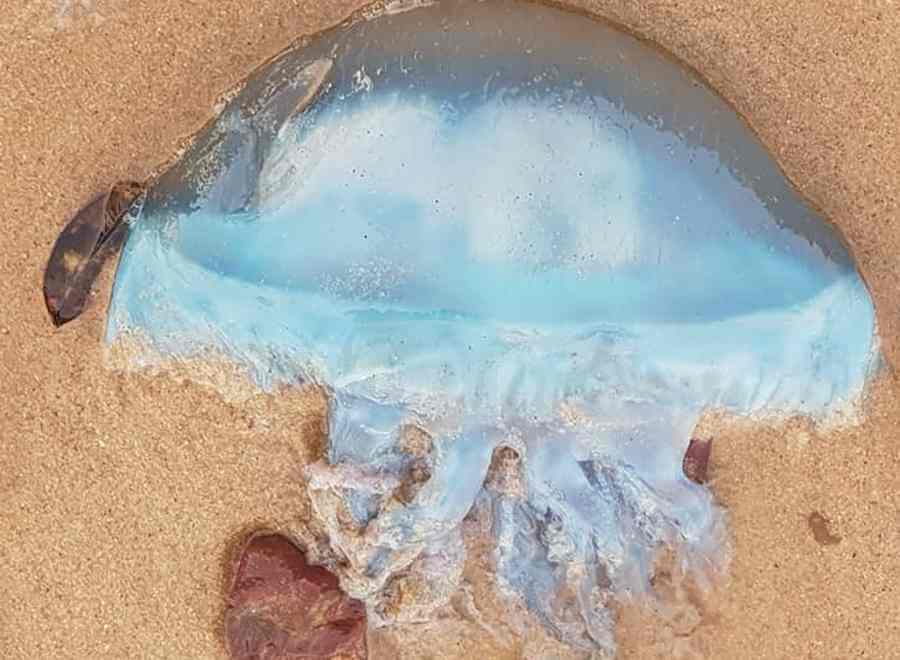 Don't Swim Too Far Out
The waters at Kinkuna Beach are generally pretty calm. Even with calm waters, weather patterns can change and can create strong waves. Staying close to the shoreline ensures that you can make it back to the beach quickly if there's an uptick in ocean waves. This is also helpful if you spot wildlife as you can exit the water more efficiently.
These aren't the only swimming tips but they are the crucial tips. Swimming can be done safely if you are smart about it. You want to have fun while also ensuring everyone stays safe! Keep these tips in mind to make the best out of a day at Kinkuna Beach!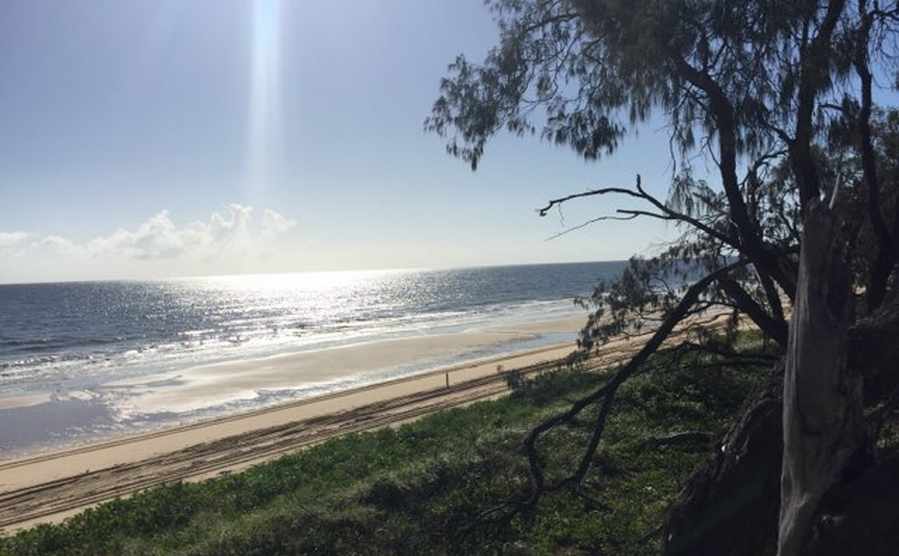 How Long Is Kinkuna Beach?
The beach at Kinkuna spans 11km in length. This is a considerable chunk of sandy paradise for visitors to enjoy. Whether someone is camping along the foreshore, 4WD driving along the coastline, or taking a dip in the pristine waters, there's room for everyone.
The beach is specifically tucked away in the Burrum Coast National Park

and is just under 40 minutes away from Bundaberg. From sprawling ocean views to soft sands the scenery is quite remarkable.
Kinkuna Beach proves to be a treasure among the Burrum Coast National Park. It is perfect for adventure-seekers, camping enthusiasts, and those looking to spot an offbeat beach with a view. Even though swimming isn't the primary reason to visit Kinkuna Beach, swimming is possible if you stay safe and responsible.
Respect the area and be alert and there's no doubt a good time will be had!
Resource Links To Products We Use And Recommend
More Pages On Other Areas