Queensland Australia is an iconic place to visit! This is particularly true for the Hervey Bay area where guests can explore rainforests, tropical islands, and other incredible sites.
Because there is so much to do, it is really important to find a great place to stay at night as well. Hervey Bay is full of lodging options all throughout its bay area that stretches along the eastern coastline of Australia!
Why Not Visit Coconut Palms On The Bay
Hervey Bay has a gorgeous esplanade that stretches 17km from Urangan to Point Vernon running parallel to the beachfront areas. This esplanade is full of great lodging options that really give guests a wide variety of choices.
Coconut Palms is one of those locations along the esplanade that is a fine choice for guests!
Coconut Palms is popular among guests to the bay area due to their overall atmosphere. This friendly location is family owned and operated which means the location has a lot of personalities rather than feeling like a chain or nationally known hotel.
Moreover, the contemporary decor and comfortable settings for the rooms really make a relaxing atmosphere for its guests. These self-contained apartments are perfect for guests looking to feel like they're staying in a luxury home apartment while on holiday!
The entrance to the location is flanked by tropical trees which give guests the illusion of entering a tropical paradise! Even though it is tucked close to nearby shops, restaurants and beach areas, the tropical trees really do make it feel like a private oasis for its guests!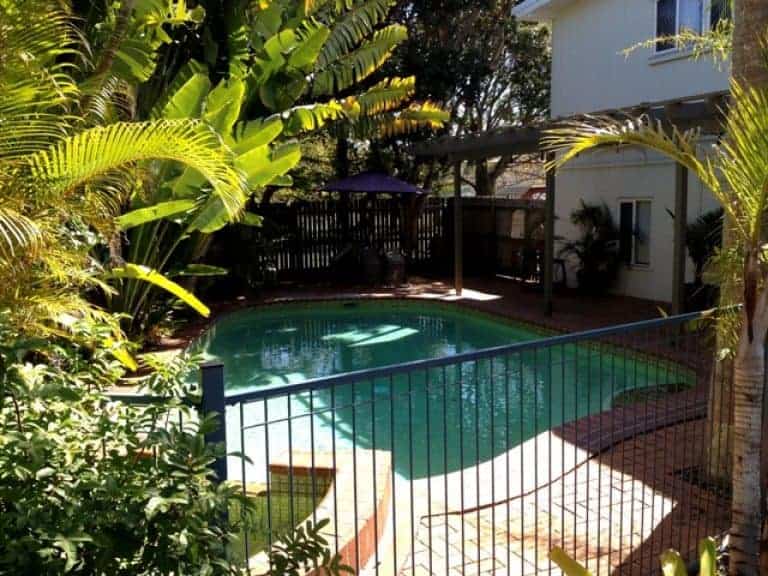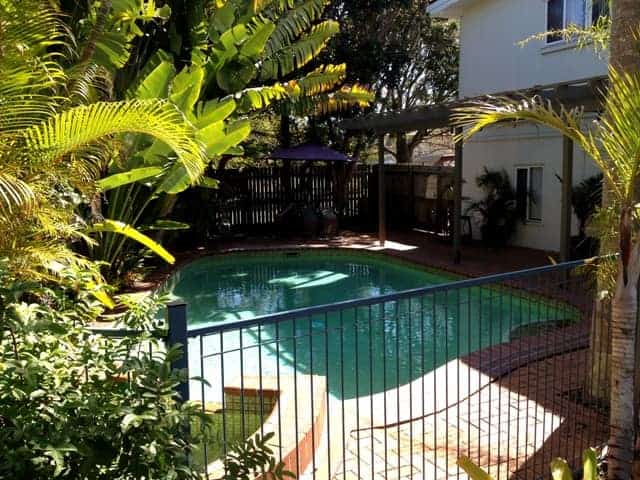 Popular Facilities
Kitchenettes – Many self-contained apartments feature kitchenettes or kitchens. This is such a convenient facility among these types of apartments because guests can prepare small meals before heading out on an adventure! While part of travelling should include experiencing local foods, there is something extra nice about having a cooktop and fridge right within the hotel, resort, etc.
Salt-water pool (with unheated spa) – Salt-water pools are really trendy throughout Australia. They are idyllic ways to enjoy swimming without all the dangers of the water or mess of the sand! The salt-water pool at Coconut Palms is surrounded by beautiful palm gardens which are super inviting for its guests!
Balconies – Outdoor balconies are a nice facility to have for accommodation. They provide access to sights, fresh air, and small talk among guests. There is even smoking permitted on the balconies.
Outdoor BBQ area with outdoor seating – While outdoor bbq is a favoured activity throughout Australia, not all locations for lodging offer bbq areas. Coconut Palms provides an outdoor space for firing up the bbq as well as outdoor seating for enjoying a freshly prepared meal!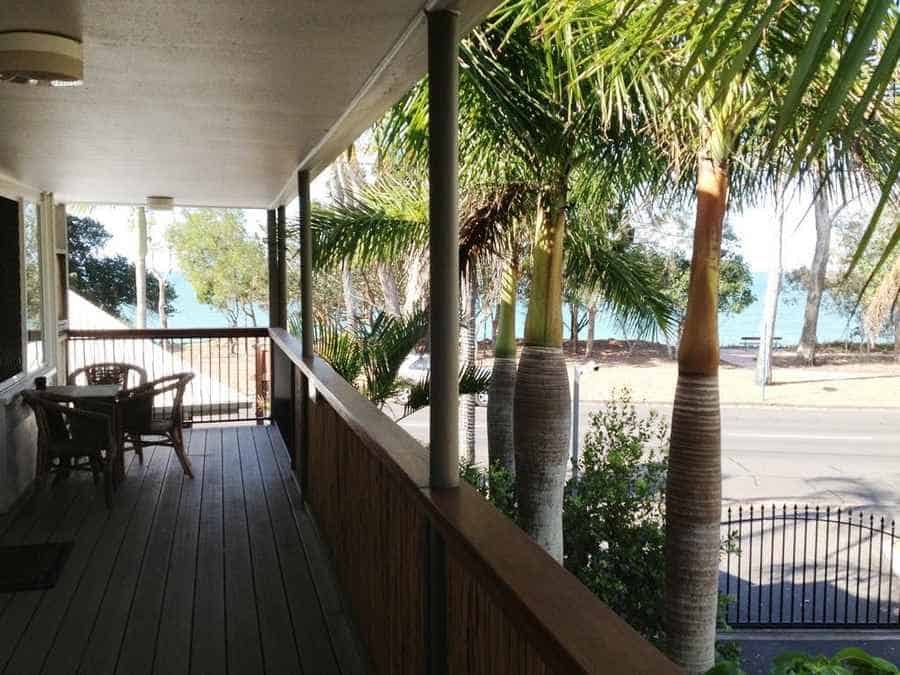 Ratings
Part of booking accommodation includes knowing just how well the location is rated. This can be obtained through guest reviews or the overall rating that is awarded to hotels, resorts etc.
The overall rating provides insight into the quality of facilities that are offered to its guests. Usually, this rating is based on a 5-star tier, with most locations ranking somewhere between 3 and 4.5 stars.
Coconut Palms is considered to be a 3-star hotel. While 3-stars seems like a low rating, it really isn't. It basically means that the location provides just the right amount of comfortable, quality facilities for its guests!
Ratings can also include guest reviews. While guest reviews should be taken with a bit of common sense in mind, they still are useful tools in getting the overall vibe of a location as well.
Coconut Palms has been rated 4.2 stars out of 5 stars with 83 Google user reviews. Most users compliment the location its cleanliness as well as its overall location along the esplanade.
Room Types
The rooms at Coconut Palms come in 1 and 2 bedroom self-contained apartments. There's also an option for a family apartment! These spacious apartments feature open-concept rooms where the living areas and dining areas blend into one.
This makes the apartments truly attractive! Moreover, the rooms also feature king and queen beds making them even more luxurious feeling!
The apartments all have bright colours and perfect lighting which creates a very inviting ambience!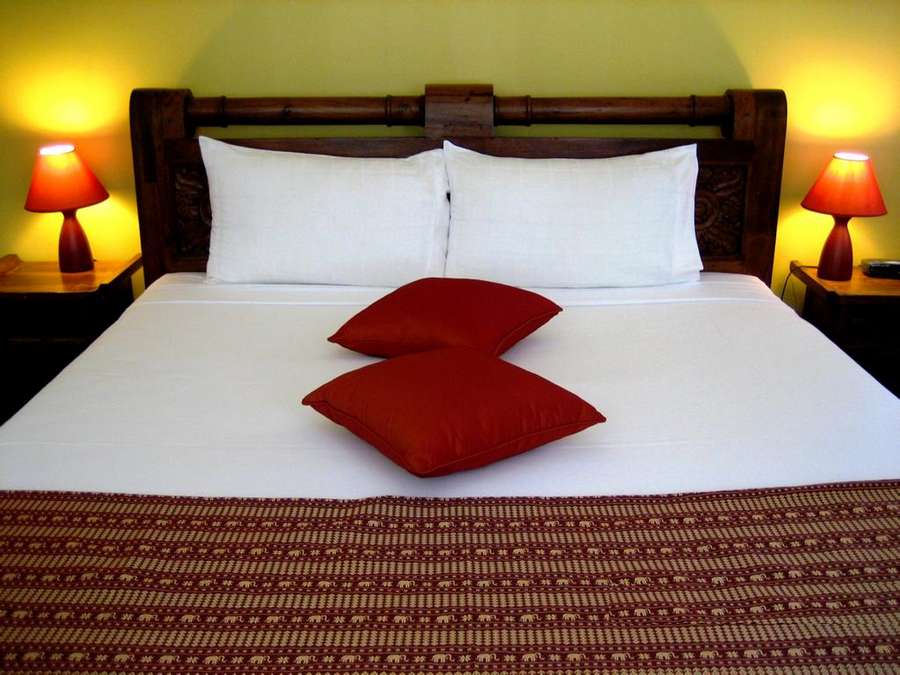 The price point for the room varies based on the time of booking. Some dates may require a minimum of a 4-night stay. Even still, the general pricing for a night's stay is between $124 and $141.
The best way to ensure that the right pricing is reflected is to consult the booking section on their website or to call them directly for details.
Surroundings And Location
The exact address and contact information for Coconut Palms is as follows:
335 Esplanade
Hervey Bay, QLD 4655
Ph 07 4124 0200
Coconut Palms is very close to a variety of shopping centre areas including Woolworths and the Town Center in Pialba.
This gives guests access to groceries, specialty shops, and so much more. Aside from shopping, the location is also near the Wetside Water Park, an education water park that is perfect for families!
Other surroundings include restaurants and cafes. Some of these locations include Indian Gate On The Bay, a popular Indian food restaurant. Some popular dishes include tandoori chicken, vegetarian dishes, butter chicken, and some lamb dishes.
Another notorious restaurant is Enzo's On The Beach which serves brekkie and lunch. Some of their most sought after dishes include omelettes, vegetarian breakfast platters, nacho specialities, and various delicious salads!
Coconut Palms is also close to the beach so those looking to cast out a line or walk the foreshore will find that a real treat. That is the upside to the hotels that are dotted along the Hervey Bay esplanade.
There is plenty of oceanside views and local town scenery to soak in!
Facilities (Other Than The Popular Ones!)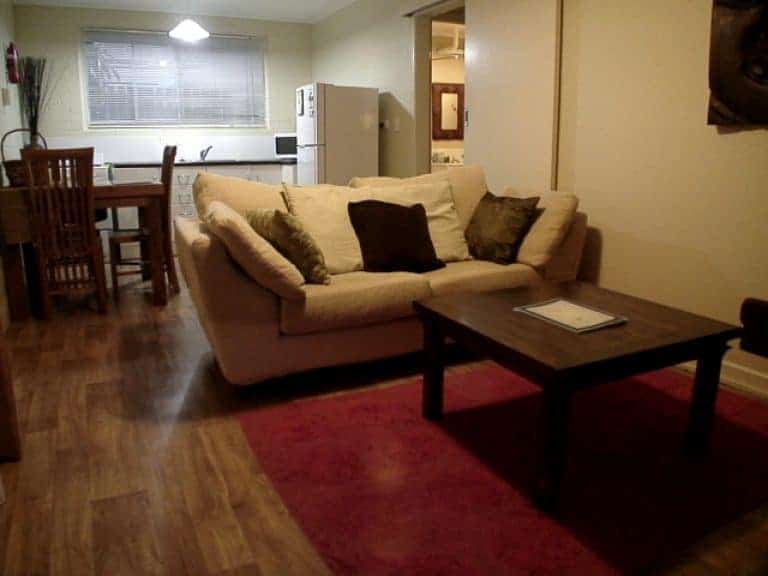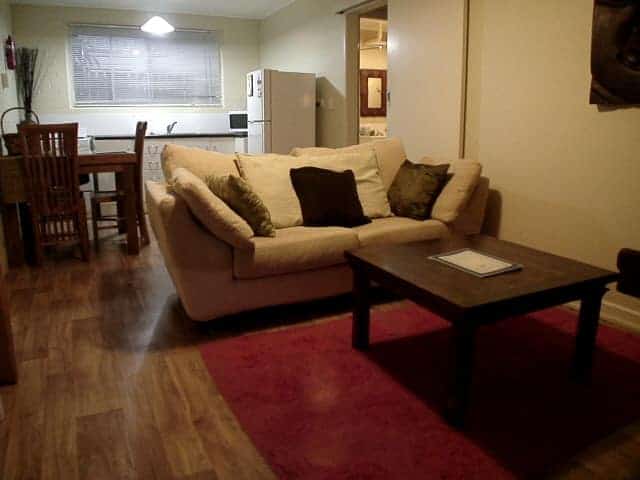 Check-In and Check-Out Times
The check-in time for Coconut Palms On The Bay is 2 p.m. while check-out time is 10 a.m.
Finding lodging in Hervey Bay isn't hard, but deciding which location to pick is always a big decision! Knowing all the perks of a location can help make that decision a breeze!
Moreover, it helps the planning of the perfect holiday go smoothly!
Resource Links To Products We Use And Recommend
More Recommendations For Accommodation
link to Discovery Parks Fraser Street Hervey Bay
On the Fraser Coast, Hervey Bay is an oasis of the best natural world the area has to offer. Just across the way from Fraser Island, you will also find beautiful botanical gardens, a stunning...
link to Caravan Parks Hervey Bay
One of the most iconic ways to experience Australia is by experiencing its beautiful natural surroundings. Because the country offers an abundance of stunning landscapes from coast to coast, caravan...