Hervey Bay in Queensland, Australia is well known for its attractions like whale-watching and beachfront areas.
However, the most popular place to visit is the iconic Fraser Island. Fraser Island is the world's largest sand island, making it an ideal adventure for those who love 4WD and exploring the great outdoors.
The island is full of different sand formations like coloured sands and natural sand blows but it is brimming with lush rainforest, perched lakes, creeks and even historical sights like the Maheno Shipwreck.
With so much to see and explore on this island, it is important to know what accommodation is available!
This is particularly true because going for a day trip to Fraser Island simply wouldn't be enough to enjoy everything on the island.
Those looking for a longer stay will find some lodging options on the island quite suitable!
Island Retreat Accommodation
Fraser Island Retreat is one of the most favoured lodging spots on the island. Located on the eastern coast of the island, it is a central hub for visiting all the wonders of the island.
This retreat gives guests a truly outdoorsy feel with 9 cabins to choose from. In addition to the cabins, there is also a small cafe, general store, and even a petrol station. The retreat strives to make the experience on the island even more memorable!
Description
This retreat is one of the favoured due to its prime location. Fraser Island is full of naturalistic beauty and the retreat emerges guests right into that beauty!
The eastern coast of the island is where a lot of access points are for the attractions. Moreover, this stretch of the island is near its 75-mile beach which is popular for taking 4WD vehicles up the coastline.
This retreat truly is in a central spot giving guests the opportunity to relax as well as set out on exploration!
Popular Facilities
Swimming pool – Having a place to swim on the island is a nice touch! While surfing is possible in some parts of the eastern coast, swimming isn't generally one of the more popular activities. This retreat provides a swimming pool for guests to cool off and relax!
General store – This is easily the most beloved facility at the retreat. The licensed general store is a gateway to items that are found on the mainland. From milk, bread and other grocery necessities, it has everything in a contained area! This includes gas, water, and air for 4WD, snacks, bait for fishing, etc.
Satinay Bar and Bistro – One of the other more popular facilities includes the onsite cafe area! This is the perfect spot to grab a quick bite before or after a day of exploring the island. It also serves dinner on its large deck area and coffee throughout the day. With beautiful construction, this cafe and dining area make the retreat even more special!
Ratings
Star ratings are often given to lodging and accommodation places to showcase their ability to provide quality services. While this rating is generally given for quality over quantity, it is important to note that it is usually given to resorts, hotels or motel areas.
Accommodation with cabins or caravan parks usually doesn't receive a traditional star rating. According to Google, this area is considered a 3-star hotel-like accommodation.
This rating could be interpreted as providing comfortable accommodation as well as average amenity options. It could be argued that should be slightly higher considering it does provide an onsite restaurant as well as a general store.
However, the other way to truly gauge the rating of a location is by its guest ratings. Guest ratings truly do vary and assessing them should always be done with common sense in mind.
Not all experiences are the same, but it can be easy to weed out the generic reviews and find the legitimate ones. When looking at the guest ratings for Fraser Island Retreat, 141 Google users rated it about 4.1 stars out of 5 stars.
Most of the reviews reflect comments on their cabin areas, camp kitchen area, coffee from the cafe and proximity to the beach. All-in-all, that is pretty decent!
Room Types
The rooms at the retreat are in the form of 9 spacious cabins. These cabins are split into two types, 3 of them being suitable for up to 5 people with two bedrooms and 6 of them being suitable for up to 4 people with single beds.
All the cabins are stylish and spacious with ensuite bathrooms, small porches, and that wooden cabin exterior look!
The price tag for these cabins is about $150 to $250/day depending on the number of people and the exact cabin being chosen.
The cabins have a motel feel to them with their decor and tend to cost a bit more. Either way, the prices are affordable for the accommodation provided as well as the number of people the cabins hold!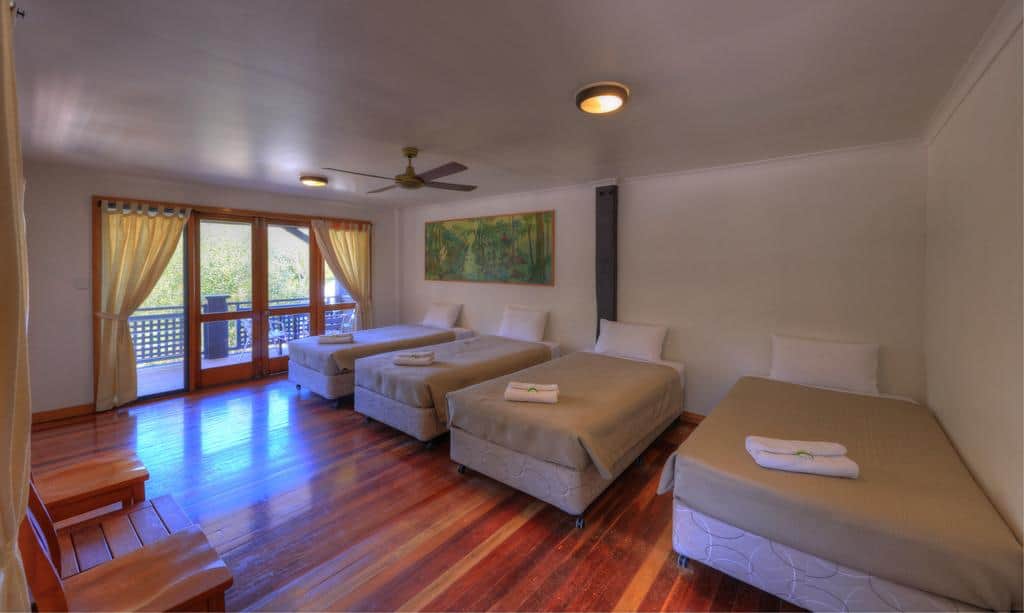 Surroundings and Location
The exact address and contact information for the Fraser Island Retreat are as follows:
Happy Valley Dr
Fraser Island, QLD 4581
Phone 07 4127 9144
This retreat is specifically in the Happy Valley area of the island, along the eastern coast. It isn't far from Indian Head, sand blows, Maheno Shipwreck, Lake Mackenzie and Lake Wabby, Eli Creek, and the Rainbow Gorge.
All areas are within 4WD driving distance and considering the retreat has petrol, there's no excuse for not driving among the sands to explore!
The perched lakes are beautiful, stunning areas to visit with pristine waters that are well preserved due to their conditions. The shipwreck is a big attraction as its historically part of the island and makes for iconic photos.
Fishing is a hugely popular activity along the creek and near the headland of Indian Head. There is simply something for everyone to indulge in on Fraser Island!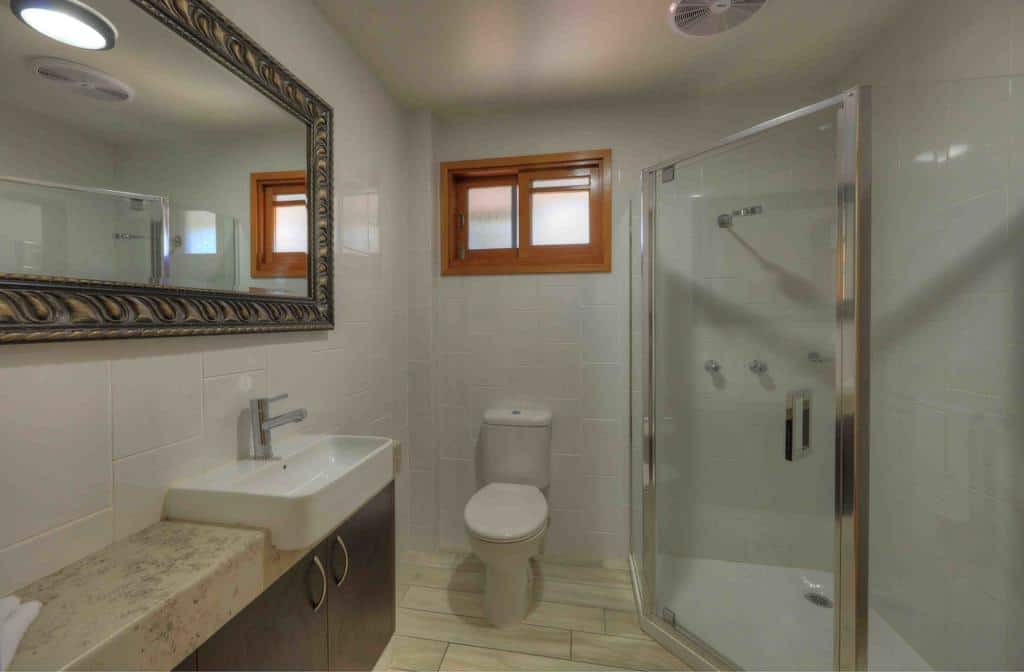 Facilities (Other than the popular ones!)
Large camp kitchen with spacious seating
Australian Post (picked up twice, weekly)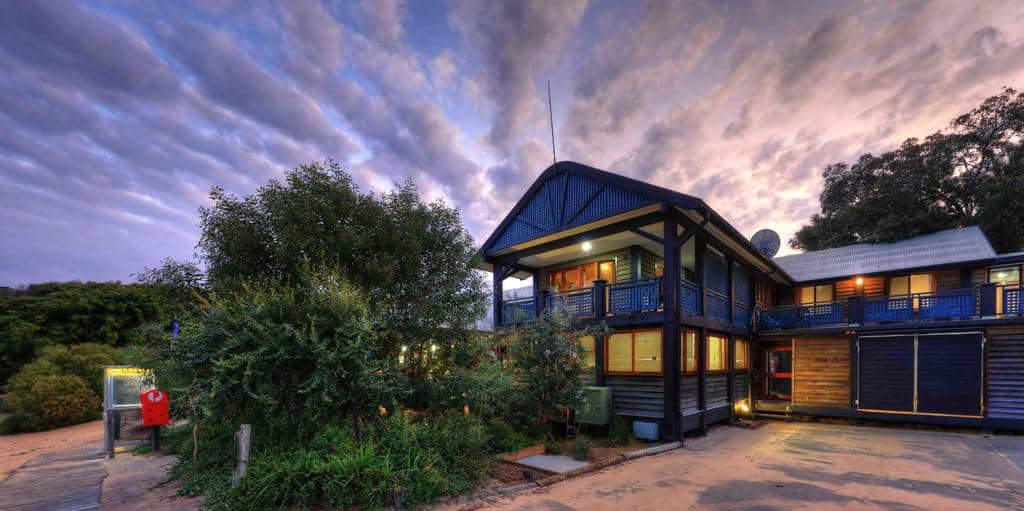 Check-In And Check-Out Times
Check-in is at 2 pm while the check-out time is 10 am.
A stay on Fraser Island should be an experience over being just another accommodation! Fraser Island Retreat truly provides the amenities to make exploring the island enjoyable and relaxing!


Resource Links To Products We Use And Recommend
More Pages On Fraser Island
link to Can You Drive At Night On Fraser Island?
Fraser Island, located off the coast of Queensland, Australia, is a popular tourist destination and a UNESCO World Heritage Site. The island, which spans more than 120 kilometres in length and 24...
link to Are There Toilets On Fraser Island?
Fraser Island, which is a popular tourist destination in Australia. The island has a number of campsites and other facilities where visitors can use toilet facilities. There are on average around 22...