Going on holiday is a great event for families, couples, or even just individuals looking to take a break from life.
These trips are usually to places where people can unwind, relax, and enjoy the sights around them. Australia is known for having a lot of beautiful places for people to visit and unwind.
This is particularly true of Hervey Bay, a bay area in Queensland, Australia. This area has plenty of landscapes, islands, historical sites, and more for guests to experience. While choosing a holiday destination is a big decision, so is the choice of lodging!
Stay At The Woolshed Eco Lodge
Hervey Bay not only offers a lot of attractions and sights for its visitors but also offer a variety of lodging options. Spanned all throughout the bay area are different accommodation choices that are suitable for just about everyone.
One of the area's hotel options, in particular, is Woolshed.
Sitting among 1 acre of lavish gardens, this lodge is a beautiful sight for guests. The lodge prides itself on being sustainable in a world that is so dependent upon technology, etc.
This unique approach to providing lodging has transpired in a way that makes Woolshed truly one-of-a-kind. They strive to be eco-friendly in any way possible.
This not only allows the location to be modern amongst those who care about the environment but also helps set better-priced accommodation for its guests.
So how is this location eco-friendly? Below are the ways that Woolshed ensures that they are as eco-friendly as possible!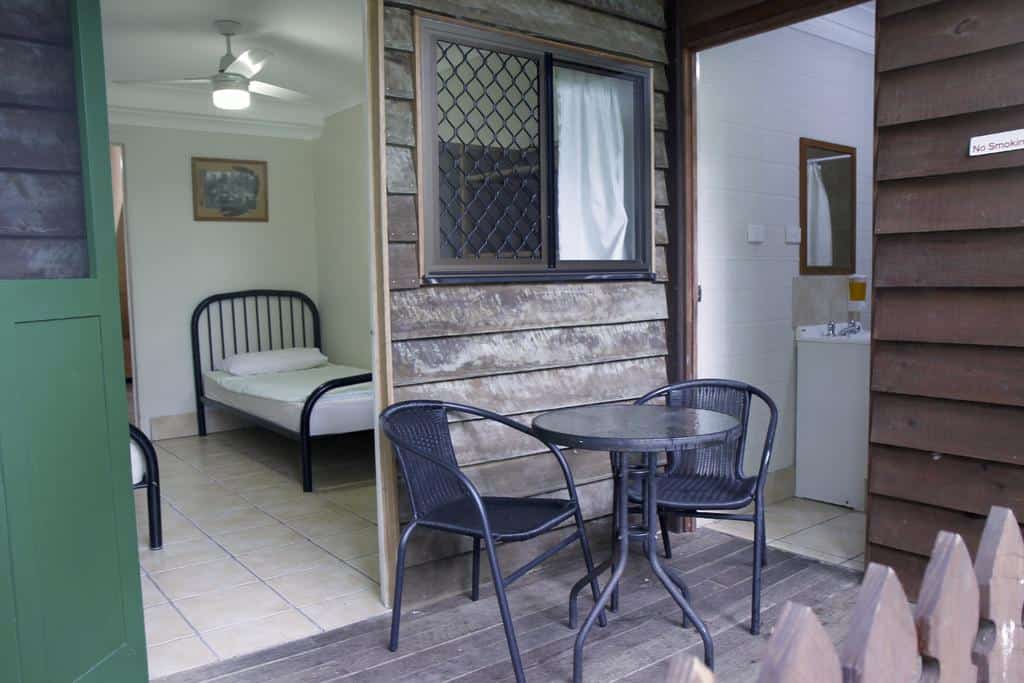 Eco-Friendly Practises At Woolshed
They use solar energy panels
They collect rainwater for their gardens
They only use sustainably sourced building materials
They are 99% plastic-free in all packaging and/or silverware materials
They have compost and communal herb garden onsite
They wash the linens and air-dry them
They use only non-toxic cleaning products
They use bulk-soap dispensers instead of plastic single bottles
They use sustainable paper products
Their kitchen has a recycling system
They use energy-efficient LED lighting
They utilise water-saving systems
This is an impressive list of all the ways that Woolshed strives to keep its location sustainable for its guests. Moreover, this list has some pretty interesting methods of keeping the Earth as pure as possible.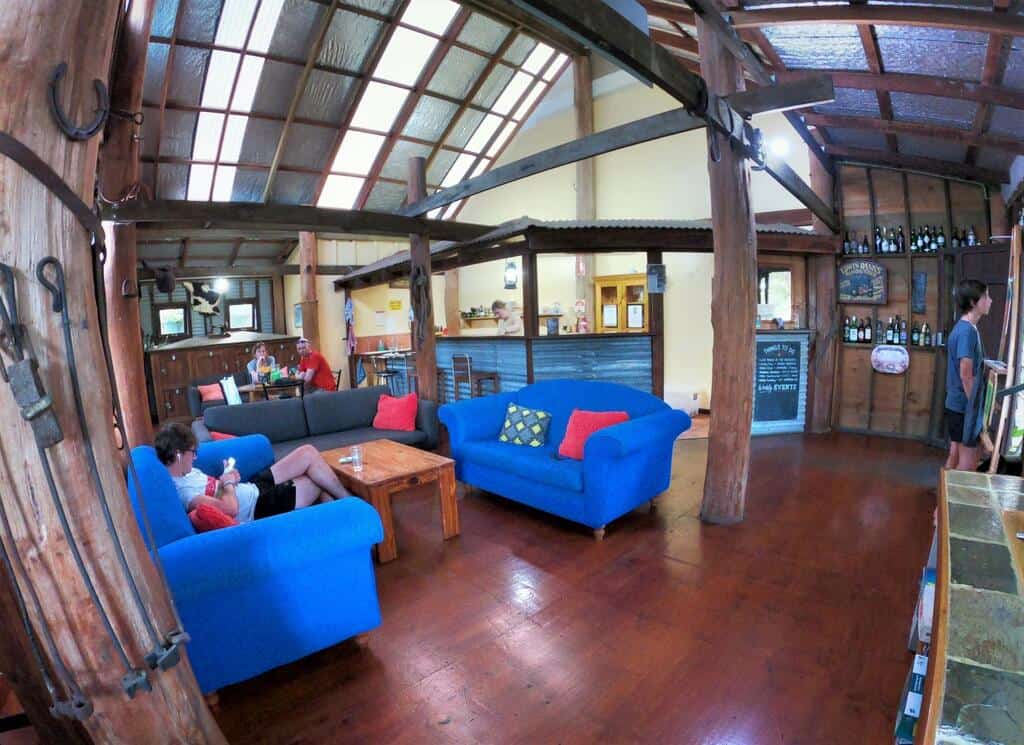 Popular Facilities
Communal kitchen area – Woolshed's communal kitchen area gives guests 24-hour access to cooking up something delicious.
1-acre of lavish gardens – Their gardens are a unique part of their sustainability as they are watered by collected rainwater and well maintained. Moreover, these gardens are more than just a sight to behold. They feature access to the WiFi as well as hammocks speckled throughout the gardens for ultimate comfort!
Game access – The lodge features access to various board games, darts, lawn games, etc. which really helps support social interaction with others. It really adds to the fun of the location!
Ratings
Lodging and accommodation are known for receiving a star rating that showcases their ability to provide guests with quality facilities. The stars are strictly related to quality rather than quantity, as more does not always mean better.
Most locations will rank somewhere around 3 to 4.5 stars out of 5 stars. When it comes to Woolshed, they are considered a 2-star hotel on Google.
A 2-star rating doesn't necessarily mean anything bad. Rather, it means that the location provides the bare minimum of essentials to its guests along with some comfort level in their room offerings.
Considering this location's use of sustainable products and practices, it is no surprise that it only ranks as a 2-star accommodation.
While it only sits at a 2-star rating, another way to learn more about a location's atmosphere is through its guest ratings. Guest ratings should obviously be taken with a bit of common sense in mind, however, they are still useful tools to gain some insight about a location.
On Google, Woolshed is rated 4.4-stars out of 5 stars with just over 150 ratings. Most guests compliment the location's naturalistic surroundings, cleanliness, service, and overall atmosphere.
This is pretty impressive considering how unique the location is with its lodging! Its practices are well-received by guests!
Room Types
Woolshed offers 5 different types of room options for its guests. These include budget rooms, deluxe rooms, ensuite rooms, dorms, and family rooms with bathrooms and kitchen facilities.
Each room type offers a slightly different arrangement but overall all the rooms are rustic looking, simple in decor, and have general comfort levels for guests.
The budget rooms come in either a twin or double. The price for a one night stay is dependent upon the time of booking, the number of guests, etc. However, the general pricing is about $62 a night. These rooms can sleep up to 2 people.
The deluxe rooms come in either twin or doubles as well. The general pricing for a night's stay for this option is about $68. These rooms also are suitable for up to 2 people.
The dorm rooms come in either a 4-bed deluxe, 3 and 4-bed deluxe or a 6-bed option. Some of these options come with bunk bed style sleeping arrangements.
Moreover, they have privacy walls and some have a private ensuite bathroom as well. The price point for a night's stay can start at $28. For up-to-date pricing, it is always important to check with the location before booking. These can sleep up to 6 people.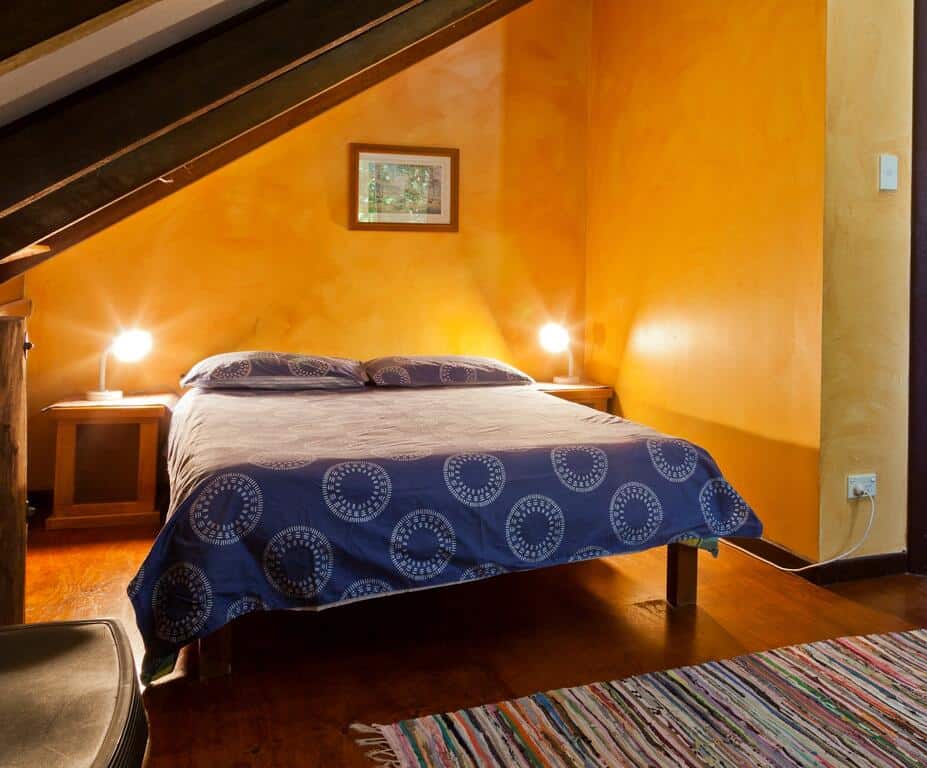 The ensuite rooms come in choices of a twin, double, or quad/triple room. Like the other room options, the twin, double, quad/triple choices are the beds available within that room. The ensuite rooms are priced at about $80. They can sleep up to 3 people.
The family rooms with the bathrooms and kitchen facilities are a great option for travelling families. These rooms feature 1 double bed, 2 bunk beds, and a single sofa bed.
This room option can sleep up to 7 people quite comfortably! Moreover, the family rooms are self-contained with fully-functioning kitchens in them. The price point for this room option starts at around $100.
All rooms are subject to price change due to availability or time of booking. All up-to-date price points should be confirmed with the lodge.
Surroundings And Location
The exact address and contact information for the Woolshed Eco Lodge is as follows:
181 Torquay RD
Hervey Bay, QLD 4655
Ph 07 4124 0677
The lodge is along Torquay Rd which is really close to local restaurants and bars. For those looking to get a taste of local foods and popular eateries, there is plenty within walking distance or short driving distances to check out.
Some locations include Maddigan's Seafood, Enzo's On The Beach, and Aquavue Cafe Restaurant.
Visitors who want a taste of what makes Hervey Bay so incredible will find a trip to Fraser Island, Lady Elliot Island or the historical museum quite a treat.
The lodge offers package deals that include tours of these areas with the booking of a room. The prices do vary, so checking in with the lodge for current prices is necessary.
These tours include exploring Fraser Island, the world's largest sand island with a rainforest growing out of its sand dunes!
Other adventures include checking out Lady Elliot Island, where the Great Barrier Reef sits right on its shores. The section of reef off of this island is considered to be well preserved making it quite colourful to see!
Other bookings can include sunset sailing that has champagne. This is a special treat for couples who are looking for something a bit romantic to do in the area!
Free things to do around the surroundings of the lodge include heading to the beach, checking out the esplanade that runs along the beach foreshore, fishing, waterskiing, and so much more.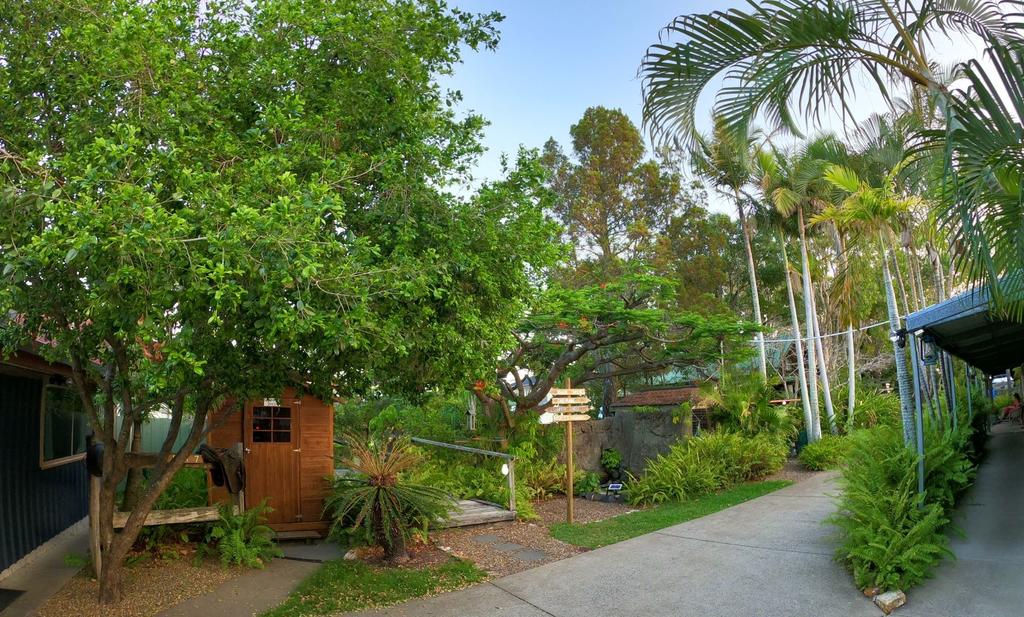 Facilities (Other Than The Popular Ones!)
Free BBQ area with outdoor seating
Check-In And Check-Out Times
The check-in time for Woolshed Eco Lodge is 11 a.m. and the check-out time is 10 a.m. Unlike other accommodation options, there is an earlier check-in time!
Most accommodation places will have check-in times of 2 p.m.! This is a nice perk of the location.
While there aren't any pools like traditional hotels at Woolshed, there are still things to enjoy!
For guests looking to lodge in a simpler way and learn more about eco-friendly living, this lodge is an ideal lodging option.
It is truly a unique experience compared to other places around the Hervey Bay area!
Resource Links To Products We Use And Recommend
More Recommendations For Accommodation
link to Discovery Parks Fraser Street Hervey Bay
On the Fraser Coast, Hervey Bay is an oasis of the best natural world the area has to offer. Just across the way from Fraser Island, you will also find beautiful botanical gardens, a stunning...
link to Caravan Parks Hervey Bay
One of the most iconic ways to experience Australia is by experiencing its beautiful natural surroundings. Because the country offers an abundance of stunning landscapes from coast to coast, caravan...