Squid fishing is a fantastic way to relax, relieve stress, and get delicious, versatile fish for your efforts. Australia is famous for its great fishing culture, and if you are in Adelaide, where recreational fishing is free, squid fishing is a must. However, with so many fishing spots in Adelaide, you may be at a loss about where to start your adventure. 
The best places to catch squid in Adelaide are Glenelg Jetty, Henley Beach Jetty, Marino Rocks, Outer Harbor Breakwall, North Haven Breakwall, West Lakes, Port Noarlunga Jetty, and O'Sullivans Beach Boat Ramp.
The rest of this article will explain essential facts about catching squid in each location and give you the best tips to remember while squid fishing in Adelaide.

1. Glenelg Jetty
The Glenelg Jetty is a seaweed-rich expanse of water that is entirely free of boats. Squid can be caught in the seaweed surrounding the water, making it easy to fish by baiting them from the water's edge.
About one-quarter of the jetty has a mix of sand, rocks, and seaweed at its deep bottom. This mix consistently attracts squids, making it easy for you to catch them in the clear waters of Glenelg Jetty all year round. 
The jetty is situated right in the middle of the residential Bay, so you get to catch squid in a family-friendly area while surrounded by great shops and restaurants. It also has a picnic area, parking services, and quiet fishing spots. You can get maps and up-to-date information

about the angling waters of the Glenelg Jetty from the Victorian Fisheries Authority guide.

2. Henley Beach Jetty
Henley Beach is a long jetty along Seaview Road. It has a vast stretch of land on the bank, so you have many spots to set up and catch squid. 
Henley Beach opens into the St Vincent Gulf, a large triangular inlet of water that opens into the Indian Ocean. The connection to these deep water bodies ensures that Henley Beach is supplied with a wide variety of fish all year round. 
Furthermore, aside from squid, you can also catch crabs, garfish, mullets, and herring while fishing at Henley. And if you're out to catch squid here in the summer, you may even sight a dolphin!

3. Marino Rocks
Marino Rocks is a quiet, suburban spot for catching squid in southern Adelaide. This beach is less popular than others, so there aren't too many people around at a time. Therefore, it's an excellent squid fishing spot if you're looking for some alone time. 
It also has very little sand, which minimizes the mess, but it means you may have to get wet to catch squid. Nevertheless, you can make a fun day out of squid fishing.
Squid catching is especially great at low-light periods such as early morning around sunrise and late evenings around sunset. The beach also has a fantastic, relaxing view to entertain you while fishing.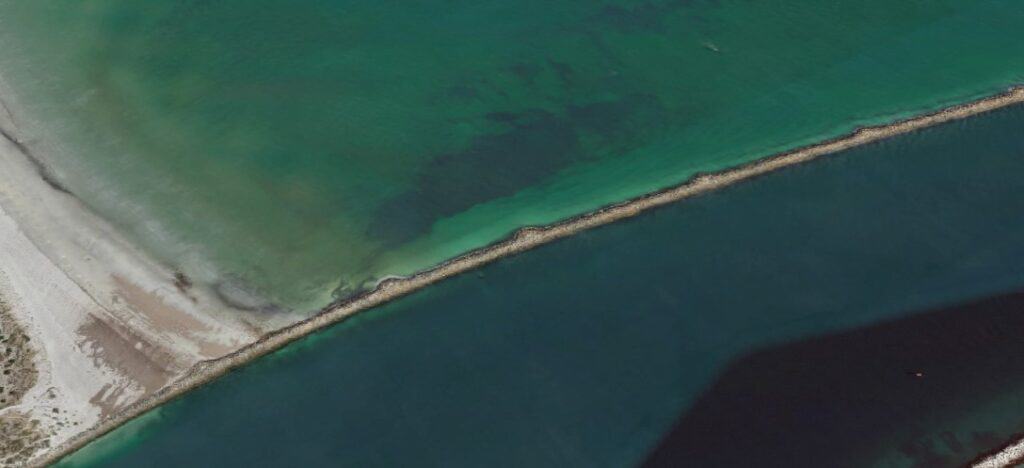 4. Outer Harbor Breakwall
The Outer Harbor Breakwall is another large tidal inlet to the Port Adelaide River that's a fantastic spot for catching squid. The harbour has a variety of fish as diverse as Henley Beach. 
The entrance to Outer Harbor is lined by huge breakwater rocks that protect the area from the powerful tide. And right beyond these rocks is a southern wall with fishing platforms where you can catch squid. You can only reach the southern wall by foot, but the considerable catch at Outer Harbor makes hopping over rocks worth it. 
The variety of seafood you can catch at Outer Harbor includes:
Squid
Herring
Snapper
Salmon Trout
Snook
Crab
Flathead
Snapper
Mulloway

5. North Haven Breakwall
North Haven Breakwall is another tidal breakwall south of Outer Harbor and about half an hour from Glenelg. The breakwall for the tides creates a natural barrier in the area, so you can easily catch squid as they enter to search for feeding scraps. 
North Haven is a great, popular fishing area, and you're guaranteed to have an awesome time catching squid and connecting with other people. You can also catch a lot of salmon, pilchards, and flathead at this break wall.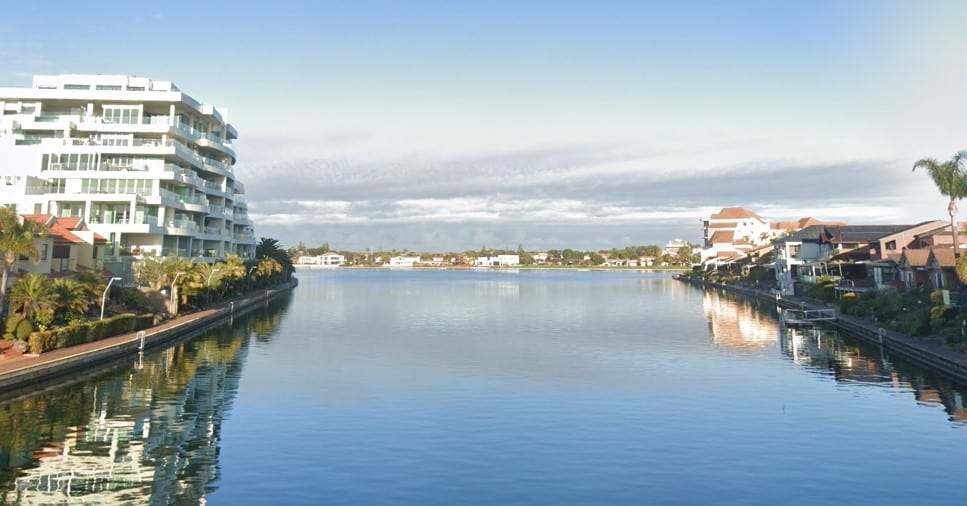 6. West Lakes
West Lakes is a suburban estuary in western Adelaide. This spot is landlocked, making it easier to catch squid. The sediment at the bottom of West Lakes is even throughout, so you can fish from land or a kayak. You can also be assured of a successful catch no matter your skill level. 
Squid are generally available in the estuary all year round, but they are especially concentrated at the Trimmer Parade Inlet and Powell Court Road Bridge in autumn. Also, ensure that you avoid the eastern side of the lake, as fishing is prohibited. There is also a playground and picnic spot around the reserves to have a great time with family and friends. 
You can find out about the rules of recreation

at West Lakes on the official government webpage.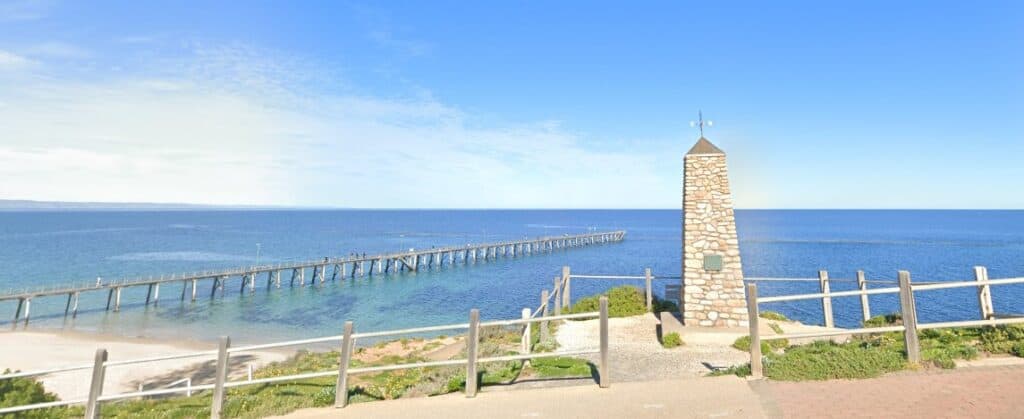 7. Port Noarlunga Jetty
Port Noarlunga is a red sandstone seaside jetty in southern Adelaide. The water has over 200 species of marine plants that attract fish to feed. Most squid are available in the warmer part of the summer, but you can catch a moderate amount of squids in the dark throughout the year.
According to Tackle World Adelaide Metro, the reefy bottom on the right-hand side of Port Noarlunga Jetty is the best area to catch squid

. You can also find snapper, Australian salmon, and mullet at this jetty.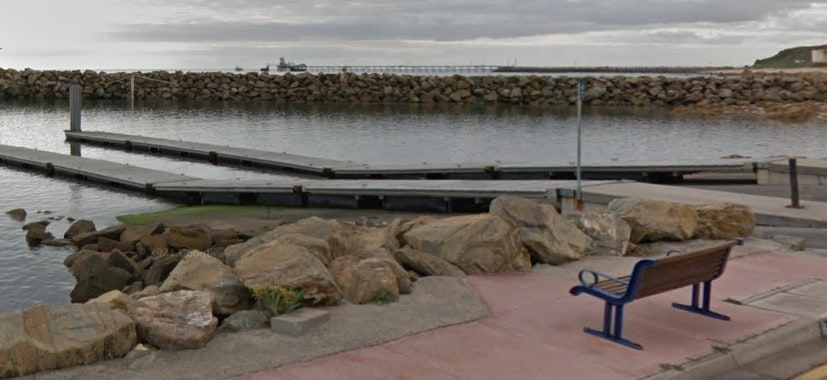 8. O'Sullivans Beach Boat Ramp
O'Sullivans Beach is a wide, sandy beach about 28 km (17 miles) south of Adelaide. It is located in the quiet suburbs away from the major roads. It has a large boat ramp with stone breakwaters that help with fishing, launching, and landing boats. 
You can get a good catch of squid throughout the year, as long as the water is clear. The beach also has an onsite kiosk, which is convenient for when you need fresh bait or a snack. Additionally, you can also catch salmon, mullet, and garfish.
Resource Links To Products We Use And Recommend
More Pages On Fishing
link to Are There Stonefish In Hervey Bay?
Stonefish are known to inhabit various coastal regions around the world, and Hervey Bay in Australia has had a few encounters over the years with the dreaded stonefish. Hervey Bay offers a diverse...
link to 9 Best Baits For Australian Salmon
Loved for their delicious, oily flesh, Australian salmon are a prized catch for many anglers. And while they can be caught using various techniques, baits are often the most effective. But which...