Camping under the stars can be one of the most affordable and rewarding ways of spending your holidays. If you're an avid camper and want to explore the possibilities on Rottnest Island, you're probably wondering whether setting up a tent on the beach is allowed.
You cannot camp at the beach on Rottnest Island, as placing tents on the dunes is prohibited. However, the campsites are incredibly close to the beaches. Camping on the island is permitted only at the designated sites.
In this article, I provide an in-depth analysis of what you need to know when choosing Rottnest island as your holiday destination for camping and what other recreational activities are available. 
Where Is The Rottnest Island Campground Located?
Although there are strict camping regulations in place, the good news is that the island has a site where you can sleep under the stars just metres away from the beach.
The official Rottnest Island campground is located in the northeast part of the island and offers 43 regulated camping spots. It is situated just metres away from The Basin and Pinky Beach, which are among the two most favoured beaches on the island.
Let us explore what you can expect if you decide to spend your vacation camping there.
Amenities Available At The Rottnest Island Campground
The campground provides a genuine camping experience, so don't expect running water and electricity next to your tent.
However, if that's the way you like to camp, there are plenty of positives to take away from the site. Here's a list of what you can take advantage of when booking a place:
A spot accommodating two tents for up to 6 people
Portable toilet block complete with wheelchair access
Camp kitchen facility with outdoor seating, barbecue appliances, and power points for charging electronic devices
The Cost Of Camping At Rottnest Island
If you've set your sights on spending your vacation on the island, coming up with an appropriate budget for the stay should be one of the first things to consider.
Given the proximity to the exceptional sandy beaches and access to clean and modern facilities, camping at Rottnest Island can be pretty affordable.
The cost depends on the dates of your choosing. However, a night's stay for six people will most likely be in the region of $30-$40. This means that the fee for a single person can be as low as $5 a day.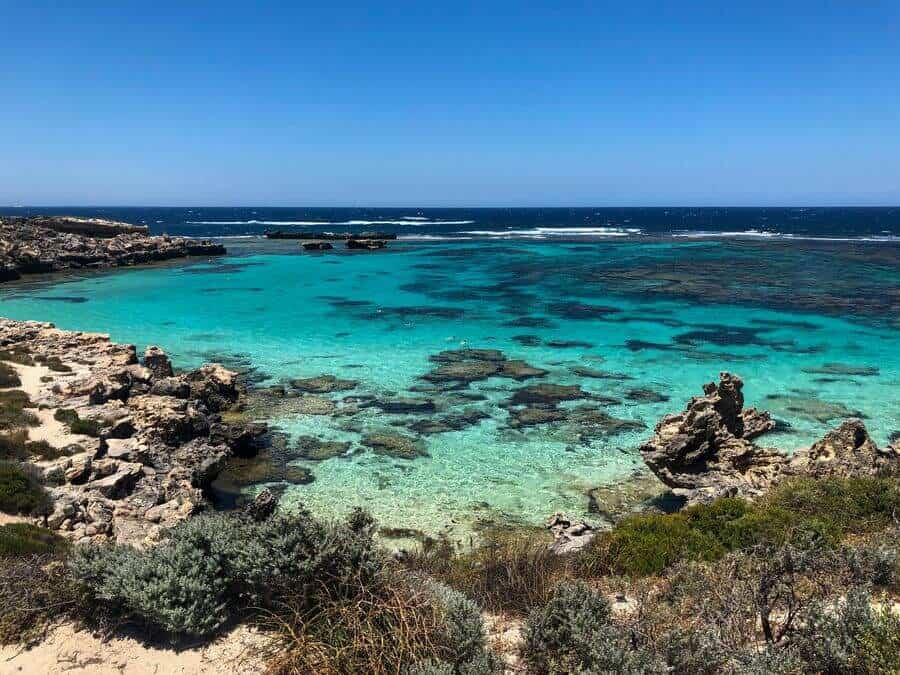 Other Activities At Rottnest Island
Here's a list of some of the preferred pastime activities other than camping the island has to offer:
Fishing
Diving
Cycling
Hiking
Wildlife watching
Fishing On Rottnest Island
Recreational fishing is one of the top reasons people choose Rottnest Island as their holiday destination.
There are plenty of possibilities, but you should also be aware of some critical aspects of fishing on the island.
If you're looking for a relaxing afternoon with your fishing rod, you'll probably prefer to hit one of the many bay areas where you can fish from shore

. Some of the more popular sites are:
Salmon Bay
Geordie Bay
Thompson Bay
Strickland Bay
However, if you're feeling more adventurous, you can always rent a boat and try your luck in open water. There are more than 400 different fish species you may come across, including:
Herring
Skippy
Flathead
Pink snapper
Tailor
Breaksea cod
Baldchin groper
Dhufish
Keep in mind that Western Australia fishing laws apply, meaning net fishing and spearfishing are strictly prohibited on Rottnest Island. In addition, bag size limits, licences, and other regulations may apply depending on which form of fishing you choose.
If you're unsure of how to prepare yourself for your vacation, check out this complete Rottnest Island fishing guide

for details.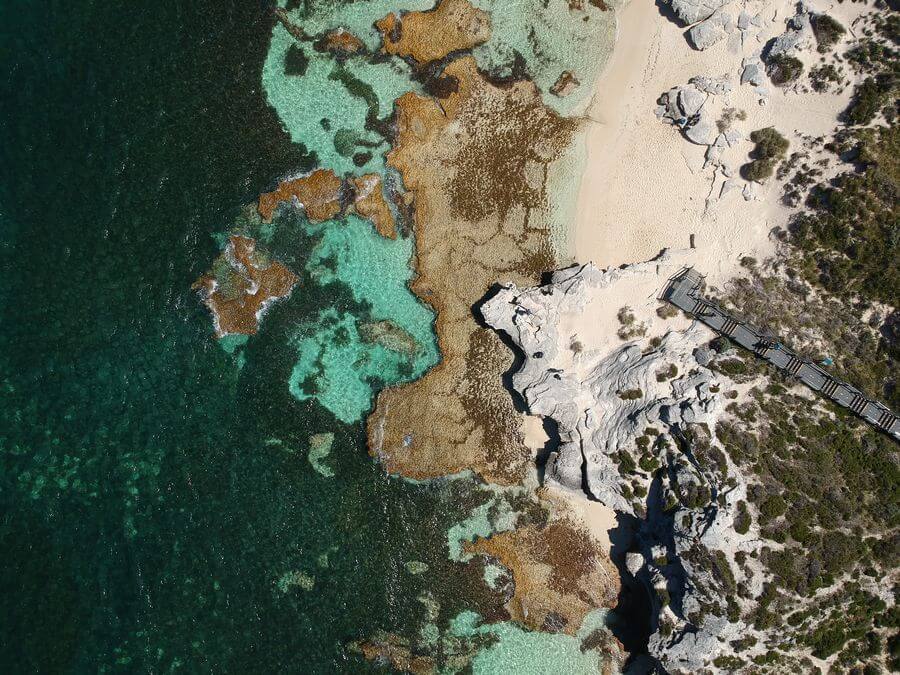 Rottnest Island Diving
Naturally, swimming is extremely common for tourists on the island. However, treating yourself to a scuba diving session can really show you how unique Rotto is.
There are more than 200 diving spots available from which you can feast your eyes on sharks, shipwrecks sites, and underwater caves.
To get a glimpse of what you can expect if you dive around Rottnest, watch this captivating YouTube video:
Cycling On Rottnest Island
If you're not a fan of walking or want to get some exercise, getting a bike is a great option.
There are plenty of rentals available on the island, but if you'd rather, you're permitted to take your own bike with you.
Keep in mind that renting will cost you a lot more, while the transport fee when ferrying your bicycle is just around $15.
Hiking Along Rottnest Island Trails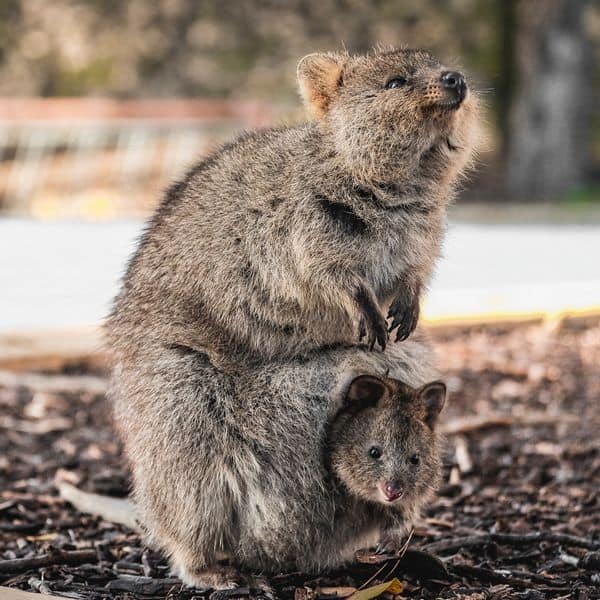 There's no shortage of exciting walking trails on Rotto. If you love hiking, this is a great way to explore the whole of the island.
The established routes usually take between 3-4 hours to complete. Here are the most popular ones:
Ngank Wen Bidi. For those who want to explore the Western part of the island.
Wardan Nara Bidi. This one will take you to Salmon Bay.
Gabbi Karniny Bidi. If you want to see the Salt Lakes.
Ngank Yira Bidi. This one ends at Bickley Battery.
Karlinyah Bidi. It will take you along the Northern beaches.
Wildlife Watching On Rottnest Island
Unique wildlife is abundant on Rottnest. You won't be disappointed whether you're getting on the quokka selfie trend

or trying to get a glimpse of a dolphin or an Australian raven.
If wildlife spotting is on your mind, you can also check out this YouTube video by the famous author, producer, and Western Australia enthusiast Trevor Cochrane as he embarks on a journey to discover the secrets of Rottnest's wildlife:
Final Thoughts
Rottnest Island is a terrific and low-budget spot for camping, but you can also perform tons of other recreational activities.
There's something for every person and group, and my advice is to plan an extended vacation so you can enjoy more of the activities to the fullest!
Resource Links To Products We Use And Recommend
More Pages On Camping