Rod fishing is a relaxing activity that is perfect for lone anglers or groups and is incredibly popular in Victoria, Australia. However, like many other Australian states, Victoria has strict rules regarding the type and number of fishing rods you're allowed to use.
One person can have up to four rods or lines in Victoria. You can use up to two hooks or one bait jig per line, per person. A hook is defined as either a single hook, four hooks connected by the eye, a single bait jig, a single squid jig, or a lure.
Before fishing in Victoria's waters, it's best to read up on the rules. If you want to know more about Victoria's regulations and what qualifies as legal and illegal fishing equipment, keep reading!
Can You Fish With More Than One Rod In Victoria?
You can fish with more than one rod in Victoria. According to the Victorian Fisheries Authority's Recreational Fishing Guide, each person is allowed a maximum of four rods or lines with hooks.
A fishing rod, also known as a fishing pole in some parts of the world, is a long rod attached to a fishing line. This line is usually attached to a reel, making it easier for the angler to pull in their catch.
The guidelines

mentioned above are for lines with hooks; baited lines (i.e., lines without hooks) fall under a different category. According to Victoria's Recreational Fishing Guide, each person can use up to ten baited lines.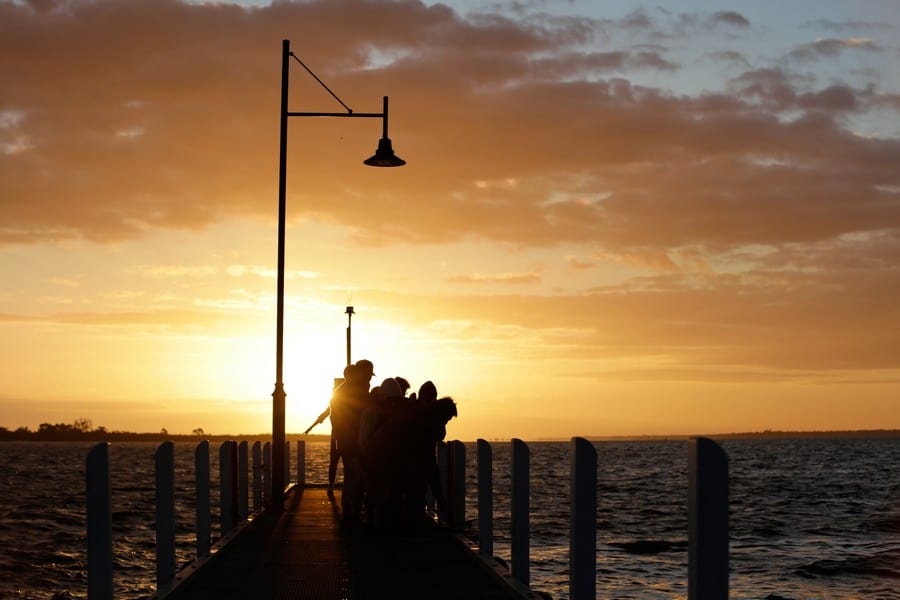 What Equipment Can You Use for Fishing In Victoria?
Anglers use many different kinds of equipment for fishing. Water conditions, the species you're fishing for, weather conditions, etc., can affect the equipment you use. The Victorian Fisheries Authority (VFA) has released a list of legal equipment you can use in Victorian waters.
You can use the following types of equipment for fishing in Victoria:
Lines or rods with hooks
Baited lines with no hook
Bait pump
Bait trap
Landing net/dip
Hand-cranked electric reels
The equipment mentioned above can be used in any Victorian waters, as long as you follow the guidelines regarding the number and specifications of the equipment. You can use a few other types of equipment like hoop nets, handheld spears, and hauling nets, but only in certain waters.
Let's take a quick look at some other kinds of equipment you can use for fishing in Victoria.
Baited Lines With No Hook
Baited lines are simply lines that do not include a hook. Since it is more difficult to catch fish without a hook, the Victorian Fisheries Authority has allowed the use of up to ten baited lines per angler.
These lines can be used with fresh bait or plastic lures.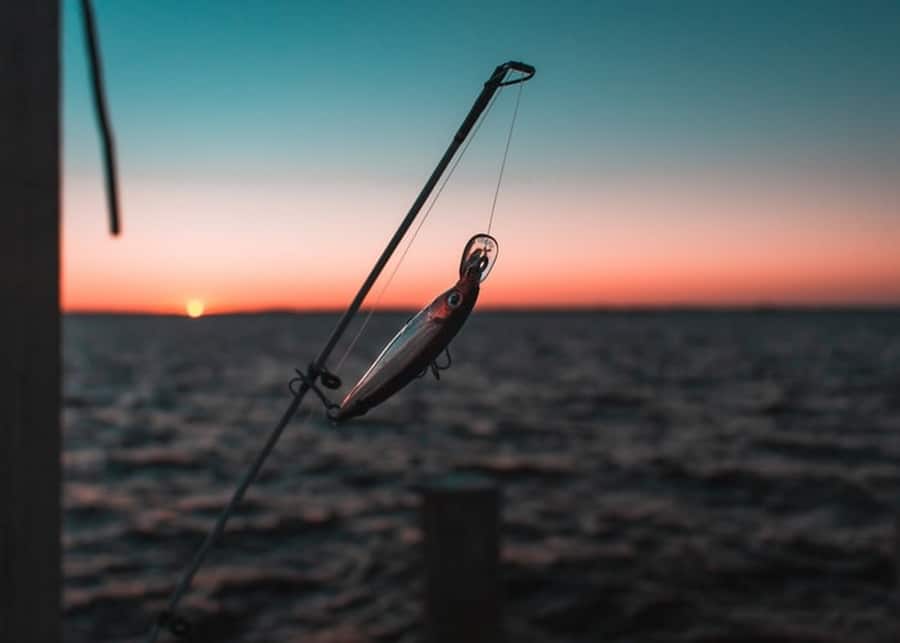 Bait Pump
Like most animals, fish are attracted to fresh bait. Thus, many anglers begin their fishing expedition by hunting for fresh bait, usually in the form of worms. This is where a bait pump becomes helpful.
A bait pump is a metal tube that anglers use to catch fresh bait for fishing. It works similarly to a bicycle pump, except the suction is used to pull out worms, shrimp, or other invertebrate species that have burrowed beneath the sand.
Anglers who want to catch fresh bait can use a bait pump on any Victorian beach. The barrel diameter of these pumps must not exceed 8.5 centimetres (3.35 in). If needed, you can also use a sieve with the bait pump. However, you are not allowed to use the bait pump as a tool to dig with.
Bait Trap
Traps are used with bait to lure fish into a cage-like structure. These traps are specially designed to prevent fish from escaping once they're inside.
According to Victoria's Recreational Fishing Guide, bait traps must be clearly labelled with the full name and residential address of the angler who owns them. This label should be in the form of a tag that floats above the surface of the water.
The Recreational Fishing Guide

has also listed the specifications to which the bait trap must be made. Licenced or exempt anglers can use up to two bait traps each.
Dip/Landing Net
Dip nets are open-faced nets attached to a handle. These are used to sweep through the water and catch fish.
Additionally, dip nets can be used to take any fish or invertebrate species and must not exceed a width and depth of 90cm (35.4 inches).
However, you cannot use dip nets for certain species in the intertidal zones of Victorian waters. Victoria's intertidal zones and associated fishing restrictions are clearly defined by the Victorian Fisheries Authority here

.
Hand-Cranked Electric Reels
Hand-cranked reels are only permitted if they have a manual hand-cranking mechanism and are fitted to a conventional rod. You can use them if they can be handheld while reeling in fish. Any powered device isn't permitted for recreational anglers, as it's considered commercial fishing equipment by the Victorian Fisheries Authority (VFA).
However, anyone with a disability who needs a powered reel can apply for a permit from the VFA.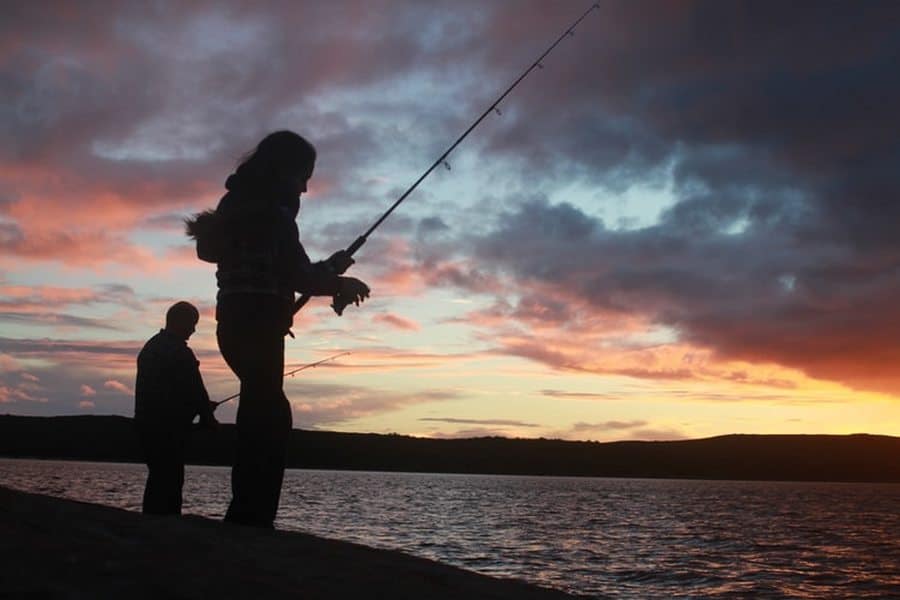 Illegal Fishing Equipment In Victoria
The Victorian Fisheries Authority (VFA) has made a list of equipment that is illegal to use in any Victorian waters, private or public. This was done to prevent destructive fishing habits or overfishing.
Here is the list of illegal fishing equipment in Victoria:
Set lines
Mesh nets/cast nets
Mussel rakes
Harpoons
Crab pots
Explosives
Firearms
Snares
Open-top lift nets
Bows and arrows
Drum nets
Snoods
Opera House nets
Apart from the equipment mentioned above, you are also not allowed to tow or drag any net behind a motor-powered boat in Victorian waters. Any equipment that does not conform to the specifications outlined in Victoria's Recreational Fishing Guide is also illegal.
Note: Not all of the equipment found in tackle shops is legal. Before fishing in Victoria, you should pick up a copy of the Recreational Fishing Guide to ensure that you only purchase legal fishing equipment.
Final Thoughts
The VFA has strict rules about the number and specifications of legal fishing equipment. These specifications can be found in their Recreational Fishing Guide, available as online web pages, a downloadable PDF, or a hard copy.
According to their rules, licensed or exempt anglers can use up to four lines with hooks, with or without the attached rods. Apart from that, you can also use several other types of equipment to catch fish.
You can find the full list of legal and illegal fishing equipment in the Recreational Fishing Guide.
Resource Links To Products We Use And Recommend
More Pages On Fishing
link to Are There Stonefish In Hervey Bay?
The stonefish, scientifically known as Synanceia, is renowned for its incredible camouflage and potent venom. It is often considered one of the most venomous fish in the world. This venomous...
link to 9 Best Baits For Australian Salmon
Loved for their delicious, oily flesh, Australian salmon are a prized catch for many anglers. And while they can be caught using various techniques, baits are often the most effective. But which...