Apart from being an in-demand camping spot, Moreton Island is also a natural stop for recreational anglers. Although freshwater fishing on the island is prohibited

, tidal fishing is a popular sport for anglers in the area. But what kind of fish can you expect to catch at Moreton Island?
Here are the five most common fish species you can catch at Moreton Island.
Whiting
Darts (Swallowtail Darts)
Tailor
Bream
Flathead
In the rest of this article, I'll explain where you can catch these fish, the best bait to use for each, and the best time of the year to find them. To learn all of this and more, keep reading!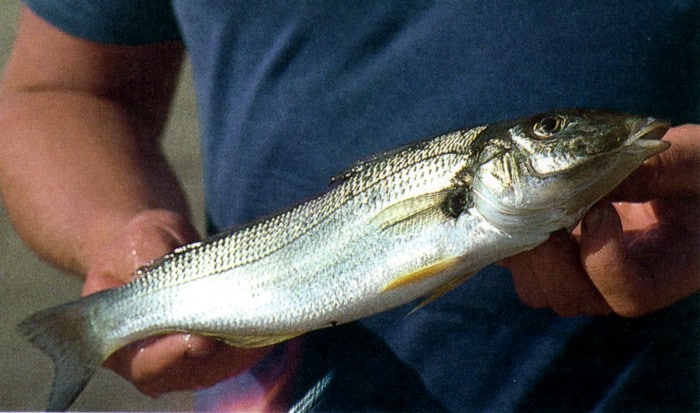 1. Whiting
Whiting is the most common type of fish found in Moreton Island and the rest of the Moreton Bay area. These coastal marine fish are found in multiple areas along the coast of Moreton Island. However, they're more abundant on the southern, eastern, and western coastlines of the islands.
You should visit during the summer months to catch whiting when their numbers are at a height. These months see the largest number of summer whiting

, and even beginner anglers can easily snag a good-sized one.
However, the winter months also have a large number of smaller diver whiting

available, so winter whiting is also a popular sport for anglers you will also find a lot of Whiting on Fraser Island.
Whiting are bottom feeders, so when you rig your line, ensure the bait is at the bottom. They feast on small worms, pipis, and yabbies, which you can easily pump for in different parts of the island or collect by hand. However, you should make sure that you use only the approved equipment to find bait.
If you're not particularly fond of live bait, you can use lures to catch whiting. Since whiting primarily uses sight to catch prey, try to find soft lures that look similar to live bait worms.
For summer whiting, the minimum size limit is 23 cm (approximately 9 inches). Any fish smaller than this size are supposed to be released back into the water. Anglers can also catch 30 fish before exceeding possession limits. You can click here

for a detailed list of size and possession limits.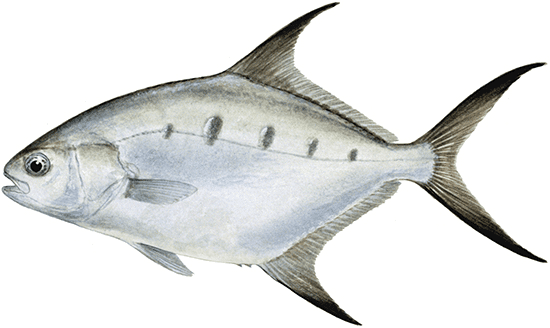 2. Dart Fish Found Around Moreton Island
Another rewarding form of fishing on Moreton Island is dart fishing. These smaller species (also known as swallowtail darts) are available throughout the year and in large numbers. They're also not very particular about what they eat, so dart fishing is perfect for beginner anglers or anyone looking for a quick and easy catch.
Although they are available throughout the year, darts are more commonly seen in summer. You can still find them in relatively large numbers during winter, but the summer months are when they really come out in full swing.
It isn't uncommon for anglers to go fishing for some other species and come back with a dart instead because of how many of them there are!
Since darts also move in shallower waters than many other species, it's easy to catch them from the shore. However, you need to look for other fish schools to find them in larger numbers. Darts often hang around other fish and swoop in to steal their prey.
They're usually found on the Eastern beach of Moreton Island. However, the western parts of the island, like Yellowpatch, also have a fairly large number of darts. The minimum size for darts is 39-40 cm (15.4-15.7 inches), while the possession limit is 30. You can use worms or yabbies as bait since darts eat practically everything.

3. Tailor
Tailor are also abundant on Moreton Island, though the best time to fish for them is in the winter months. This time of the year is when they spawn, so they come out in larger numbers. Of course, you aren't allowed to take juvenile tailor, so you'll have to be careful of the size of your catch!
Tailor are most often found in "gutter" – deeper paths near the coast (particularly beaches) that fish use to move and hunt closer to land. These spots are prime fishing locations for tailor since this is where they come to hunt. These spots are also usually smaller, and you can easily find and catch tailor before they move into the open sea.
The minimum size for a tailor is 35cm (13.8 inches), and the possession limit is 20.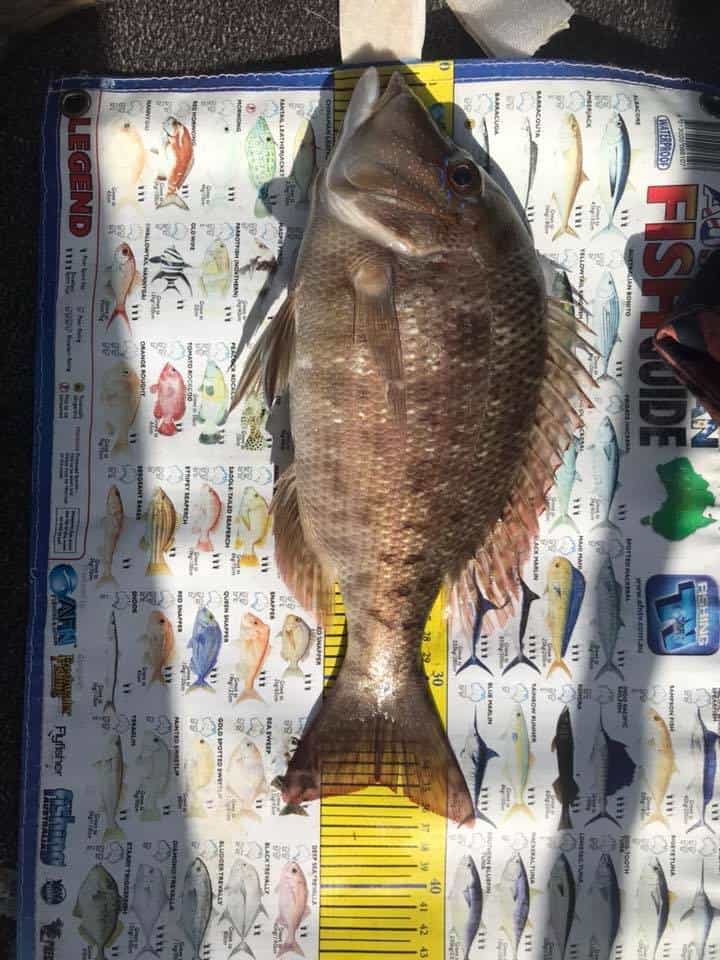 4. Bream
Another readily available fish species on Moreton Island is bream. These fish are found throughout the year at Moreton Island, and you can even come across schools of 10-15 bream at a time.
They're usually found either alone or in pairs/schools. The schools are more aggressive – however, single breams are easier to snag, especially if they're hungry.
You can use live baits like yabbies, pipis, and beach worms, all of which are available in abundance on the beaches of Moreton Island. You can collect them by hand or pump for yabbies with a yabby pump. There is a limit on the number of beach worms you can carry (a maximum of 20), so keep some yabbies or pipis if you intend to fish more.
You can also use soft plastic lures or hard-bodied lures to snag breams. Let the lure lie still for a few moments, then twitch it to mimic the natural prey species. This movement is more likely to entice the bream to start biting.
The minimum size for bream is 25 cm (9.8 inches), so you have to release any specimens smaller than that. You're allowed to take a maximum of 30 bream – if you catch more, you'll have to release it back in the water.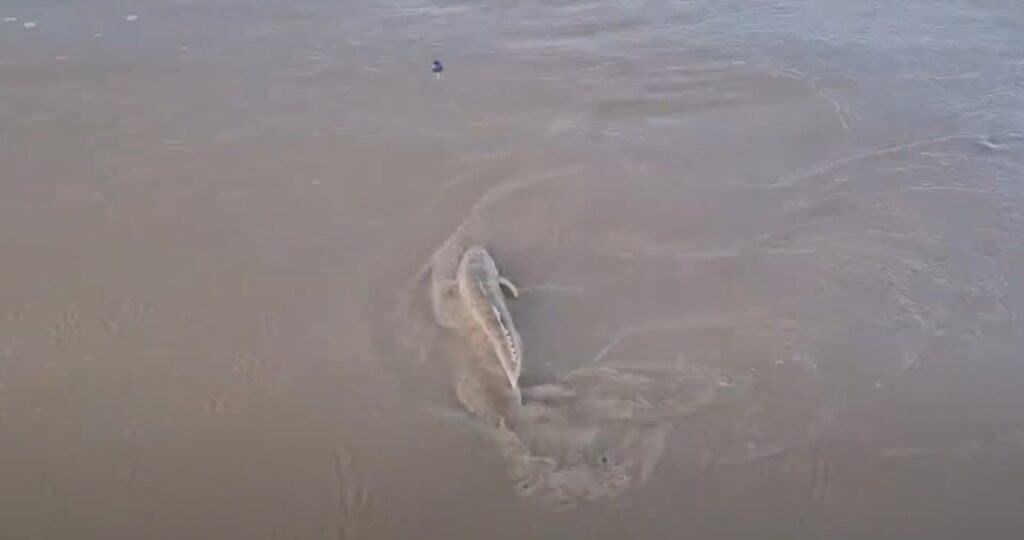 5. Flathead Fishing Moreton Island
The last species on this list, flathead, are available throughout the year on Moreton Island. However, you can find them in larger numbers in the spring and summer months. They're another popular species to target for anglers and are found along most of the western coast of Moreton Island.
Flathead typically remains in shallow waters where they hunt prey by using the waves to ambush them. Thus, shore-based fishing is a popular way to catch them, although you can also take a boat into shallower waters.
The minimum size for all varieties except for the dusky flathead is 30 cm (11.8 inches). You can take a maximum of 5 flathead, regardless of variety.
Resource Links To Products We Use And Recommend
More Pages On Fishing
link to Are There Stonefish In Hervey Bay?
The stonefish, scientifically known as Synanceia, is renowned for its incredible camouflage and potent venom. It is often considered one of the most venomous fish in the world. This venomous...
link to 9 Best Baits For Australian Salmon
Loved for their delicious, oily flesh, Australian salmon are a prized catch for many anglers. And while they can be caught using various techniques, baits are often the most effective. But which...