Moreton Island (renamed Gheebulum Kunungai in 2021 to reflect its cultural heritage) is a popular camping, snorkelling, and off-roading site in Queensland. Every year, visitors take their cars to Moreton Island to drive around the scenic sand island and camp in various campsites. But are regular 2WD vehicles allowed on Moreton Island?
You cannot take a 2WD vehicle to Moreton Island. Since Moreton Island is made entirely of sand, a 2WD vehicle would get stuck. You need a high-clearance 4WD vehicle with the required permit to drive on Moreton Island.
In the rest of this article, I'll explain everything you need to know about driving on Moreton Island. If you're interested in learning about what kind of vehicle you need on Moreton Island, the rules for driving there, required permits, and more, keep reading.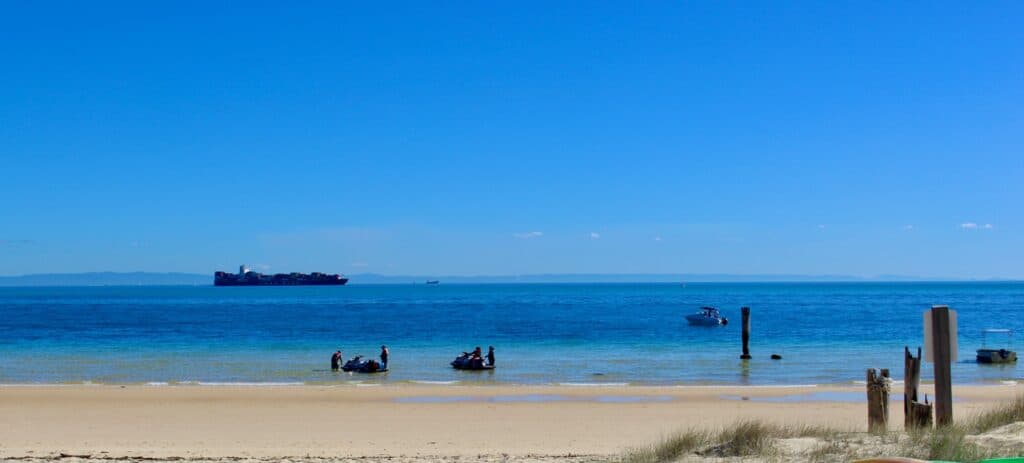 A 2WD Vehicle Isn't Suitable For Moreton Island's Soft Sand
Moreton Island, also known by its traditional name Mulgumpin, is a sand island off the coast of Queensland. Like many other islands in the area, Moreton Island is a protected island designated as a National Park.
Since the entire island is covered with soft sand, regular AWD or 2WD vehicles can easily get bogged down. The island also has creeks and high tides that can create ditches in the sand. To navigate these obstacles, you'll need a high-clearance 4WD vehicle.
Moreton Island only has sand-based roads. While some may be compact, packed sand, most are covered in loose, soft sand. So it's essential to have a proper 4WD vehicle so you don't get stuck on the sand roads and cause a traffic jam.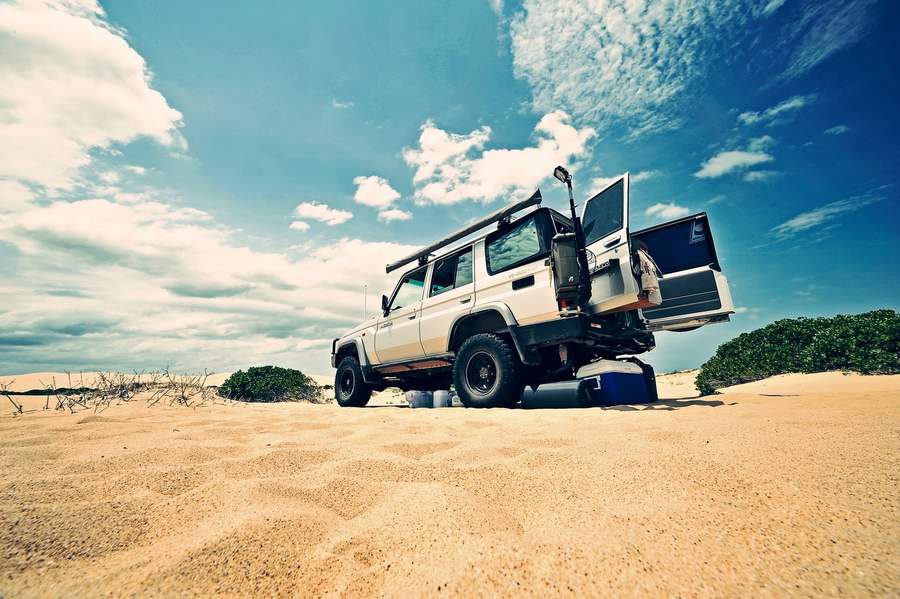 Tips On Driving Safely On Moreton Island (Mulgumpin)
Since Moreton Island is a sand island, there are a few things to remember while driving there. Sand off-roading differs from driving on a regular paved road, even with a 4WD vehicle. Most vehicles run differently on sand than gravel roads, so it's important to use the right equipment and drive properly.
Keep the following in mind when driving on Moreton Island:
Carry a tire pressure gauge and ensure that it works properly.
Let out some pressure from your tires before hitting soft sand roads, and re-pressurize your tires before hitting hard roads.
Avoid driving at high tides.
Drive on the harder sand on beaches between the high tide mark and waterline to avoid getting stuck in soft sand.
Don't drive outside of the pre-made paths; it's strictly prohibited.
Avoid driving through creeks without checking to see how deep they are.
Remember that all road rules that apply to mainland Australia also apply on Moreton Island.
Keep in mind that some areas on the island have lower speed limits.
Ensure your luggage is loaded low in the vehicle so that the vehicle doesn't topple over.
Carry enough fuel to last your entire journey because there are no petrol stations on Moreton Island.
Make sure your vehicle is registered, and you have the required permit displayed.
Travel with at least one other vehicle in low-traffic areas to help each other in emergencies.
Carry a shovel or traction aids in case you get bogged down.
For a detailed list of guidelines on how to drive safely on Moreton Island, you can look at the Queensland guide to driving on sand

. You can also download a PDF version

of it.
Do You Need A Permit For Your Car On Moreton Island?
As a designated National Park, Moreton Island is strictly regulated by the Queensland Parks and Wildlife Service. All vegetation and wildlife on Moreton Island are regulated and protected. One of the ways in which they protect the environment is by regulating the number and type of vehicles on the island.
You need a permit for your car on Moreton island. Ensure that you apply for the Vehicle Access Permit (VAP). You can apply for the permit through the Mulgumpin Camping service provider. The permit will cost $55.90 or $281.40, depending on the length of your stay.
Two types of permits you can apply for based on the length of your stay:
Up to one month – $55.90
Up to one year – $281.40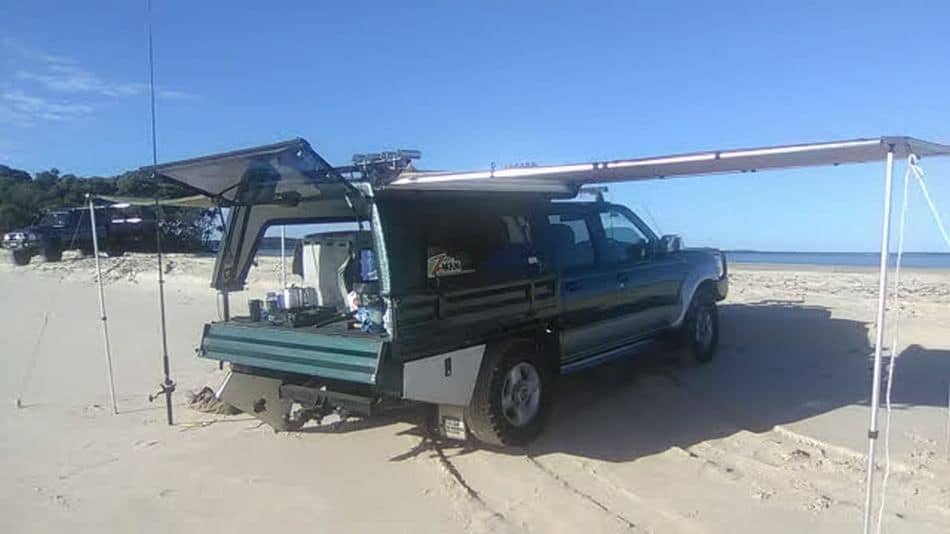 Can You Take Your Car To Moreton Island?
You can take your car to Moreton Island as long as it's a 4WD. Only 4WD vehicles are allowed on Moreton Island because of the sand roads. You'll have to book a spot early on the Micat Barge to take your vehicle to Moreton Island.
The Micat Barge is the only way to take your own car to Moreton Island. This barge operates on a per-demand basis, so it runs up to 5 times a day on busy days.
However, on slow days, this barge usually doesn't operate on Wednesdays and only runs once daily. The exception is on Friday and Saturday when it usually runs twice daily.
The Micat Barge departs from Brisbane and takes approximately 90 minutes to reach Moreton Island. It's best to make your booking four weeks before your trip if you're bringing your 4WD to ensure you get the best ferries.
You can look up the Micat Barge here.
Can You Hire A Vehicle On Moreton Island?
You can hire a vehicle, 4WD, on Moreton Island. Some resorts have their own hiring services, so you should first check with them to see what they offer. If not, other hiring options exist on the island or in Brisbane.
Tangalooma Island Resort is one of the most popular options for hiring a 4WD. You can check out their 4WD hiring services here

.
Can You Buy Fuel On Moreton Island?
You can buy fuel on Moreton island. Get them from the Castaways store on Bulwer in 20-litre (5.3-gallon) jerry cans. But you can't carry them since you have to return the jerry cans. No petrol stations on Moreton Island exist, so it's best to fill your tank and carry extra fuel from the mainland.
My advice is to carry as much fuel as you need from the mainland. Moreton Island isn't very large, so a full tank and some extra fuel will be more than enough for your journey.
Final Thoughts
As a protected sand island, Moreton Island only allows 4WD vehicles. So you cannot take 2WD or AWD vehicles because they will get stuck in the soft sand that covers the island.
Before you go to Moreton Island, get your Vehicle Access Permit and book a spot on the ferry to take your vehicle. Also, ensure you read through the tips to drive on the sand safely.
Resource Links To Products We Use And Recommend
More Pages On Other Areas