Some of the biggest attractions on Kangaroo Island involve camping and all the sights and experiences you may find while doing so. The island has many options, from wilderness camping to comfort glamping, though all have strict rules and specific allowances. What, then, are the rules for campfires? 
You can have a campfire on Kangaroo Island, provided you're in a designated camping area that allows it, and you follow South Australian Country Fire Service's (CFS') rules. Wood fires are not permitted in Conservation or National parks, and no campfires are allowed on Total Fire Ban days.
In the rest of the article, I'll go into some detail to help get you better acquainted with the rules. I'll also provide information on different campgrounds, weather, and tips.
Where, When, And How Campfires Are Allowed
The Kangaroo Island Council has seven different camping areas that allow campfires. These camping grounds are spread out across the island. There are also four privately owned caravan parks.
In these areas, campfires need to adhere to the following rules

: 
Campfires must be in a 30-centimetre (12-inch) trench, no more than 1 metre (3 feet) in area, and there must be 4 metres (13 feet) of clear space all around and above the fire.
A responsible person must attend to the fire at all times.
There must be water or a fire extinguisher present to put out the fire if necessary.
You must bring your own firewood. You may not collect wood from the area.
In addition, during Fire Season, the camping grounds don't allow comfort fires. On Total Fire Ban Days, no naked flames are permitted anywhere without permits (usually only issued for emergencies).
Before going to Kangaroo Island, ensure you find out whether or not it'll be Fire Season during your trip. Total Fire Ban days will be reported as they occur.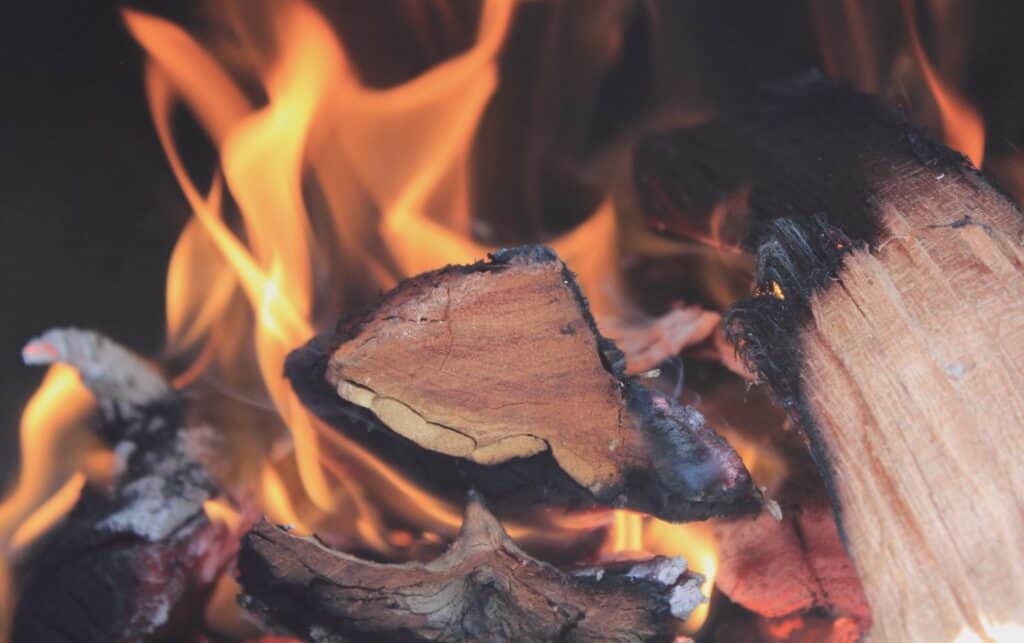 Understand The Rules Governing Fires
With an area of around 4,400 square kilometres (1,700 square miles), Kangaroo Island is one of South Australia's largest and most beloved wonders. It's a place known for open spaces, true wilderness, and over 150 species of native Australian wildlife. 
As you might imagine, such a vast, green part of the natural world is highly susceptible to fire. In fact, in 2020, the Black Summer bushfires

of Kangaroo Island ravaged large swathes of land, burning 211,500 ha (522,627 acres) and killing tens of thousands of animals.
For reasons like this, fire safety protocols need to be strictly followed. 
Camping Sites On Kangaroo Island
There's nothing quite like a toasty fire on a camping trip to get you feeling truly relaxed and comfortable. That said, though, there's more to camping than just the fire. Each of the different camping grounds across Kangaroo Island has different features

, so it's good to find out about them to decide where you'd prefer to stay. 
American River Campground
American River is a smaller village known for fishing, sailing, and various water-based activities. There are also several dining options in the village and a supply store. Also, a barbecue area and playground are near the campsite.
Browns Beach Campground
Browns Beach Campground is a simple camping spot in a secluded, vegetative area next to Browns Beach. The site has toilets and showers, barbeque facilities, and plenty of open space and sheltered areas available for picnics.
Emu Bay Campground
Perfect for motorhomes and caravans, Emu Bay Campground is in a small town close to a beach. Toilets, playgrounds, and barbecue facilities are not in the camping area itself but are available within about 500 metres (1,640 feet) of the grounds.
Duck Lagoon Campground
Duck Lagoon Campground is a serene and peaceful spot, perfect for taking a moment to enjoy your surroundings. It offers all the basic amenities, plus strolls along the lagoon and bird watching.
Western River Campground
Western River Campground has:
Toilets
Walking trails
A playground
Sheltered and unsheltered picnic areas
In addition, a walk across a bridge, you'll find a secluded beach that a nearby river flows into.
Stokes Bay Campground
The picturesque Stokes Bay Campground features natural rock glistening with water. A walking trail takes you through a tunnel and into a bay where a rock pool can be found. And when the inconveniences of roughing it outweigh the enjoyment of exploration, you'll find the Rock Pool Cafe next to the campground.
Vivonne Bay Campground
Vivonne Bay Campground is within walking distance of the beach from which it gets its name. It's also close to a general store, which can be helpful. Vivonne Bay is an excellent location for surfing, swimming, fishing, and beachcombing.
Weather On Kangaroo Island
Kangaroo Island has a Mediterranean climate, meaning that it's typically on the warmer side, with pretty mild winters. Specifically, summers (December to February) are hot and dry, while winters (June to August) are cool.
Springs (September to November) and autumns (March to May) are in between, shifting through summer and winter temperatures as the month progresses.
Rainfall occurs mainly in autumn and winter. However, the wind is constant, as is to be expected of islands. The lightest of the breezes will usually blow between April and June.
Tips For Visiting Kangaroo Island
Have a backup for accommodation: Most campgrounds operate on a first-come, first-served basis, so unless you're sure to arrive early, or it's a place you've been able to book, you'll want to have another campground in reserve if your first choice is already full.
Plan your itinerary: Kangaroo Island is a big place with a lot to see and do. Depending on how long you're staying, plan some activities ahead of time, especially those that require booking. At the very least, always have your first day planned out.
Book your Sealink ferry tickets early: The ferry is the only way to the island and can sell out quite quickly. Make sure that you've purchased your tickets ahead of time.
Know the biosecurity rules: Since the island is separated from the rest of Australia, its ecosystem is much cleaner, so certain things like honey, bees, or any bee-handling equipment won't be allowed onto the island in case they carry disease. Dirty or unwashed potatoes, rabbits, and foxes are also excluded. Dogs and cats are allowed but must be microchipped and registered with the Kangaroo Island council.
Drive during the day and with a spotter: With so much wildlife on the island, you will often find animals wandering onto the roads. Make sure that someone is with you to keep a lookout for any nearby animals. At night, even this may not be enough. It's safer for both you and the wildlife if you keep your travel time to when the sun is up.
Stay on the marked trails: There are reasons why trails are marked. It's not just about your safety. Stomping off on your own might damage areas slowly healing after the Black Summer fires.
Conclusion
Being informed is essential on any trip, and knowing what to expect can make all the difference. Keep abreast of any specifics regarding where you'll be staying, and you'll find fire regulations are both manageable and meaningful. 
Resource Links To Products We Use And Recommend
More Pages On Camping