Bruny Island gives you the chance to explore the wonders of nature — not to mention enjoy beautiful scenery, good food, and spectacular wildlife like the fairy penguin. Visitors have a wide variety of lodging choices, including several camping grounds, but can you free camp anywhere on the island?
The Pines on Cloudy Bay Road is the only free campsite on Bruny Island listed on the official Tasmania Parks website. Although The Pines does not have camping fees, you still need a valid National Parks Pass to camp anywhere on the island.
The rest of the article will explain what this free camping site includes and some reminders for campers who plan on staying here. I'll also discuss other camping site options on Bruny Island and how they compare to The Pines.
Can You Camp For Free On Bruny Island?
Visitors can camp on Bruny Island

to feel even closer to the great outdoors and Mother Nature. I mean, who wouldn't want to when you're in a national park?
It's possible to camp on Bruny Island for free. However, you still need to keep a few things in mind.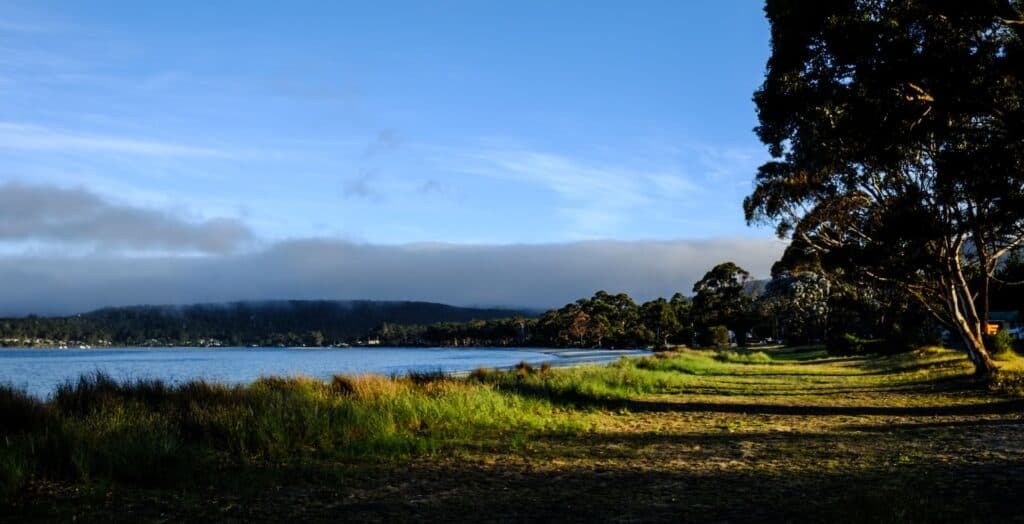 A National Parks Pass Is Required
If you want to go camping anywhere on Bruny Island, you still need a valid National Parks Pass to enter the island.
Depending on how long you plan to stay, what activities you have planned, or if you plan to visit regularly, you can purchase a National Parks Pass that will fit your needs.
The fees can range from per person Daily Passes at $20.60 to Two Year Parks Passes at $116.75.
You can read a more detailed description of these passes and other National Parks Passes (plus their corresponding rates) on the Tasmania Parks & Wildlife Service website

.
The Pines Is The Only Camping Site Without Camping Fees
The National Parks Pass fee aside, The Pines is the only camping ground where you can free camp. This is one of the two campsites located in the Cloudy Bay area.
The Pines is excellent for those who want to surf and enjoy the waves. Swimmers can access sheltered areas in Adventure Bay and Jetty Beach. It's also a great place to explore on foot and just enjoy the breeze.
You can also launch boats from the beaches, but keep in mind that you can't park your vehicle on the beach then.
Reminders For Camping At The Pines
The Pines is a very small camping ground with uneven sites. Keep this in mind as you cannot book the camping grounds at Bruny Island ahead of time. Instead, campers are accommodated on a first-come-first-serve basis.
Facilities include pit toilets and firepits. If you want to use campfires, you need to bring your own firewood as collecting firewood within the park or the reserve is prohibited. For cooking, getting a fuel stove or contained fire pit is recommended.
Unfortunately, this isn't a pet-friendly area, so you can't bring your furry friends along.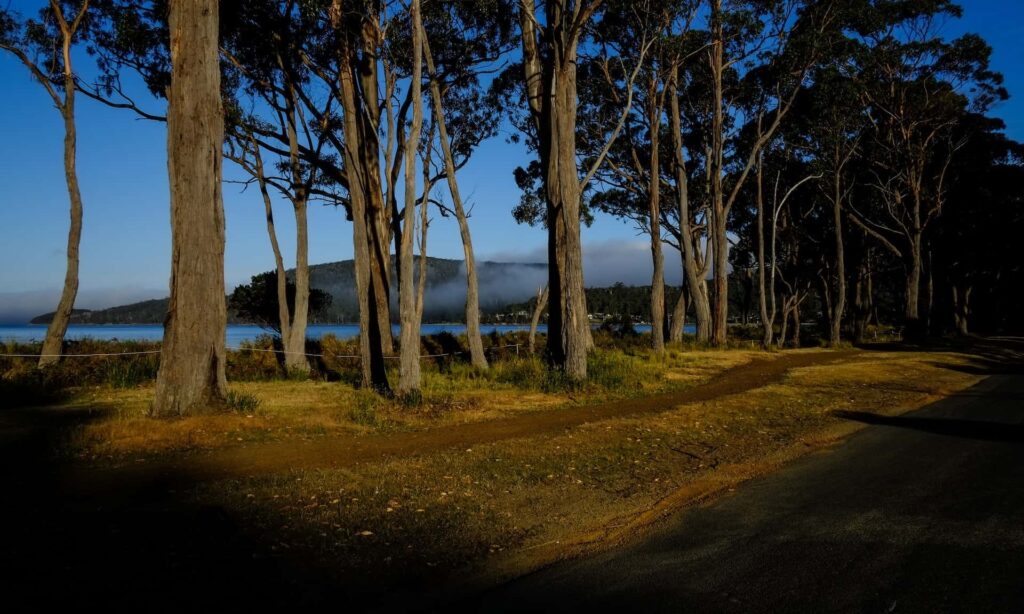 Your Other Bruny Island Camping Options
You have other camping ground

alternatives around Bruny Island. However, all these other sites charge a camping fee.
For The Neck, Cloudy Corner, and Jetty Beach, the camping fees are:
1-2 people: $10.00 per night
Additional adult/s (above 18 yrs. old): $5.00 each per night
Additional child (5-17 yrs. old): $2.50 per night (no charge for children below five years of age)
Family (2 adults, 3 children): $15 per night
Visitors can pay their camping fees using self-registration deposit boxes at each campground. Be sure to have cash on hand to pay your fees. For those paying with their card, Jetty Beach has a pay display kiosk.
The Neck Reserve Campsite
This is the only other nearly free area for you to camp on Bruny Island. The Neck Reserve is just outside the South Bruny National Park

, so you won't need a National Parks Pass. However, you still need to pay the camping fees above.
This is an excellent choice for those who want easy access to the beach. It also gives you access to boardwalks and viewing platforms to observe wildlife like fairy penguins and short-tailed shearwaters.
Cloudy Corner At Cloudy Bay
Cloudy Corner is the second available campsite in the Cloudy Bay area aside from the Pines. Unlike The Neck Reserve, it's located within the South Bruny National Park, so you need the National Parks Pass and the payment of appropriate camping fees.
This site is larger than The Pines. However, you need a 4WD vehicle. You can only access the Cloudy Corner site at low tide via a 3-kilometer (1.86 miles) drive along the beach. You can also launch and retrieve boats from here, though vehicle parking on the beach isn't allowed.
Visitors who enjoy beach walks and surfing will also enjoy this campground.
Jetty Beach Campsite
This is the best camping ground for visitors who need a family-friendly site. It's located on a sheltered sandy beach that's safe for swimming. If you're swimming with kids, you won't need to worry because the beach slopes gently, meaning potential accidents are minimized. In addition, there's a wide area of shallow water to swim in safely.
Visitors can also enjoy kayaking, snorkeling, and fishing. Some fish you can catch around the deeper water away from camp include Australian Salmon, leatherjacket, wrasse, and many more.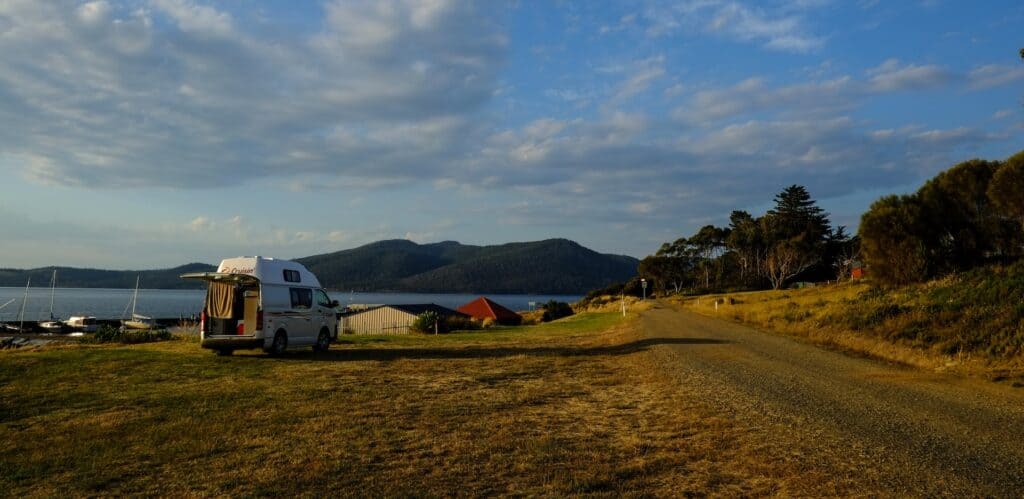 Reminders For Camping On Bruny Island
Here are some important things to note when planning a camping trip to Bruny Island:
Have cash on hand (or a card) for camping ground fees.
Bring your own firewood and water.
For cooking food, bring a fuel stove.
Always double-check the campfire regulations at your site to know what is and isn't allowed.
All campsites have pit toilets.
Final Thoughts
The camping grounds on Bruny Island within the South Bruny National Park require valid National Park Passes along with the payment of the appropriate camping fees.
Only The Pines Campsite on Cloudy Bay Road doesn't charge a camping fee. The Neck Reserve Campsite, on the other hand, doesn't require a National Park Pass but still charges a camping fee.
Resource Links To Products We Use And Recommend
More Pages On Camping