Get High, Stay Dry… See Fraser Island from the Sky!'
FRASER COAST PARASAILING. has closed listing is due to be removed!
Experience the Fraser Coast in the most thrilling and unique way possible with FRASER COAST PARASAILING.
Soar like a bird above the sparkling waters of the Great Sandy Strait & Hervey Bay, gliding past panoramic views of our golden coastline and tropical islands.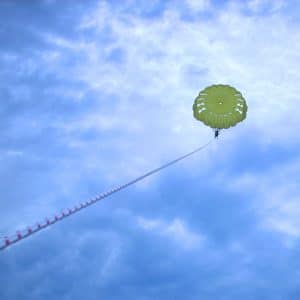 You may even see some whales during the Whale season, as they frolic and play on their travels past Hervey Bay.
With your friendly, experienced captain and crew and gentle, dry take-offs and landings FRASER COAST PARASAILING is fantastic, safe, fun for the whole family.
Your flight time is (approximately) a 10 minute experience of a lifetime.
Sightseeing over the waters of the Great Sandy Strait and experiencing the sights of Hervey Bay & the beautiful Fraser Island is all part of the experience.
You are released from the boat and winched back safely and dry.
Flying above the water you have fantastic views of all of the Great Sandy Strait and in the Whale Season, you may even see the whales from above, in full length.
Fraser Coast Parasailing is a locally owned business with a love for the Fraser Coast Region and Fraser Island.
"We are passionate about this region and want to share it's uniqueness with visitors and locals alike, in the most creative and exciting way possible."
Your parsailing journey will last from 20min to 1hr, (depending on numbers), with approximately 8-10mins in the sky, flying beside the Fraser Island and Hervey Bay coastlines.
You will enjoy spectacular views of the beautiful Fraser Coast and you may even see a whale or two as they travel close to the Fraser Coast shores.
Flights are available 7 days a week between sun-up and sun-down, (dependant on weather conditions) and begin at the Hervey Bay Marina.
We cater for groups from 2 to 10 people.