Discover Hervey Bay
Hervey Bay's travel, reservations and community guide.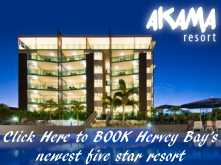 If you want to find out about anything in Hervey Bay, Queensland, Australia then you have come to the right place. Whether you are an independent traveller or a backpacker thinking of touring the district, or a local looking for one of the many services or businesses in Hervey Bay, this is your site.
For the traveller, Discover Hervey Bay gives you one easy reference point for all of your extensive itinerary planning, including accommodation, tours and cruises, dive trips and car rentals - this service is free with no hidden fees or handling charges.
Explore our up to date list of availability and best prices on Hervey Bay Accommodation here.

Hervey Bay has often been called the jewel in Queensland's crown. It is also referred to as the Whale Watch Capital of the World. A scenic 3 ½ hours drive north of Brisbane and only 45 minutes by air from Brisbane, Hervey Bay is an easily accessible holiday destination.

It has a population of approximately 63,000 residents.To discover more of Hervey Bay, why not rent a car  at a great price.

The city has a wonderful subtropical climate. Temperatures range from 14 to 23 degrees Centigrade in winter and 22 to 29 degrees Centigrade in summer.

Rainfall is low and there are more fine days than other Queensland holiday centres.
New Accommodation Listings On Discover Hervey Bay

Boomerang Beach Houses Looking to relax in a traditional beach cottage when visiting the Fraser Coast? Look no further than the gorgeous Boomerang Beach House situated in Urangan.

Barooga On Pier Recently opened, Laurene and Daryl would like to welcome you to their newly established luxury Bed and Breakfast accommodation located at 18 Pier Street.

Akama Resort 5 Stars! Recently opened, this brand new five star resort offers Hervey Bay, what it has been missing, with stunning blend of hospitality, comfort and style. Overlooking Fraser Island from your balcony, you can sit back relax and enjoy your breakaway.

Bay Hideaway Resort, is situated at the Entrance to Hervey Bay and comprise of 1 & 2 Bedroom 4 star apartments as well as 2 & 3 Bedroom 4 ½ star Golf Villas.

Allegra Resort New to Discover Hervey Bay is the magnificent Allegra Resort. These fabulous AAA 5 star rated apartments are quite simply breathtaking.

Arlia Sands Apartments With 24 apartments situated at Arlia, and located just a mere 75 meters from the fabulous beaches of Hervey Bay- this is the place to be!

Alexander Lakeside Bed and Breakfast really is a 'home away from home' when you are looking to stay somewhere cosy for your next getaway.

Jade Waters Luxury Apartments in fabulous Hervey Bay is located central on the Esplanade directly across the road from the popular golden beaches.

Mantra Resort Hervey Bay This beautiful resort is set at the most pristine of all places in Hervey Bay- the Marina. With a boat club close by as well as many shops including, pharmacies.

Windmill Caravan Park The Windmill Caravan Park located in Urangan on Elizabeth Street is one of the oldest caravan parks in Hervey Bay. With its long standing reputation for being one of the best budget parks around the.
Peppers Pier Resort, Brand new 132 fully self-contained one, two, three bedroom suites, and private balconies, With breath taking views of Fraser Island, it's the perfect place, to relax and have a family holiday in style.
Compare prices and availability here
New Cruises And Tour Listings On Discover Hervey Bay
Latest additions to Discover Hervey Bay include

M.V Mikat and those that have come on board the beautiful M.V Mikat vessel have been thrilled to view these large marine animals in action.
Peter Lynch, the owner and skipper of

Blue Dolphin has more than 27 years of on-hand experience and has been operating his business in Hervey Bay for over 14 years have also joined Discover Hervey Bay offering ¾ day whale watch tours. Remember whale watching starts in July.
More Things to Do In Hervey Bay
We welcome

Reefworld Aquarium to Discover Hervey Bay , This iconic attraction has been open for well over 30 years and has captivated and amazed locals and visitor's from around the world pay them a vist today!.
WHALE SEASON For 2013
Whale watching boats should start having regular sightings and encounters with humpback whales as well as playful dolphins and the occasional seal from between late July to late November.
Don't miss the 2013 Whale watching season for Hervey Bay.
You will find travel information such as currency conversion rates, coach timetables, international and domestic airline schedules, and visitor information including local banking, medical and emergency information. We have now added a map of Hervey Bay to the site as well.
By filling out a simple form you can organise your entire holiday in Hervey Bay from accommodation to which tours you would like to go on or even where you would like to dine using our fine food guide.
In addition to tourism related information Discover Hervey Bay also has available a comprehensive selection of information that the intending visitor will find useful.
Although known nationally and internationally for the best humpback whale watching in the world, Hervey Bay has a lot more to offer its visitors. If you are coming from abroad, we recommend local travel insurance from 1cover.
Hervey Bay is brimful of history, beauty and attractions centred around sheltered waters and some 14 kilometres of golden beaches safe for children. There is no shortage of things to do and see - from relaxation on unspoilt beaches to water sports for those visitors who are a little more adventurous.Every Friday night at 4pm there is the local craft and produce market held at Urangan Marina. Also you cannot forget the Wetside water Park
A distinct and very affordable tourist destination, Hervey Bay offers a colourful concentration of lifestyles and its waters are home to turtles, dolphins and dugongs as well as humpback whales. No matter what your interests, your age group or the season, you can enjoy its experiences, its natural beauty and a choice of activities and attractions.

All this, and more awaits you in Hervey Bay, the "Whale Watching Capital of the World" and "Gateway to Fraser Island" .Close by to Hervey bay is world famous Noosa renown for it's great surfing beaches.